Are you considering buying a house that was built before 1978? If so, you should know the facts surrounding homes with lead-based paint. Read more to discover what lead-based paint is and if it's safe to buy a house with lead paint.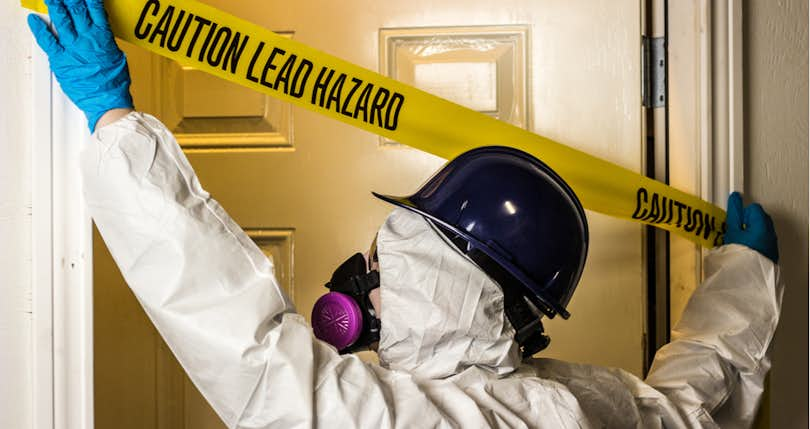 In 1978, the federal government banned the use and sale of lead-based paint. Before the ban, the majority of homes built were painted with lead paint. So how does this affect homes currently for sale that were built before the ban? Here are four questions you can ask about homes that potentially have lead paint.
What is Lead-Based Paint?
Before 1978, lead was a common ingredient in the wall paint of commercial buildings and homes. As an ingredient, lead would accelerate paint drying times, resist moisture and help homes maintain a freshly painted look.
However, once scientists determined lead was a toxic metal that caused a host of health problems, the federal government decided in 1978 to ban the sale of any lead-based paint. Today, many older homes still have lead-based paint.
Does the House You Want to Buy Have Lead Paint?
Chances are good if the house you want to buy has lead paint if it was built before 1978 — unless it's been repainted, renovated, or restored after that year. Also, sellers must notify you if they know their house has lead paint.
If sellers haven't checked for lead paint, there is no requirement they need to before they sell their house. In this case, you should ask if the seller has any knowledge of lead paint and ask for an inspection if the house was built before 1978.
Keep in mind that each state has its own regulations regarding the buying and selling of houses with lead-based paint. Visit the Environmental Protection Agency's website for more information on individual state requirements.
An experienced Clever Partner Agent can help you negotiate with sellers to have them pay for an inspection to test for lead-based paint.
Do You Need to Test for Lead-Based Paint?
There is no law requiring buyers to test a house for lead paint. However, if you have a child under the age of six, you should have your home tested. If lead paint does exist, you must have it removed.
The seller's agent will give you a pamphlet discussing lead-based paint and its dangers. It will cover how to handle any potential hazards and what you should do if you suspect the presence of lead paint.
Also, sales contracts have clauses stating the seller must give you up to 10 days to inspect the home for any lead-based hazards.
You can perform some simple tests to see if the house does have lead paint. First, look for signs of any paint chipping or cracking in homes built before 1978. However, you have to look beyond the surface walls. Check all your baseboards, window sills, or any area that someone might easily overlook.
Next, most hardware stores sell paint testing kits. It comes with a solution you apply to the wall. When it turns pink, the wall has lead. However, the tests only cover the surface of the wall. If someone painted over lead-based paint with non-lead based paint, it won't detect anything.
Situations such as these are why you should consider hiring a professional.
Should You Hire a Contractor to Inspect for Lead Paint?
If you find evidence of chipping and cracking on a house built before 1978, you should have it inspected by a trained professional. You need to know if it poses a threat — especially if you have a child under the age of six.
Most certified inspectors will look deep into the paint using X-ray technology. If inspectors do find lead, they can remove it, but it will cost more money. The EPA estimates it costs $8 to $17 per square foot to remove lead paint, according to HomeAdvisor.
If you try and remove the paint yourself, you're in danger of lead dust forming. Even small amounts of this toxic dust can lead to short and long-term health problems.
When you choose to work with one of our Clever Partner Agents, you'll receive the services of a skilled agent who knows how to deal with lead paint. If you need guidance on the laws and regulations surrounding lead paint, our Partner Agents can help.
Our agents will address any concerns about lead paint you might have and whether or not it's safe for you and your family to buy a house built before 1978.
Related Articles
You May Also Like