The Arkansas real estate arena is home to some of the lowest priced properties in the country. Although growth is expected to stagnate over the next 12 months, ample flipping opportunities exist. The most important thing to remember is that flipping opportunities should be assessed on a regional basis.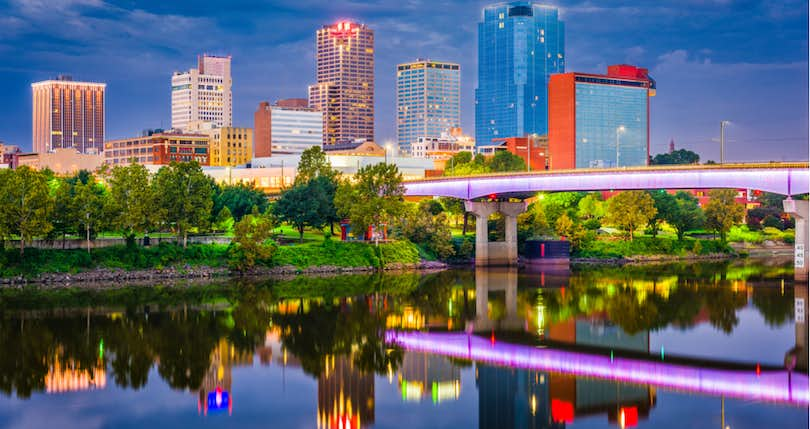 If you're based in Arkansas and thinking about flipping houses, then it's important that you have an understanding of both the risks and potential rewards. Although house flipping is a hugely successful career path for some, many fail to make a profit.
The reason is that just one poorly judged flipping opportunity can leave you with serious financial problems. You not only need to assess whether the specific property is a worthy investment, but you also need to make considerations regarding a range of external factors.
This will include metrics such as interest rates, inventory levels, and seasonal timing. You also need to evaluate the best housing markets to target on a region-by-region basis, as opposed to just state-wide.
With that being said, we've created the Ultimate Guide to Flipping Houses in Arkansas. We've covered lots of useful information, including an up-to-date overview of the Arkansas housing market, the things you need to consider when judging a flipping opportunity, and how to assess whether an investment is likely to turn a profit.
2019 Arkansas Housing Market Analysis
The Arkansas housing market is currently home to some of the most affordable properties in the U.S. The Bear State has a median house value of just $126,700, which is a highly attractive proposition for low-income and first-time buyers.
In comparison to the U.S. average of $226,700, this makes the average Arkansas home roughly $100,000 less expensive.
While the attractive prices found in Arkansas has resulted in low inventory levels, growth hasn't been particularly strong. Homes grew by 5.7% last year, which was approximately 1% lower than the national average.
Growth over the next 12 months is also predicted to be stagnant, with Arkansas properties forecasted to grow by just 3.5%, 0.6% lower than the national average.
At first glance, this makes Arkansas a rather poor choice for house flipping. However, assessing whether or not house flipping is a viable exercise should never be based purely on state growth. You should instead look for strong markets on a region-by-region basis.
For example, the Bentonville housing market is expected to grow by 5.1% over the next 12 months, which would surpass both state and national projections. Growth in Centerton looks even more favorable, with a 6.4% projection over the course of the next year.
You should also remember that just because a particular housing market is not growing in correlation to state or national levels, it doesn't mean that flipping opportunities do not exist.
If the Arkansas region in question is stagnating, it might allow you to negotiate a great deal that gives you enough of a margin to make the flip worthwhile. This is potentially viable in regions such as Fayetteville. Although the region is expected to grow by just 0.3% over the next 12 months, median property prices are rock bottom at just $108,500.
You should always use the services of an experienced Arkansas real estate agent when assessing the best regions to target for house flipping. They'll not only know the local housing market well, but they'll be able to identify potential flipping opportunities.
How to Tell if an Arkansas Property is a Good Investment
There are numerous strategies that successful house flippers use to determine whether a property is a good investment. One such example is to find a competitively priced house situated in a strong performing housing market.
With Centerton expected to grow at a faster rate than the state and national average in the next 12 months, properties priced cheaper than the $176,500 median might be worth considering.
You'll also need to assess whether your flipping strategy is going to include homes that require extensive repairs and renovations. Some flippers prefer investing in homes in a sub-par condition, as they believe that they can make higher profits once the home has been renovated.
Just make sure that you don't spend too much on repairs and renovations, as this could result in a negative ROI.
A rather straightforward task that you can complete to assess whether a flipping opportunity is worth taking is to obtain a comparative market analysis (CMA). You can obtain this through a Arkansas real estate agent, who will also be able to discuss the results with you.
How to Turn a Profit When Flipping an Arkansas House
One of the most important parts to the house flipping process is to assess what sort of returns you're likely to expect. Although your calculations should never be taken as gospel, they will at the very least give you an indication as to whether the flipping opportunity will turn a profit.
One of the most common equations that you can implement is the 70% rule. For those unaware, this calculates what the property is likely to be worth after repairs have been made. Known as the after repair value (AVR), if you proceed to purchase the property in question, then you should never pay more than 70% of this figure.
Let's take a look at a quick example by using the Centerton housing market as a case in point.
We mentioned earlier than Centerton median home values are priced at $176,500, with properties expected to grew by 6.4% next year.
You identify a potential flipping opportunity, but the property needs quite a bit of work doing to it.
You estimate that with repair costs amounting to $25,000, the property should have an ARV of $160,000.
$160,000 (ARV) x 70% = $112,000 – $20,000 (repairs) = $92,000
By applying the 70% rule formula, you should not pay more than $92,000 for the identified property.
If you allowed an Arkansas real estate agent to negotiate the above deal on your behalf, they would aim to achieve a sale price of below $92,000.
Paying Cash vs. Taking Out a Loan
Once you identify a house flipping opportunity in Arkansas, the next decision that you need to make is whether you are going to finance the deal, or pay for the property outright in cash.
Some people will argue that paying in cash in by far the best option. This will give you greater purchasing power when it comes to negotiating a better price on the property.
It will also motivate sellers to choose you over other buyers if there is no need to wait for finance to be approved. Buying the property in cash will also protect you from a potential negative ROI, should you fail to flip the property, and interest rates get hiked
On the other hand, if paying for the property in cash is not feasible, then you might be able to get a home equity line of credit (HELOC). This type of home financing loan is typically faster to obtain, as you are essentially using your current property as collateral.
If you don't currently have an existing property, and you're looking to obtain finance to fund the house flipping opportunity, then this might be tricky. This is especially the case if the property in question requires extensive work doing, as lenders view this as an added risk.
5 Best Areas in Arkansas for House Flippers in 2019
Fayetteville: If your house flipping strategy is to purchase super cheap properties, then you might want to consider Fayetteville. Median home prices are just $108,500 at present, although do remember, growth looks stagnant at just 0.3% over the next year.
Centerton: Centerton is predicted to outgrow the national average over the next 12 months, with prices forecasted to grow by 6.4%. Median property prices are higher than the state average, at $176,500.
North Little Rock: If you thought Fayetteville was cost-effective, median property prices in North Little Rock now stand at just $95,200. Although growth is also projected to stagnate at just 0.3% next year, the area is attractive for first-time and low-income buyers.
Bentonville: Bentonville property prices grew by 6.8% last year, with the next 12 months expected to yield an increase of 5.1%. Bentonville is on the more pricier side of Arkansas though, with median property prices of $232,100.
Springdale: Although median property prices in Springdale amount to approximately $37,000 higher than the state average, growth figures look good in the short-term. With growth projected at 5.9% over the next year, this outperforms averages at both a state and national level.
The above figures further amplify the point that you should always conduct your house flipping analysis on a regional basis, as each specific housing market often performs independently of one another.
Next Steps for Arkansas House Flippers
If you've read our guide up to this point, you'll now know just how complex house flipping can be. It's not as simple as choosing a property with the hope of selling it at a higher price. You need to make a significant amount of considerations, not only in terms of the property itself, but also the specific housing market it's situated in.
If you have little experience of flipping houses, then you're best off using a local real estate agent that knows the Arkansas market well. They'll be able to guide you through the flipping process by identifying suitable regions, suggesting potential properties, and help negotiate a good deal.
Clever can connect you with a reputable agent in the Arkansas area that has extensive experience in flipping properties. If you purchase a property in excess of $150,000 with a Clever Partner Agent, you could also qualify for Clever Cash Back — 0.5% of the purchase price back in eligible states.
For more information on how Clever can help, simply fill in our online form.
Related Articles
You May Also Like