Colorado is home to gorgeous mountain landscapes, rural high plains, bustling metro centers, and a variety of people from all walks of life that have found their way to this colorful state.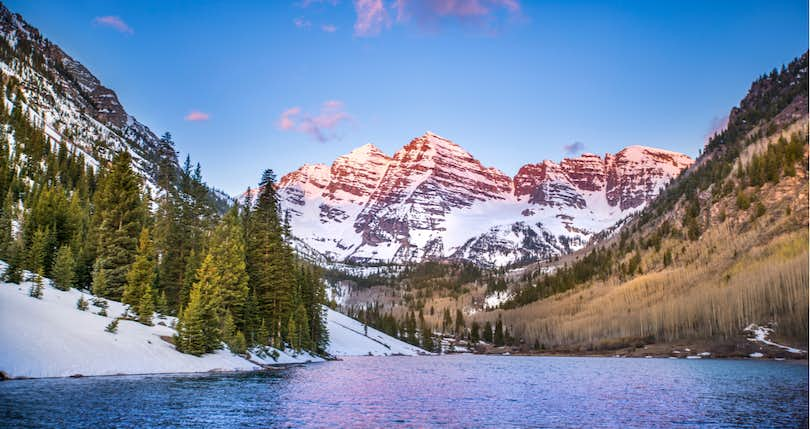 If you're considering moving to Colorado, you aren't alone. Over the past decade, Colorado has seen enormous population growth.
Colorado is continuously expanding to include a variety of industries, like tech, agriculture, marijuana, healthcare, and renewable energy. The workforce is increasingly innovative and motivated, and the myriad universities are attracting students from around the world.
Top 5 Reasons to Move to Colorado
Job Opportunities - The economy is booming along the entire Front Range with companies like Google, Ball Corporation, University of Colorado systems, Wells Fargo, and Comcast employer large numbers of metro populations. Start-ups are abundant as well and always scouting for national talent.
Mountain Access - Living in Denver puts you within a day trip's distance to the Rocky Mountains, while life in Colorado Springs, Fort Collins, or Boulder put residents even closer. You can go for afternoon hikes during long summer evenings and escape to some of the world's most renowned vacation spots — Aspen, Vail, and Telluride — in just a few hours.
Purple Lifestyle - Denver was one of eight cities in the US that had over 100,000 turn up for the Women's march in 2017. Colorado was the first to legalize recreational marijuana. Yet Colorado Springs ranks as the 4th most conservative city in the country, with Aurora close behind in 10th. Colorado is consistently discovering new ways to marry conservative ideals with progressive innovation.
The People - Maybe it's all the fresh mountain air, or the high quality greenery but most Coloradans are extremely friendly, warm, and outgoing. Moving here alone isn't as daunting as it could be in other large cities.
The Weather - Sixty degree January days can give way to April blizzards and you may even find yourself skiing through June. Colorado's abundant sunshine well makes up for the crazy weather patterns.
Quality of Life
Naming the factors that contribute to quality of life can vary depending on who you ask. Clean air, good restaurants, plenty of churches — quality of many different things to many different people. Overall, most areas of Colorado, both rural and urban, experience high quality of life.
Job prospects are abundant, income levels, while they don't always match rent prices, are fair and steadily increasing, tolerance is high, and there is plenty of open space and ways to get out and connect with nature.
Energy industry dots the western slope while agriculture covers the eastern plains, and each focus on connecting with and utilizing the land. The state's bustling metro centers concentrate on innovation and are home to fine dining restaurants, host internationally acclaimed musicians, and curate beautiful art exhibits. No matter how you define quality of life, Colorado offers a smattering of different lifestyles for all desires.
Economic Outlook
Colorado's economy is expected to add 53,200 jobs over 2019, namely in professional and business service sections. The Western Slope an Colorado Springs will be recipients of the greater majority of these jobs.
This is much slower when compared to 2018's job growth but this could be because Colorado's population is also slowing down, and many citizens are retaining jobs. Construction jobs are up by 2.9% while leisure and hospitality are up by 2.2%.
Southern Colorado cities like Colorado Springs and Pueblo are increasingly attracting tech industries, thus providing higher paying jobs for residents. Boulder County consistently outperforms national job markets.
Housing Market Forecast for 2019
And now for the not-so-good news. If you were a homeowner ten years ago, you'd be sitting pretty in any number of Colorado cities. Looking to buy now is much more expensive, but still doable.
Southern cities, The Western Slope, Denver and Boulder are all in red-hot seller's markets at the moment. Southwestern Colorado outposts are also benefiting from population and industry growth along the Western Slope, Arizona and Salt Lake. Home prices in Durango rose by 5.8% over the past year and are projected to increase by another 4.6% over 2019.
Boulder is coming down from it's hot seller's market and entering into a much cooler real estate climate, with home values projected to increase by only 2.8% within the next year. The median home value is still incredibly high at $740,300.
Colorado Springs is benefitting from the city's industrial and tech boom. Home values grew by 8.8% in one year's time and are projected to increase by 5.5% by May of 2020. Only 9.2% of listings saw price cuts and homes spent an average of 58 days on listing sites.
Next Steps
What are you waiting for? Pack up that moving van and go west, young man or woman. The mountains are calling! In all reality, Colorado is a fantastic place to live. If you're looking to put some roots down in this mountainous state, connect with a local realtor to get the ball rolling.
A Clever Partner Agent will be familiar with the ebbs and flows of Colorado's quickly changing real estate tides and can advise on which counties, cities, and regions would best suit your lifestyle and needs. Contact Clever today for a no-obligation consultation on your Colorado dream home.
Related Articles