If the warm weather and strong job market draw you to Southern California, which city offers the best combination of great schools, low crime, and affordable housing? Look at our list of six cities to consider when moving to Southern California.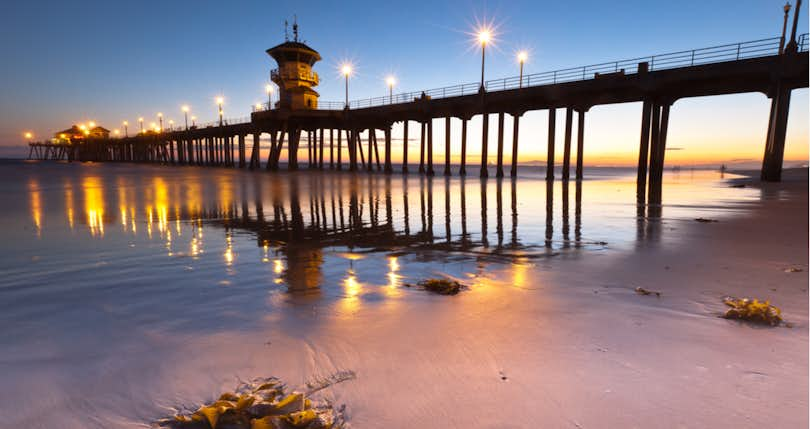 Southern California draws people dreaming of warm weather, beaches, and sun. It also has a strong economy, with many major corporations calling it home, and job growth. Many people love its laid-back, fitness-oriented culture, and view it as a healthy place to live.
But it's not, however, cheap. Population growth and limited housing inventory have contributed to creating one of the most expensive housing markets in the country. People seeking to move should know this from the start.
Our list contains some of the best places to live in Southern California and a few hidden and cheaper gems. Before beginning your home search, be sure to talk to a local real estate agent to get the inside scoop.
»FIND: Top Real Estate Agents in California
Looking for somewhere to live in SoCal?
Find a great home with the help of a Clever Partner Agent
San Diego
San Diego is known for its great weather, beaches, famous nightlife, and a melting pot of cultures. It also has an excellent job market, with more variety than other Californian cities, with jobs in defense, tourism, technology, life sciences, and international trade.
While the median home values in San Diego are high, at $633,600, you can find cheaper options in its surrounding suburbs.
»FIND: Top Real Estate Agents in San Diego
Irvine
Irvine is in Orange County, a wealthy and safe area with a strong economy. Most of the jobs come from the almost 200 companies on the Fortune 500 list which are headquartered or have offices there. It's also a college town, home to the University of California, Concordia University, and Irvine Valley College.
Top-notch schools attract many families to the area, where 97% of high school graduates go on to university. It's often been ranked as one of the safest cities in America, and it has a lot of opportunities for job seekers, ranking 34th on the list of top 100 cities for jobs in the United States.
Its home prices reflect the benefits of living there, with median home values of $856,000. Given that median household incomes are $95,573 it's not surprising that the homeownership rate is below 50%.
»FIND: Top Real Estate Agents in Irvine
Lake Forest
Located south of Irvine, home prices are a little more affordable in Lake Forest. Median home values are $710,000. The median household income is $96,963, and the city has a low poverty rate.
Lake Forest has a great public school system with a graduation rate of 95.8%. The city's teen programs focus on after-school study help, day trips, and volunteer opportunities that keep them engaged in their community.
Kids can play at the Pretend City's Children's Museum or one of the city's many parks. Adults will enjoy nights out at one of its many restaurants and bars. It's rated as one of the best places to live in California, with low crime, high median household income, and access to the great outdoors.
Murietta
Beautiful vineyards and natural attractions surround one of the safest cities in America. Murietta is only 100 miles from Los Angeles but far from its crime and housing issues. Median home values are $439,100 and have stayed steady in the past few years.
The city is no slouch for services, though. It features three golf courses and two hospitals, amazing public schools, and under an hour drive to beaches and skiing. A more family-oriented and quiet place, some residents complain about the lack of nightlife.
»FIND: Top Real Estate Agents in Murrieta
Redlands
If you're looking for more affordable housing, the median home values in Redlands are $416,400. The smaller town is inland, with no access to the ocean or beaches. But it has beautiful mountain views and access to great outdoor activities.
The schools are highly rated and the town's population is primarily professionals. It's a family-friendly town that works hard to keep crime rates low and the quality of life high.
Yuba City
By far the cheapest option on this list, Yuba City has median home values of $294,700. It's an up-and-coming area with a hot housing market. The area presents a lot of economic opportunities and median household incomes jumped by 48.6% in 12 twelve years.
While it doesn't have a lot of glitz and glamour, Yuba City has nice restaurants and shopping, a water park, and plenty of outdoor activities. Public schools have decent ratings, with a few top-performing schools. Median household income is lower than in other Californian cities, at $51,037, and the poverty rate is much higher.
A Clever Partner Agent has the local knowledge to help home buyers find you the perfect home in Southern California. And our agents may be able to provide you with Clever Cash Back. Ready to learn more? Get in touch with Clever to arrange a free, no-obligation consultation with an agent in your area.
Related Articles