The southern part of the Sunshine State gives its residents a tropical climate, endless activities, and gorgeous natural beauty. It also has a diverse array of options to choose from. Whether you're a city person or looking for a more laid back lifestyle, South Florida has a place for you.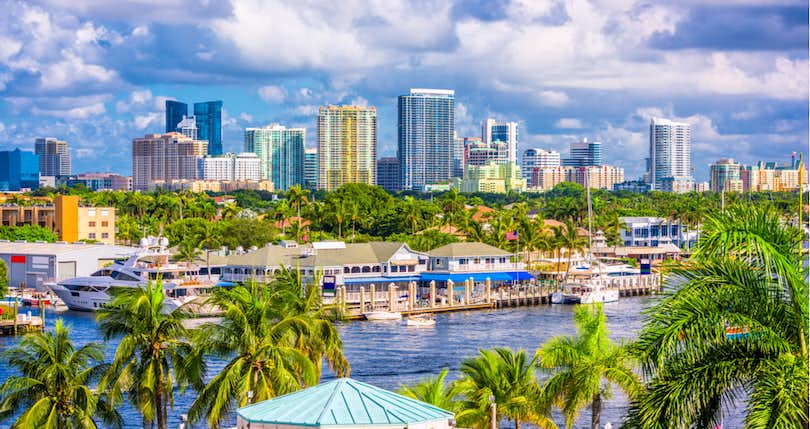 South Florida is a great place to live. It offers residents easy access to the ocean, nearly non-existent winters, and a number of diverse places to choose from. South Florida is also the only area in the continental United States that has a tropical climate.
South Florida encompasses Florida's southernmost counties, including Palm Beach, Miami-Dade, Broward, and more. This includes Miami and its metro area, the Florida Keys, and the beautiful Everglades. Whether you're interested in city life, a suburban setting, or the country, South Florida has a place for you.
Florida has a reputation for being a destination for retirees. And while the Sunshine State has a lot of great options for retirees to choose from, that's far from all it has to offer. South Florida, in particular, is also a hot destination for young professionals and families.
Thinking about moving to South Florida? Here are a few of our favorite places to live.
1. Miami Beach
When most people think of southern Florida, they think Miami Beach — and it's a truly great place to live. Your mind may immediately go to partying when you think of South Beach, but the area has a lot more to offer than just night-life (although the night-life options are also world-class).
Miami Beach is diverse, one of the best art deco centers in the world, and, of course, full of great beaches. The local Cuban culture gives the area a lot of vibrancy, in terms of daily live and colorful architecture. There's a reason people from all over the world choose to make their homes in Miami Beach.
2. Vero Beach
Vero Beach is on the Treasure Coast and for a long time was one of Florida's best-kept secrets. Vero Beach is no longer a secret, but it's still an excellent place to live — and one of the most affordable beach cities in the state.
Its residents enjoy a plethora of beaches, outdoor activities, cultural experiences, and restaurants. Vero Beach has a beautiful art museum, lots of local shops, and one of the world's largest habitats for nesting turtles.
Because Vero Beach is one of the best places to live in the Sunshine State, you may be surprised to learn that it's also eminently affordable. According to July data from Zillow, the median home value in Vero Beach is just $212,000 — tens of thousands of dollars below both the state and national medians.
3. Key West
Key West is the closest thing to a tropical paradise that you can find in (or near) the continental U.S. Located in the Atlantic, Key West actually happens to be closer to Cuba than Miami.
Key West is more than just a tourist destination — it also offers residents a slow-paced, eclectic, offbeat home. Judy Blume, Robert Frost, Jimmy Buffet, and Ernest Hemingway have all lived on this beautiful island.
Buy with a top agent, get cash back!
Qualifying Clever buyers get 0.5% back after closing.
4. Naples
Naples can be found on the Gulf of Mexico, across Alligator Alley from Miami. Naples has a bustling downtown and some of the best sunsets you can find. Naples is known for a high quality of living, good public schools, and a low crime rate.
A quick trip from prestigious Marco Island, Naples is known as an affluent community. Even so, living in Naples is still relatively affordable. The median home value is higher than the state and national average, but middle-class and working-class residents can still find places to live in their price range. And with everything Naples has to offer, it's kind of a steal.
5. Palm Beach Gardens
Palm Beach Gardens is the more affordable neighbor of Palm Beach. Palm Beach Gardens is located just blocks from the ocean, and at a fraction of the price of nearby cities. Palm Beach Gardens' median home value of $378,200 may seem high at first glance — until you see that the median home value of Palm Beach is a staggering $1,152,800.
With a population of around 51,000 people, Palm Beach Gardens has a lot of shopping, dining, and nightlife options to choose from. Palm Beach Gardens also has a number of outdoor activities to enjoy, including golf courses and a number of local parks. And with the beach just a short distance away, it's no wonder Palm Beach Gardens has become a popular area for young families.
Thinking About Moving to South Florida?
If you're looking to buy a house in South Florida, one of the first things you need to do is get yourself a great South Florida real estate agent. Local agents understand their markets and can help you find your dream house within your budget.
Clever Partner Agents are all top-rated experts in their areas and will help you find the right place to settle down. As an added bonus, Partner Agents also offer Clever Cash Back to their clients, helping home buyers to save even more money.
Contact Clever to get in touch with a Partner Agent today.
Related Articles