Although market forces are likely to be the main factor in how much you sell your property for, it is still worth assessing whether making improvements to your home can add additional value. One such angle that homeowners often look at is whether or not to upgrade their bathroom.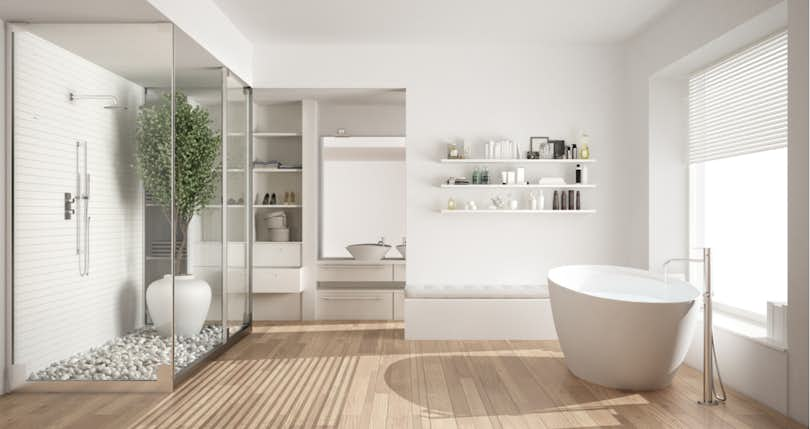 In the build-up to selling your house, it is important that you make some considerations on maximizing your sale price. While sales are most commonly dictated by market forces, there are a number of steps you can take to add value to your home. One such avenue is to upgrade your bathroom before selling your house.
Whether or not this is viable will ultimately depend on how potential buyers view the upgrade. In other words, will buyers be prepared to pay more for a property because of a brand new bathroom?
If you're sitting on the fence as to whether or not you should invest money into upgrading your bathroom, be sure to read our guide.
1. What Is The Current State Of The Local Housing Market?
Before you head to your local plumbing store, you need to ask yourself whether it's actually necessary to make improvements to your bathroom. If your property is situated in a strong seller's market, then you probably don't need to invest money into making improvements.
In such a marketplace, demand for properties outweighs the availability of listed homes, meaning that there is often competition between buyers.
If this is the case then you are likely to receive at least the price your property is listed for. An experienced real estate agent that knows the local market well might even be able to get more.
At the other end of the spectrum, if your property is situated in a buyer's market, and as such, you're in competition with other sellers, then you might want to consider making improvements to make your home more attractive to potential buyers.
2. What Condition Is The Bathroom Currently In?
You need to make some considerations as to the current state of the bathroom. If the bathroom was recently upgraded, and it requires just a few minor improvements, then it is probably worth the investment.
However, if you're bathroom requires significant work, both in terms of time and money, then it might be worth listing the home as-is. This is because you might end up spending more on the bathroom that you are able to ask for in added value, subsequently resulting in a negative return-on-investment (ROI).
It is also worth remembering that potential buyers might prefer to upgrade the bathroom themselves, to meet their own personal specifications. You don't want to upgrade your bathroom, only to find that buyers don't like the new look.
3. How Much Will The Upgraded Bathroom Actually Cost?
The amount of money required to upgrade a bathroom will vary greatly depending on how much work actually needs to be done.
Remodeling Magazine's 2018 Cost vs. Value Report estimates that the average "midrange" bathroom upgrade costs in the region on $19,000. This would cover of a bathroom with a size of 5-by-7 foot.
Among other improvements, such a price would include a new standard white toilet, single-level shower control, and a recessed medicine cabinet.
The same report estimates that an "upscale" bathroom sized at 35 square feet would cost more than $62,000. It is highly unlikely that you would ever recoup such as investment of this size, which is why you should assess how much you are likely to get in added value, before making the upgrade.
4. What ROI Will My Upgraded Bathroom Yield?
One of the most difficult tasks when assessing the worthiness of a bathroom upgrade is the anticipated ROI. In a nutshell, you want to ensure that the money invested will result in a higher sale price that at least matches the cost of the upgrade.
For example, if you spend $14,000 on the upgraded bathroom, you will ideally see your home increase in value by at least $14,000, if not more. However, this is rarely the case.
While figures will depend on the specific housing market, Zillow claims that a mid-range bathroom remodel averages an ROI of 70.1% in the U.S. Figures are even bleaker for those that engage in an upscale bathroom remodel, with an average ROI of just 56.2%. This means that an average upscale remodel cost of $61,662 will yield just $34,644.
On the other hand, a negative ROI on your bathroom upgrade might be a necessary course of action if you're operating in a really weak housing market. If limited buyers are active in the market, then an upgraded bathroom could increase demand on your listed home.
5. Consider Making Small & Meaningful Improvements
As the old saying goes, "sometimes less is more." This couldn't be truer when it comes to upgrading your bathroom. Making small and meaningful repairs is an excellent way to add value to your home without spending a lot of time or money.
One such example of this is if your bathroom has tiles and they are appearing worn, then you should think about grouting the corners and edges. This is a cheap and easy process that can add a bit of spark to your bathroom. An additional small and meaningful improvement that you can make to your bathroom is to replace old taps, as well as a tired looking shower head.
While the above improvements are unlikely to add value to your home in monetary terms, it might make your home more appealing to potential buyers and thus, result in a higher number of offers.
Upgrading Your Bathroom - The Verdict?
Making a decision on whether or not to upgrade your bathroom before selling your property is no easy feat. The decision should ultimately be based on your potential ROI.
You are probably best leaving such a decision to an experienced real estate agent that knows the local housing market well. Not only will they be able to suggest whether or not the upgrade is worth it, but they'll be able to make some estimates regarding the potential ROI.
Clever can connect you with a local agent that will be able to guide you through the entire selling process, including that of any necessary repairs or renovations. To find out more about how Clever can help, simply fill out our online form.
Related Articles
You May Also Like