Many home buyers put a nice kitchen at the top of their list when looking at homes. If you're selling your house, you want to get top dollar. Should you upgrade your cabinets or do a full remodel? Here's what you need to know to decide.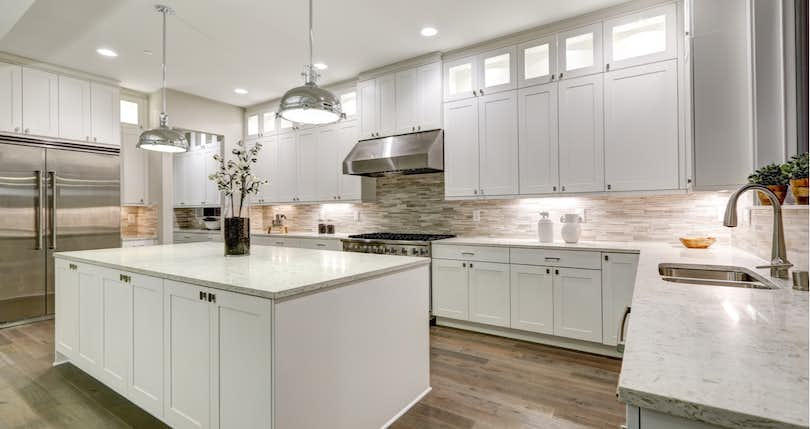 Selling your house can be a huge undertaking, with much to consider. A few simple home improvement projects can increase both your home's value and its chances of selling quickly. When deciding what to prioritize, start with the kitchen.
The kitchen is one of the most important rooms in the house and many home buyers head to it first when touring your home. They'll be looking at its cleanliness, how easy the space is to cook in, and the quality of your cabinets. Your agent can give you more specific insight into what buyers in your area want in a kitchen, but here are a few points to consider.
Evaluating your Current Kitchen
If your kitchen hasn't been updated since 1975, you probably already know that it's going to be an issue when you sell the house. The average kitchen remodel is over $20,000, and cabinets make up a good portion of that price tag.
Before you decide you're going to remodel your kitchen before putting the house on the market, talk to your real estate agent. They can offer advice on the most impactful changes to make, how to renovate or remodel your kitchen to appeal to current buyers and keep you from wasting your money on fixes that won't impact your final selling price.
Should you Renovate Your Cabinets?
If you know that your kitchen is dated, you have a couple of options. One is to renovate. A renovation consists of restoring or repairing rather than completing replacing.
If you decide to renovate, you could look into painting your cabinets a cheerful, bright color. Replace knobs and pulls with more modern and attractive alternatives. Make sure that any leaky faucets, broken handles, or cracked tiles are replaced.
The benefit to going this route is that it's typically cheaper than a full remodel. You're essentially giving your kitchen a mini-makeover. It can only take an afternoon to patch, paint and replace the hardware on cabinets. Many hardware stores also sell cabinet stripping kits if you prefer to stain rather than paint.
Even putting in a small effort can help sell a house that's not in top shape, and will help offset some of your home's other negative factors.
Should you Remodel Your Cabinets?
A remodel is a wholesale replacement of the existing kitchen's cabinets, hardware, and fixtures. You'd be gutting your kitchen and paying for a whole new set of cabinets.
As noted, a full kitchen remodel can be quite expensive. If you use cheaper cabinets, like those available at big box discount hardware stores, home buyers will be able to spot them. And if you replace the cabinets, you'll likely have to replace the countertops, too.
Remodeling cabinets, or a full kitchen, can take many months. It will delay the time until you can list your house for sale. If this delay puts you outside the peak selling season, it could be harder to recoup your costs.
And, after you've spent all that money, you may decide that you want to stay in the home. Unless your agent can show how a full kitchen remodel is either necessary or will be reflected in the final sale price, think long and hard before spending this time and money.
Prepping your Kitchen to Sell
There are a few things that you should do, at a minimum to prep your kitchen before listing. Oil the hinges on the cabinets, wipe down the shelves and clean the cabinet doors. Patch and replace any holes in the walls, clean off splattered grease, and paint the backsplash. Make sure that nothing is broken, from the faucet sprayer to the garbage disposal.
A cabinet renovation or remodel might be fully outside of your budget, but a clean kitchen will only help your home sell.
Before you decide whether or not to replace or repair your cabinets before selling, reach out to a local real estate agent for specific guidance. Your kitchen may not be in as bad a shape as you think. To talk to an agent in your area, reach out to Clever today.
Related Articles
You May Also Like