When looking at a home with a shared driveway, there are a number of factors to consider. Is a shared driveway right for you? That depends on your situation and the particular shared driveway situation that you're considering.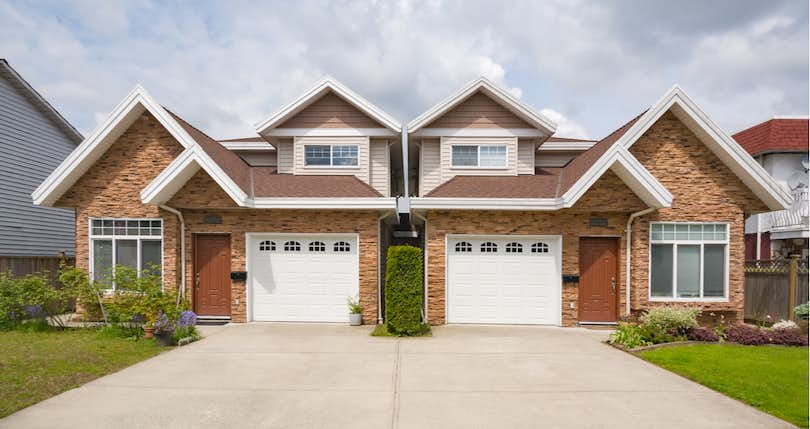 There are a lot of things to consider when buying a new home. One thing that a lot of people don't consider until they encounter it is whether or not they would feel comfortable buying a house with a shared driveway.
Whether or not a shared driveway is right for you is going to depend on a lot of things, including how large the driveway is, how many cars you own, and what types of parking are generally available in your neighborhood.
Buying a home is always a personal decision and there is no one-size-fits-all approach to answering any question. But by considering the pros and cons, you can figure out what kind of parking situation is right for you.
Homes With Shared Driveways: The Pros
If you share a driveway, that also means you share the cost of maintaining and repairing the driveway. You and your neighbor(s) will split the price of things like repairing cracks, pressure-washing, or even replacing the entire driveway, if it comes to that.
Shared driveways can also help out buyers by lowering the sale price. Particularly in neighborhoods where shared driveways are uncommon, they can bring down the sale price of a home and get you a great deal.
Homes With Shared Driveways: The Cons
There are potential issues that come with sharing anything and driveways are no exception. Most people don't know their future neighbors when buying a new home and shared driveways can lead to complications in that relationship.
Rules must be established — and followed. There could be disagreements about driveway repairs and maintenance. And, let's be honest: some people are just hard to deal with.
The discount you got on your purchase price could also come back to haunt you if/when you decide to sell your home. You will likely have to give that same discount right back to the new buyer when you move out.
What to Consider
Before you say yes to a property with a shared driveway, it's important to know exactly what you're getting yourself into.
Ask the seller for any agreements, easements, or other documents related to the shared driveway. If the seller isn't aware of any easements or rules, your closing attorney can research it when doing a title search on the property. You should also conduct a survey of the property, which will tell you how much of the driveway you will actually own.
Some potential issues with your future neighbors and driveway-mates could be headed off by planning in advance. During your due diligence period, try to meet with the neighbor and come up with a set of rules for the shared driveway.
It's likely that your new neighbors share your concerns about sharing a driveway with a new, unknown person. By coming to an agreement and putting it in writing, you may be able to avoid awkward disagreements.
Is a Shared Driveway Right For You?
Buying a new home always comes with a lot of decisions, and whether or not you need a private driveway is only part of the equation. Every situation is unique and every family has unique concerns. For tailored advice and guidance throughout the home buying process, work with an experienced local real estate agent who fully understands the pros and cons of the situation.
Related links