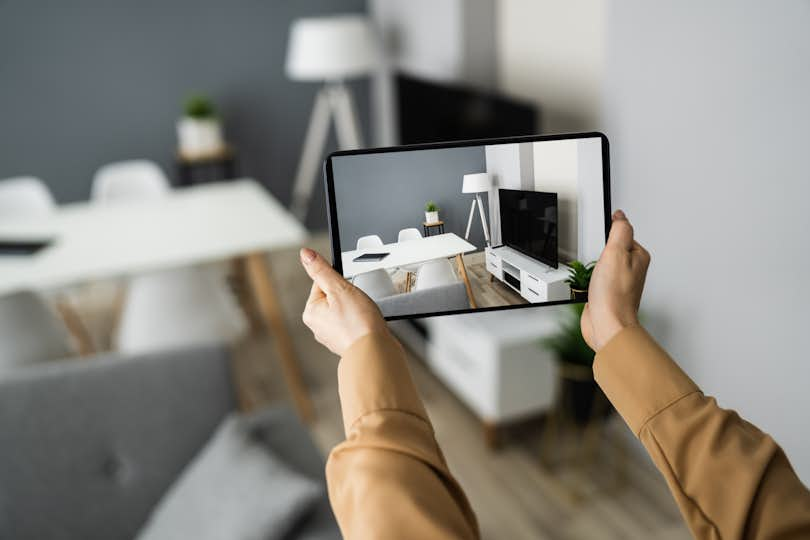 What it means to buy a house sight unseen
Buying a house sight unseen means that all aspects of the home purchase — starting with the initial viewing and ending at the closing table — are conducted virtually and online. The viewing might include a video and images, or a trusted realtor might lead you on a live virtual tour.
Although some might cringe at the idea of buying a house without looking at it in person, the idea is gaining traction.
A 2022 survey of home buyers by Real Estate Witch found that:
86% of millennial buyers are open to purchasing a home without an in-person showing.

Of those who bought a home this way, just 8% regretted their decision.

More millennials would buy a home after seeing photos (70%) than would buy it based on the recommendation of a trusted friend (36%).

Important factors that influence the decision to buy a home sight unseen include the price (47%), new construction (37%), and stiff competition among buyers (28%).
In fact, one report revealed 47% of home buyers in the past two years have made an offer on a home without seeing it in person. Buying sight unseen isn't just a fad — it's becoming a permanent way of doing business.
>> GET A FULL-SERVICE AGENT AT A 1.5% COMMISSION. Get personalized agent matches today from Clever Real Estate with no obligation.
Why virtual viewings are here to stay
Simply put, COVID made the idea of buying a house virtually the safest way to do business. With the use of crystal-clear videos, professional photos, and guidance from the listing agent, people felt more comfortable buying a house without ever stepping foot into it.
Fierce competition and low housing stock didn't hurt either. If you waited to schedule an actual in-person tour during the global pandemic, chances are good that your dream home would be purchased out from under you.
It turns out that buying and selling a house sight unseen may be the most efficient and safest way to move.
Pros of buying a home sight unseen
There are some distinct advantages to buying a home sight unseen.
It's safer
For many, 2022 signaled a return to more "normal" ways of doing business, but for others, COVID remains a threat. Immunocompromised people or those at higher risk of serious illness are much safer buying a house without an in-person viewing.
It's faster
Even if you can't put a house in your cart and check out with a simple click of your mouse, purchasing a home sight unseen is generally faster because you skip the step of scheduling a tour.
It's (sometimes) cheaper
In some cases, people who purchased their home online spent less than those who engaged in a bidding war with multiple potential buyers. These savings were magnified for those who used a flat-fee realtor or skipped hiring a real estate professional altogether.
It's easy to view homes at a distance
If you are moving for work or just relocating to another state for a change of pace, buying a home site unseen allows you to look at properties without the added expense of traveling for in-person viewings. Purchasing sight unseen is also fairly common when it comes to investing in land.
Cons of buying a home sight unseen
As with everything, there are some clear downsides to purchasing a home without viewing it.
It's risky
You can't feel entirely confident that the home you're seeing on the screen will be an accurate representation of the property in real life. It's hard to get a feel for a home with only photos and videos.
This is especially true for where the house sits. Remember, "location, location, location." You can't hear the train crossing at all hours a couple of blocks away, or smell the papermill through a screen. Make sure your virtual tour includes images of the neighborhood, too.
It's still a novelty
Sellers may not take your offer seriously. After all, since you haven't visited and fallen in love with a property in real life, what's to stop you from backing out at the last minute? Some realtors advise their clients not to entertain offers from people who haven't taken a physical tour.
How to buy a house sight unseen
If you choose to move forward buying a house without an in-person viewing, most of your leg work starts with researching the home-buying market in your area.
Use a professional real estate agent working on your behalf, or find a trusted website that helps homeowners sell their own house.

Examine the property in all media you can, including videos, virtual tours, photos, and descriptions.

If you're using the services of a realtor, ask them to take a tour for you.

Treat it like a traditional real estate transaction, and get preapproved for a mortgage.

Make an offer. Once the seller agrees to the offer, prepare an earnest money deposit and decide what contingencies you'd like to include in the contract (e.g., inspections or the sale of your own house).

Get the property inspected. Skipping this step could be a critical mistake. Don't be penny-wise and pound-foolish — spend the extra couple hundred dollars to make sure your property is sound.

Select a mortgage lender. They will finalize the terms of your loan, lock in your interest rate, and order a title report.

Once you receive your estimated list of closing costs, it's just a matter of time before you can sign on the dotted line (virtually, of course) and move into your new home.
>>TIRED OF BAD MOVES? Check out the best moving companies in your area and get free quotes.
Should you buy a home sight unseen?
As popular as this practice has become, the only person who can make this decision is you. It really depends on your tolerance for risk and ability to conduct as much due diligence as possible before you close.