Overall rating | Customer experience | Agent quality | Brand visibility and reach | Service value | Locations | Methodology
Ruhl & Ruhl is the largest independent real estate brokerage in Iowa. This family-owned business has been around for over 150 years, with over 300 agents in Iowa, Illinois, and Wisconsin.
Bottom line: Do we recommend Ruhl and Ruhl Realtors?
Ruhl & Ruhl is a great brokerage option if you're buying or selling a home in the Quad Cities or Southwestern Wisconsin.
The company offers all the basic services you need to buy or sell a home. These services include MLS listing, syndication across major real estate sites, professional photography, and home showings. Ruhl & Ruhl also advertises properties on social media and its listing site, ruhlhomes.com.
Agents at Ruhl & Ruhl have more years of experience than the industry median. And the agents complete more transactions than average. There aren't many public reviews, but the company does have an A+ rating from the Better Business Bureau.
One downside is the company's limited service area. Its has 14 offices near the tri-border of Iowa, Illinois, and Wisconsin. Ruhl & Ruhl could probably help buyers and sellers throughout these states. But the agents will have the most experience with transactions near the Quad Cities.
Ruhl & Ruhl is a reputable, experienced company. But it's better to pick a quality agent rather than picking a well-known brokerage. We recommend interviewing agents from Ruhl & Ruhl and other real estate brokerages before you decide.
🏡 Compare agents, save money! Try Clever's free agent matching service. Choose from top local agents from the best brokerages, get built-in savings. Learn more.
Ruhl and Ruhl Realtors: Our in-depth breakdown
Reputation and customer experience
📊 Our rating: 4.0/5
Average rating on Google

A+ rating on BBB
Ruhl & Ruhl doesn't have many public reviews. It has 51 Google reviews, with an average rating of 3.9 out of 5 stars. Most real estate brokerages we've seen have an average rating of 4 stars, so that's a little low. The company has an A+ on the Better Business Bureau, with no formal complaints filed against it.
Reviewers usually use third-party review sites to complain rather than praise. So, you shouldn't ignore bad reviews, but don't let them be the deciding factor when you pick a brokerage.
Agent quality
📊 Our rating: 4.5/5
Quality agents

11.7 years of experience

17.9 completed transactions per year
Based on our research, Ruhl and Ruhl Realtors agents are experienced and successful.
We looked at the 137 Ruhl & Ruhl agents who listed their experience on Realtor.com. Those agents (about a third of the company's total number of agents) had an average 11.7 years of experience — more than the industry median of 8 years.
The company's 337 agents completed 5,728 transactions in the past year. That's roughly 17.9 transactions per agent, higher than 12, the industry average.
The agents at Ruhl & Ruhl are good, but don't take our word for it. No matter how reputable a brokerage may seem on paper, it's always a good idea to check out agents individually. We recommend you ask to interview them before you hire them.
Brand reach and visibility
📊 Our rating: 5.0/5
High-quality website with strong traffic

Dense concentration of agents in Quad Cities
Ruhl and Ruhl's brokerage brand reach and visibility are some of the best we've seen.
The brokerage has a superb website and web presence. In fact, REAL Trends ranked the website fourth in design and best overall out of hundreds of other real estate sites nationwide. According to our data analysis, the Ruhl & Ruhl website gets over 57,300 monthly visits, with over 8,200 people searching for Ruhl and Ruhl Realtors each month.
Ruhl & Ruhl focuses on the markets near the tri-border of Iowa, Illinois, and Wisconsin, rather than throughout those states. The company has 14 offices in the Quad Cities area of Iowa and Illinois. It also has agents in southwestern Wisconsin, and Iowa City, Cedar Rapids, and Burlington, Iowa.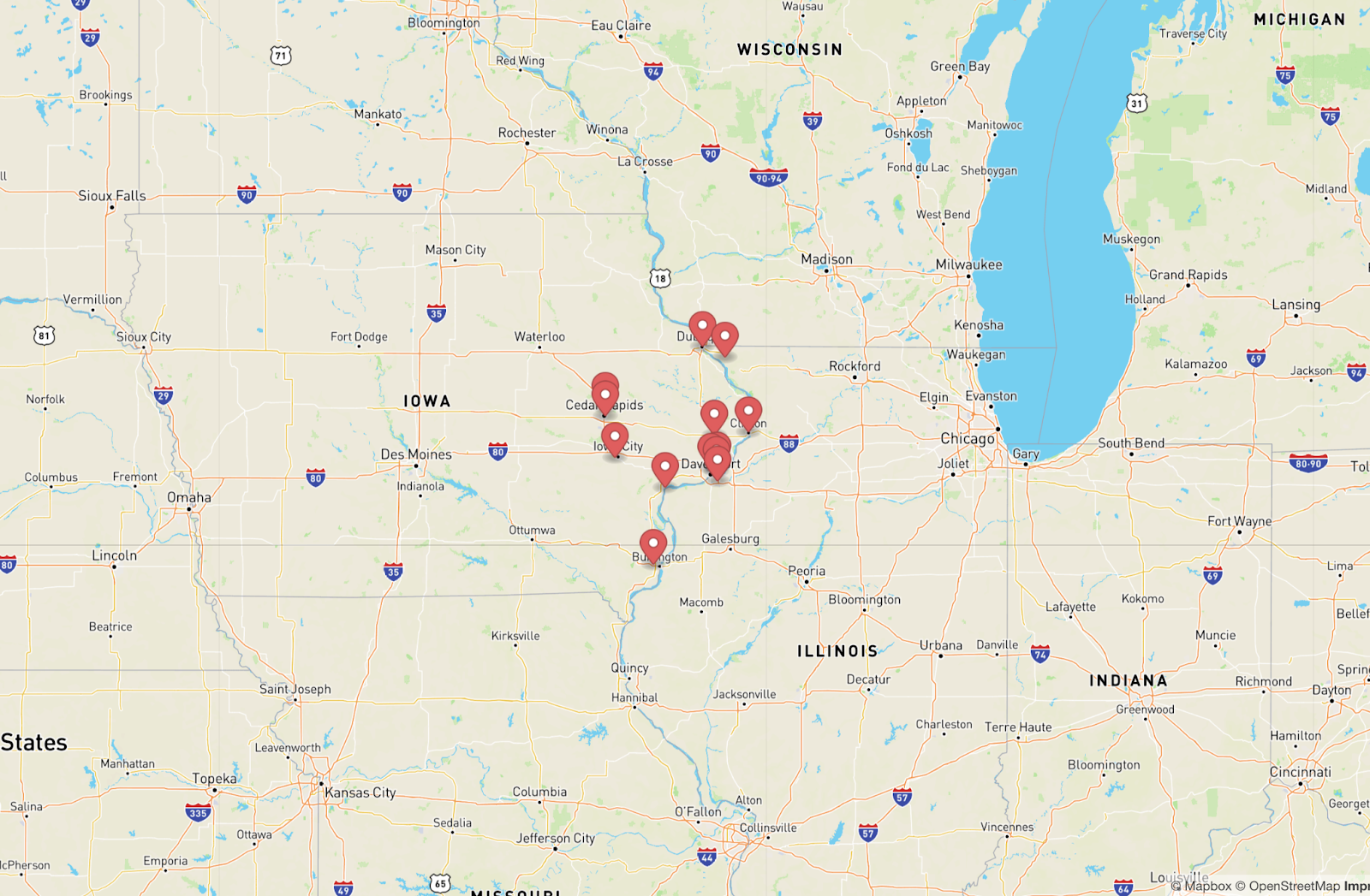 Service value
📊 Our rating: 5.0/5
MLS listing and exposure on ruhlhomes.com

Social media promotion

Weekly market reports
Ruhl & Ruhl provides excellent value, even if they do charge full commission.
The company is a full-service brokerage that offers everything from MLS listings to professional photography and open houses.
It also has some extra services:
Personalized virtual tour — The company makes a video from listing photos, with a narrator highlighting the best aspects of your home. It's more like a photo montage than a virtual tour. The company posts the video on YouTube and ruhlhomes.com.

Listing on ruhlhomes.com — Ruhl & Ruhl lists your home on its self-branded website, which gets a lot of monthly visitors.

Social media promotion — The company can advertise your listing with geo-targeted Google ads and Facebook promotions.

Weekly reports sent to your email — The company sends a weekly Neighborhood Report, which details how many pending listings in your area have sold and for what price. It also sends out a Seller's Report, a weekly digest of how many people have viewed your listing.
These services can help you sell your home faster and for a potentially higher price. But they come with a cost. If you hire an agent from Ruhl and Ruhl Realtors to help you sell, expect to pay full commission, no matter what local competitive rates are. For a frame of reference, here are the state averages for the markets Ruhl and Ruhl Realtors operates in:
» MORE: Average Commission Rates Across the U.S. 2022
💰 Top agents, big savings:
Clever's free service matches you with top local realtors from the best brokerages (like Ruhl and Ruhl Realtors) but negotiates big savings.
Sellers list for just 1.5%. Buyers can get thousands in cash back after closing.
Additional info about Ruhl and Ruhl Realtors
General contact info (corporate office)
📍 Address

5704 Utica Ridge Road

Davenport, IA 52807

☎️ Phone

(563) 441-5102

📱 Social media
Other Ruhl and Ruhl Realtors services
This review is focused on Ruhl and Ruhl Realtor's core real estate agent service. We've listed its other services (mortgage, title, insurance, etc.) and links to their respective websites below.
Make sure you shop around to get the best fit and value. Don't go with a Ruhl & Ruhl service just because of the convenience!
Next steps: start interviewing agents!
Interview multiple agents (ideally two to three) to ensure you get the best fit and value. Remember: always hire the agent, not the brand. When you're ready to start searching, check out our guide on how to choose the right real estate agent. Clever's free agent-matching service makes agent shopping fast and easy, and it can save you money.
🚀 Ready to get started?
Sign up below to get matched with top-performing agents in your area! Compare options, choose the best fit, and save money.
Sellers get pre-negotiated 1.5% listing fees (avg. seller savings is $9,600.)

Buyers can get 0.5% cash back after closing ($2,000 on a $400,000 house)
Clever is 100% free with no obligation. Give it a try today!
Rating methodology
We evaluate brokerages based on four core criteria we think will help readers make informed decisions. We broke those criteria down into discrete metrics so we could make the score as objective as possible. Here's a quick breakdown of that criteria and methodology:
Customer experience
Do most people who work with this brokerage have a generally positive experience? Are there any red flags?
What we looked at:
Average customer ratings across various third-party review sites, like Zillow, Realtor.com, and Google

The content of those reviews, via sentiment analysis tools and manual reading, to pull out key positive and negative themes and summarize key risks and benefits

The Better Business Bureau profile for formal complaints
Overall agent quality
How strong is the agent team? What are the chances of ending up with a solid realtor that will meet different needs, preferences, and availability?
What we looked at:
Total number of agents vs. offices to gauge how wide the selection is

Average experience of the entire team, based on public agent data on sites like Realtor.com and Zillow

Average annual transactions per agent, sourced from RealTrends or brokerage-provided data, compared with the industry average
Visibility and reach
How much "brand power" does this brokerage have? Does it increase awareness and get more eyes on your listings, more showings, or quicker offers?
What we looked at:
Social media presence across all major consumer-facing social platforms (Facebook, Twitter, and Instagram)

Online audience size through web traffic volume and monthly Google searches for the brand name

Marketing reach, like listings on all major MLSs and populator listing sites like Zillow and Realtor.com
Value and service quality
How does the brokerage compare with other conventional brokerages? How does it compare with the market rates for commission (~3% listing fees)? Are you getting too little, the right amount, or more service for the tentative fee?
What we looked at:
What we consider "full service" for a real estate brokerage:
Professional home valuation

Advice on how to stage your home

High-quality professional photography

Listing on a multiple listing service (MLS) and home-buying websites

Open house management

Negotiation

Assistance with paperwork