If you're weighing the options of renting versus buying in Las Vegas, NV, you should know that both have upsides and drawbacks. The answer ultimately depends on multiple factors, such as your finances, your long-term plans, and the real estate market in the area. We've outlined everything you need to know.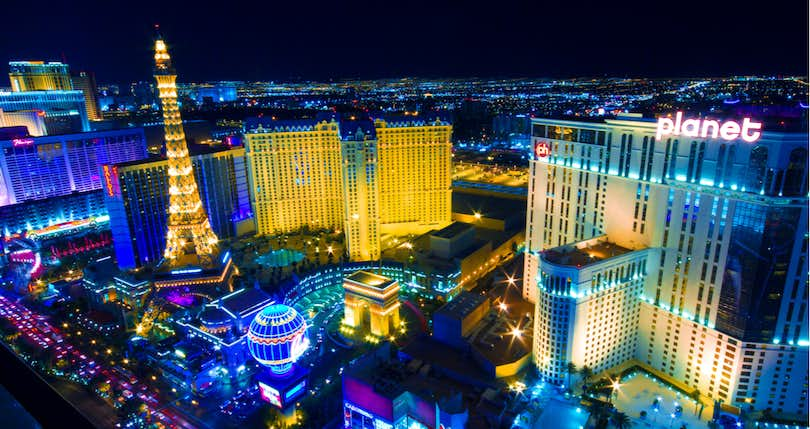 Considering a move to Las Vegas? While it's common to blow a bit of money on a fun-filled weekend spent gambling in Sin City, anyone settling here for the long haul will want to follow a more sustainable spending plan; and deciding between buying or renting in the area is the first big decision you'll need to make to help get you on the right path.
Here are some factors to consider when deciding between renting and buying in Las Vegas.
Cost of Living
To truly decide between renting and buying your next Las Vegas property, it will help to know what expenses to expect from both options. We've laid out everything you need to know.
Home Prices vs Rent Prices
According to Zillow, the median price of homes that sold in Las Vegas is $275,500. Renters in Las Vegas face a less volatile market, and rentals in the city are relatively affordable. The median rent price in Las Vegas is $1,499, but there are many types of apartments in the city that may be less costly for you every month.
Studio apartments in Las Vegas go for an average of $877. A one-bedroom place will cost you an average of $780 a month. If you need an additional bedroom for children or frequent guests, you can expect to pay around $971. Three-bedroom units carry an average rent of $1,302.
Renting may be more cost-effective if you don't have the means to cover the bigger fees associated with being a homeowner. However, it's good to know that owning property is always a wise investment for those able to do so.
Utilities
Whether you rent or buy a home, you'll need to pay for your utilities. According to numbeo.com, a basic utilities package for a 915 square-foot place will cost you $148.39 per month in the Las Vegas area. This fee includes electricity, heating, cooling, water and garbage. If you want to add internet — which most residents do — you can expect to pay around an additional $69.02 per month. Since apartments are typically smaller than purchased homes, renters can expect to pay less in utilities every month. In a lot of cases, this is already bundled into the monthly rent fee, making the cost of utilities and out-of-mind expense for renters.
Average Income in Las Vegas
Now that you know what expenses will come your way for both living options, let's take a look at how much money you can expect to be bringing in every year to cover these costs. According to BestPlaces, the average income of a Las Vegas resident is $25,555 a year, which is slightly lower than the US average of $28,555 a year. The Median household income of a Las Vegas resident is $50,903 a year, and the US average peaks a bit higher at $53,482 a year.
But there may be good news on the horizon: Las Vegas has seen the job market increase by 3.5% over the last year, and future job growth over the next ten years is predicted to be 39.0%. This estimation, for comparison, is higher than the US average of 33.5% growth.
What does this mean for you? Becoming a homeowner and leaving your renting days behind may be more financially feasible over the next few years for Las Vegas residents. In these cases, it's best to assess your unique financial situation when making a decision to rent or buy.
Benefits of Buying Over Renting
Up until now, renting may seem like the more suitable option; monthly bills are lower, and the cost of utilities is hardly a concern. Don't make up your mind just yet. Buying Las Vegas property has its perks too, and we've listed some below for you.
Housing Inventory on the Rise
There's good news for home buyers who are planning to enter the Las Vegas housing market in 2019. Real estate inventory, or the number of homes listed for sale, has increased over the past few months in Las Vegas.
This means that buyers who make a purchase in 2019 could have more properties to choose from — and maybe a bit less competition as well. In fact, some forecasts are even suggesting that housing inventory in Las Vegas could continue to grow throughout the year.
Sellers are starting to respond by cutting prices. In February, a total of 39 of the 50 largest markets saw an increase in the share of price cuts. And Las Vegas saw the biggest change, with a 19% jump in the number of sellers slashing their asking prices. That is undoubtedly due to higher supply in the Las Vegas area.
Population Growth
In Las Vegas itself, the population was around 631,676 in 2018, which was about 10% higher than in 2010. This means that there has been steady growth in Las Vegas, as well as in the state of Nevada as a whole.
This kind of trend increases demand for housing, on both the rental and purchase side. It also helps to sustain home prices over time.
Mortgage and Tax Rates in Las Vegas
If you decide to buy a property in the Silver State, you can expect mortgage rates to hover a little above the national average. Current rates in Nevada are 4.218% for a 30-year fixed mortgage, and 3.621% for a 15-year fixed mortgage.
While those who own Las Vegas investment properties will need to pay their mortgage if they don't pay cash for the property and ongoing expenses like maintenance and insurance, Nevada offers very low taxes. And as a small victory to homeowners, there is no state income tax whatsoever.
The real property transfer tax rate in Las Vegas is $4.10 per $1,000, and the average overall property tax rate is just under 1%. The state property tax is 0.77%, while the county property tax is rarely above 0.25%. For example, the total Clark County property tax bill is 0.96%, yielding a $2,400 property tax bill on a $250,000 home.
The Bottom Line
Looking forward, we continue to point to a more mixed set of fundamentals that will likely result in the housing market recovery continuing at the more tepid pace than seen over the past few years. Job growth remains positive in Las Vegas, and new home inventory is continually rising. These are good signs for a strong buyer's market over the next few years.
In fact, the forecast for the trend in the Las Vegas housing market for the three years ending with the third Quarter of 2021 is up. Las Vegas home values are predicted to be higher in the third Quarter of 2021 than they were in the third Quarter of 2018. This could be the determining factor in choosing to buy instead of rent in Las Vegas.
If you are considering buying a home or apartment in Las Vegas, you should connect with an experienced, local real estate agent for guidance and support throughout the process. Clever can help.
Related links