Depending on the location of your potential new home, a crawl space may be a great benefit or a detrimental, costly drawback. When house hunting, carefully inspect this often overlooked area of a home to ensure it's well maintained, clean, and pest-free.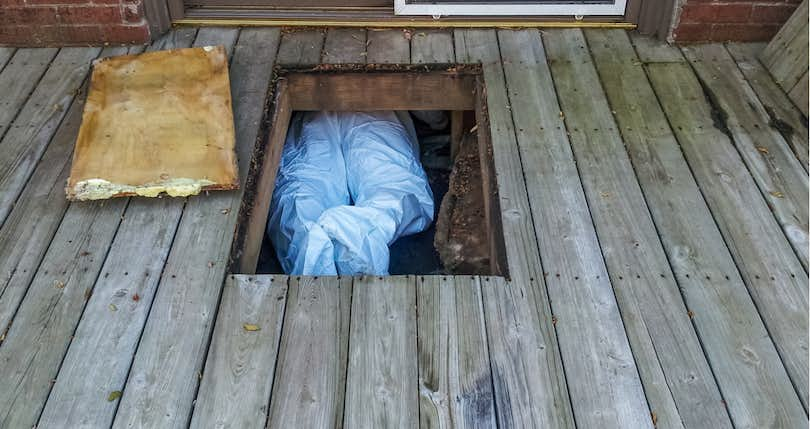 There are many aesthetic and structural features to consider when house hunting — even deciding how many bedrooms and bathrooms you want can be daunting. Back to back open houses quickly blur together, making it easy for home buyers to overlook certain areas of their potential new place — especially the crawl space.
The crawl space is often utilized to hide the inner workings of the home — ventilation, plumbing, or furnace and is also employed as an alternative to a basement. Anywhere from one to three feet in height, a crawlspace can provide additional storage, quick access to your house's structure and mechanics, and additional alternatives — as well as a few cons.
The Pros of a Crawl Space
Easy Access
The crawl space underneath the house provides quick, easy access to pipes, air ducts, insulation, and all other "insides" of the home. In a slab home, plumbing issues, leaks, or ductwork can require excavation and reconstruction. It's easier to inspect and replace insulation as needed. The crawl space allows maintenance workers to efficiently assess issues and work quickly to resolve them.
Safe Storage
If the home is located in drier climates, a crawl space can provide additional, safe storage away from the elements but easily accessible. Christmas lights, winter clothes, and camping gear have a place to live without cluttering up interior closets.
Additional Protection
A crawl space provides an added layer of protection against growing tree roots, floods, shifting ground, and pest infestations. Depending on the climate of the home, basements can easily become infested with mold or pests. Crawl spaces are more ventilated and do not provide creatures direct access into your house. The one to three feet of empty space allows tree roots room to grow and the added elevation helps protect your home from flood waters.
The Cons of a Crawl Space
Since crawl spaces are often utilized in moist environments, they can breed mold and fungus if not properly ventilated. The additional space can make for a safe, warm home for unwanted pests like raccoons, snakes, and termites.
The additional elevation added by the crawl space makes stairs a necessity at all entries of your home. Depending on residents' mobility or age, these steps could be inconvenient or even hazardous when coming and going.
Energy efficiency of the home decreases because of the lack of insulation. If energy usage is a concern, crawl spaces can be sealed to help mitigate energy waste.
When house hunting, it's important that home buyers look deeper into this often forgotten section of each potential home as it can lead to a make or break decision. It can also be used as a bargaining chip when negotiating for a lower price.
A knowledgeable realtor can help guide home buyers when deciding whether a crawl space has been well maintained or needs to be repaired. Clever Partner Agents are experienced and can help buyers assess each home's specific features.