When you purchase a foreclosed or bank-owned home, you may get the home at a discount. However, there are also some potential downsides. Consider both the pros and cons to this tactic first and work with an experienced agent to ensure the process goes smoothly.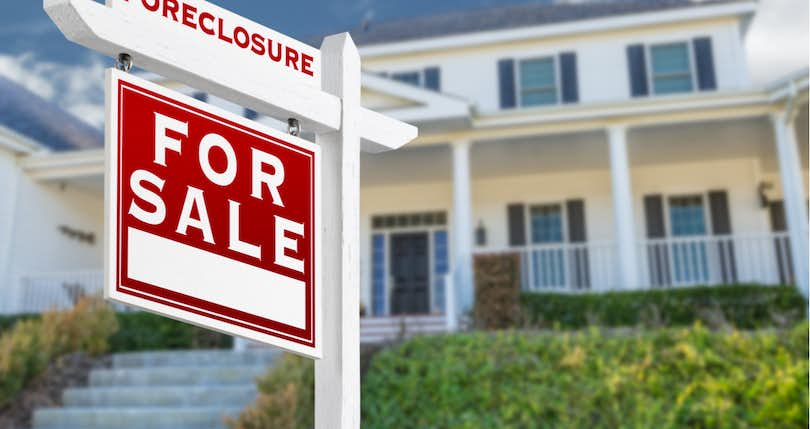 If a homeowner has trouble paying his or her monthly mortgage, the lender may foreclose on the home and sell it themselves to pay for the mortgage. This avoids having to do a short sale. Buying a foreclosed home at a discount from a bank may seem like a no-brainer. Who doesn't like a cheap deal, right? While there are definitely pros to this tactic, you'll want to weigh the cons to make sure it's the right move for you — whether you're looking to purchase a home to live in or as an investment property.
Pros
Low Price
As mentioned, foreclosed and bank-owned homes can typically be acquired for a lower price than homes on the market. This is because banks what to close the deal fast and rid the mortgage from their books. The below market price is the number one reason investors purchase foreclosed or bank-owned homes. Before the mortgage crisis, you could find these foreclosed homes at a huge discount, as the bank was simply looking to recoup the amount of money remaining on the mortgage.
However, now many homeowners are actually upside-down on their mortgage. This means they owe more than the home is worth, so banks are trying to get top-dollar to avoid any losses on their end. Deals may still be very good and cost much less than you would pay otherwise, but not as good as before.
Clean Title
The property you are looking to purchase is likely an REO, or real estate owned by lender. This means you will know it has a clear title and you won't have to make any assumptions of liens or back taxes. You will also be able to inspect the property before purchase and make a decision based on those results. While the bank may not be willing to make any repairs based on the inspection, at least you will know exactly what you're getting into.
Cons
Disgruntled owner
Because of the nature of a foreclosure situation, the owner or renter living in the home may be angry about having to move. We've all heard stories of a disgruntled owner destroying parts of a home in "retaliation" for a lender taking possession of the home and essentially evicting the owner. This is always a possibility when purchasing a recently occupied foreclosed home.
As-is Condition
While you can usually request an inspection on a foreclosed home, this may cause you to lose out on the deal to another buyer while you wait around for it to happen. And even with an inspection, most foreclosed or bank-owned homes come as-is and fall under the category of a distressed property. This means you can't ask the seller to make any repairs even if they come back in an inspection. Since lenders may sometimes request major safety hazards be addressed prior to loaning money, you will want to keep this in mind if you are securing a mortgage for your foreclosure purchase.
No Disclosures
Since the bank now owns the foreclosed property and hasn't lived in the home, there likely won't be a disclosure statement available for the home. This can be a major negative, as you won't have a complete idea of any issues or repairs needed until you purchase the home and spend some time going through the property. There can be issues that come up when living in a property that wouldn't necessarily be found during an inspection — like basement flooding when it rains, or the exact age of improvements like a roof, etc.
Competition and Quick Timeline
If you're buying a property on auction by the bank, you may face stiff competition from other investors trying to get their hands on a good deal. Plus, you'll only have a short time to get together enough cash to buy the property or secure financing for the purchase through a lender.
Other Cons
Another potential downside of purchasing a foreclosed home is that some banks may invest money in them to better the listing. However, this might cause them to then expect more money in return, making the selling price higher and the deal less desirable.
Plus, since many homes were foreclosed on during the housing crisis, and ones in great neighborhoods were snatched up quickly, the remaining foreclosed homes are now typically found in undesirable neighborhoods.
If you're looking to purchase a foreclosed or bank-owned home to flip or rent out, work with an experienced, local agent for guidance and support throughout the process. It doesn't take much for one of these deals to end up as a huge headache and you'll want someone on your side who has had prior experience with this type of sale.
Plus, Clever Partner Agents are also able to offer on-demand showings — sometimes in less than an hour — so you know you won't miss out on a good opportunity. Plus, you're eligible for a $1,000 buyer's rebate on any home you purchase for more than $150,000.
Related Articles
You May Also Like