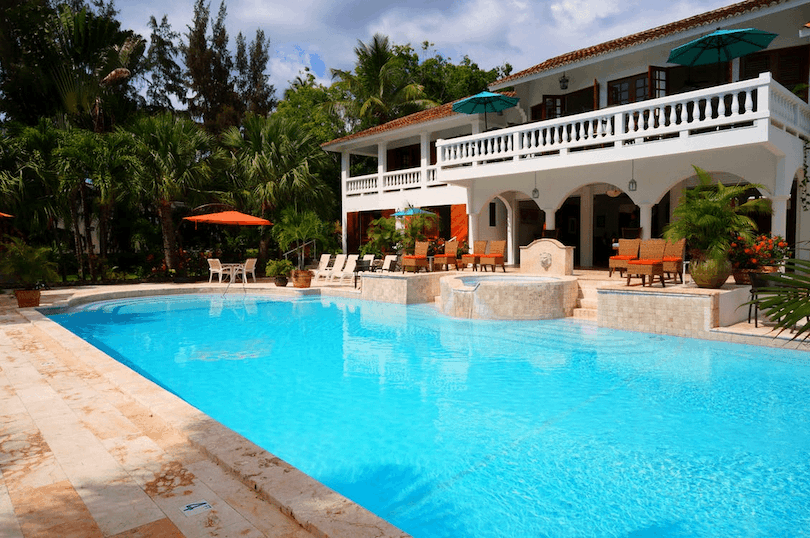 As with many wishlist additions one would like to make to their home, the question of "value" is a significant one. Sure, you might be able to pay for it and get it done, but will you be able to maintain it?
And, when the time comes, will building this addition hurt you when you're selling?
One of the more common wishlist additions made to a home's property is a swimming pool. When properly maintained, it provides a near infinite amount of entertainment that you can keep coming back to. Swimming comes with a laundry list of health benefits and the proximity ensures that you'll never need to hear "I'm bored" ever again from your kids.
Let's face it: getting a swimming pool can seem like a slam dunk case when it comes to how it influences your lifestyle and your family.
But let's also face this: getting a swimming pool comes with some hard-to-answer questions about finances and selling.
💰 How much is your home worth?
Discover the true value of your home with our Home Value Estimator!
Find My Home's Value
Above Ground or Inground?
Comparing costs between an above ground pool and an inground pool can seem to make the choice obvious. An above-ground pool is cheaper, and therefore it's the better option.
Not so fast.
It's true that an above ground pool can save you a lot of money. They're potentially temporary, typically can be easily removed, and still provide your family an easy outlet for activity and entertainment.
However, it's also true that above ground pools consistently lower a home's value when selling. Many buyers require the removal of the pool before purchase. While an above ground swimming pool can get you what you want at a cheaper price, it won't end well should you ever elect to sell your home.
Above-ground pools can negatively impact the home's aesthetic, especially in comparison to neighboring homes. The cheaper implementations stick out like a sore thumb and many homeowners usually place the pool in the center of their backyard where it'll damage the grass and vegetation below.
If you hope your pool will increase the value of your home, going inground is the only path.
Cost, Climate, and Neighborhood
When you're looking at the potential of installing a pool, you have to consider the cost, the climate, and the neighborhood. All three of these considerations can heavily influence the value of your home.
For example, installing a pool might end up costing 15 to 20 percent of what you paid for your house (or more!). Poor land quality, altitude, uneven soil, and more can all contribute to a growing expense list if you want to put a pool in the ground. Even if everything goes well, any added value to your home's appraisal won't compare to the money you put into it.
There are also different kinds of pools that you can install, made out of different materials and each requiring varying levels of maintenance. Fiberglass shells are cheaper but need to be replaced every ten years! The type of pool can impact the cost of installation and the value it adds to your property.
This ties into the climate of where your home is located. Colder climates will likely need a type of housing around the pool (which costs more money) and will also make maintenance a little trickier than if you were in a warm climate. A good rule of thumb is that warmer climates will value swimming pools more than colder climates simply due to practicality -- a swimming pool that can be used more is ultimately more valuable to the buyer (and seller).
And finally, where your home is in relation to other houses can matter. Homeowner Associations can have strict regulations about pool installations, and certain neighborhoods might even result in your home's value going down if you install a swimming pool. A home that is significantly more costly than the surrounding properties can discourage buyers and some people may not like the idea of having the only swimming pool in the neighborhood. A pool costs money to maintain. Many buyers won't want to deal with that recurring cost while also paying a premium for the actual property compared to other homes in the area.
Selling a house with a pool? Clever can help!
List with a full-service agent, get top dollar, save thousands.
Insurance and Maintenance
Installing an in-ground swimming pool can impact your insurance premiums. While a basic homeowners policy will likely cover the pool itself, you'll want to increase the liability coverage in case of flooding and natural disaster.
Some insurance providers might also require certain modifications to your swimming pool. A fence, for example, might be requested in order to prevent children from getting in while unsupervised. Before installation, consult with your insurance broker. They can help you make sure you do everything right on the first try.
What should also be kept in mind is that pools require maintenance. This is a fact even if you shell out the dough for the best materials. Filters, heating, cleaning, water balancing, and the water itself can all contribute to the cost of maintaining your pool. These responsibilities need to be kept up with even if you aren't using your swimming pool as neglect can pile up and make it more expensive to bring your pool back to a usable standard.
Technological developments have helped with the task of upkeep. There exist efficient heaters, effective balancers and sanitizers, and even robotic cleaners that do the weekly cleaning for you. These devices and materials have a significant upfront cost and then expected annual costs, especially if you hire someone to do the maintaining for you. You should expect to pay between $15-30 per week in maintenance.
Will a Swimming Pool Add Value to Your Home?
Curious if a pool will add value to your property in your neighborhood? Clever has local agents who can help you out. Clever agents are knowledgeable, reliable, and capable of finding the answers to the real estate questions that keep you up at night.
If you decide you want to sell, a Clever agent will list your home for a fraction of the cost of other realtors. They'll save you thousands on commission -- and save you from the headache of unanswerable questions.
Related Articles
You May Also Like