Vermont is a natural paradise that offers scenic hikes and beautiful drives. Vermont has a small permanent population, but access to nearby metro areas. It's a great place to retire or simply to slow down your pace of living.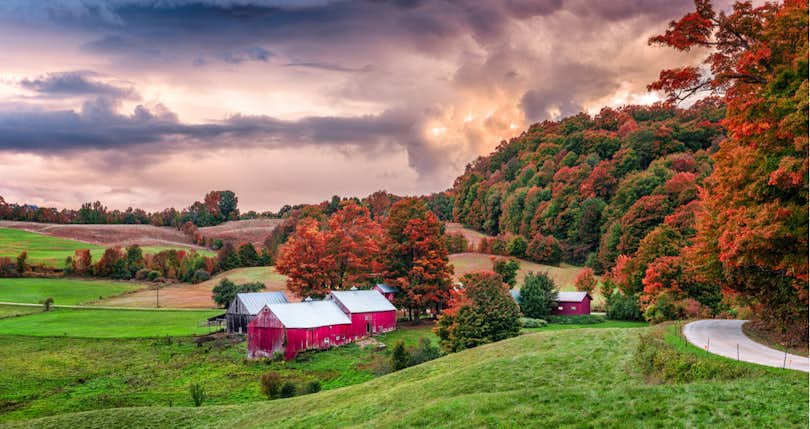 Moving to Vermont is the dream of many! The state is famous for its beautiful landscapes, delicious ice cream, cheeses, and fall foliage that people travel from all over the world to see.
Vermont has intense winters, but beautiful autumns and friendly folks that make up for them. Vermont also carries the reputation for having the best maple syrup in the country… and rightly so!
Here are just a few of the many reasons you should consider moving to the Green Mountain State.
Our Top Rive Reasons to Move to Vermont
We have thousands of reasons why you should make the big move to the Green Mountain State. Here are a few of the highlights of moving to Vermont:
Vermont Is Sparsely Populated
Hardly anyone lives in Vermont. If you are interested in solitude, reflection, and just overall privacy, then a life in this New England state could be just what you need.
We're pretty serious about the small population, too. Only Wyoming has fewer people living there.
More people live in Alaska than live in Vermont! Think of it this way: only about 625,000 people live in the entire state (which is just under 10,000 square miles). That's less than 7% of the population of New York City.
Speaking of New York City…
Vermont Is Close to Boston and New York City
If you are interested in a more relaxed, private lifestyle, but still enjoy easy access to two of the largest business and cultural hubs in the United States, then moving to Vermont could be one of the best choices you'll ever make.
It's only a 3 ½ hour drive from Burlington to Boston and 5 ½ to New York City, making both very easily accessible for a day or a weekend, respectively.
While many Vermonters choose to spend most of their time enjoying the natural beauty of the state's lakes and mountains, those moving to the state can still rest easy knowing that world-class museums and major international airports aren't too far away, just in case you need them.
Vermont Is a Very Natural Place
Vermont is one of the most beautiful places in the world. And, although it is a landlocked state it still manages to give off a lovely seaside vibe due to Lake Champlain. The large body of water is what separates northern Vermont from New York.
Vermont is also an outdoorsman's paradise. It has plenty of hiking trails, biking trails, places to camp and lakes to canoe in.
Ben and Jerry's Ice Cream is from Vermont
This is probably one of the most convincing reasons to move to Vermont.
We're not even being cheeky: Ben and Jerry's ice cream is just that good. It's Cherry Garcia and Chunky Monkey are world famous. And, if you've ever had it, you're likely eyeing the time and thinking about how long it'll be until you can go to the store and grab some.
When you live in Vermont, you are just moments away from the Waterbury factory where you can take tours, enjoy "factory fresh" desserts, and even participate in top-secret flavor lab sessions.
Ben and Jerry's is a source of pride for many in the state and no matter where you travel to in the world, after you move to Vermont, you will always be able to find a little bit of home in the frozen foods section.
Fall in Vermont is a World-Famous Season
There are tens of thousands of Instagram photos, Pinterest pins, and even screensaver stock photos dedicated to fall in Vermont. Those who live in the Green Mountain State get to enjoy some of the most postcard-perfect New England weather each year starting in late September.
When you live in Vermont long term, you might even find yourself becoming used to the yearly color show. The trees turn golden, deep red, and pumpkin orange and driving on the highway suddenly becomes an exercise in learning to appreciate the small things.
The Quality of Life in Vermont
The quality of life in Vermont is very high.
The first reason for this fact is that Vermont has the lowest crime rate in America. The state has a violent crime rate of only 1.2 per 1,000 people!
Most experts in the field attribute the lack of crime in the state to the fact that it's rural and sparsely populated. However, once you meet a Vermonter or two, you'll soon begin to understand that this is only part of it.
Vermonters can hike where they like, swim in the state's beautiful lakes, enjoy pancakes with fresh maple syrup, indulge in Ben and Jerry's ice cream, and enjoy breathtaking fall foliage - all not too far from home.
Living in Vermont is the ideal lifestyle for those who love the outdoors, but still want to live in New England.
The Economic Outlook in Vermont
Because of the state's small population, it also has one of the smallest economies in the country. It clocks in at about $34 billion. The state also has a five-year average unemployment rate of 3.6%, which is below the national average of 3.9%.
However, in line with the rest of the state's character, most of Vermont's industry comes from the land. For example, Vermont has a very healthy livestock industry. There are many thriving farms in the state and roughly 75% of Vermont's agricultural income comes from the sale of dairy products.
Something you might not guess; however, is that the largest granite quarries in the United States are in Vermont. Granite is the official state rock and generates a sizeable source of income for the state.
Besides farming and mining, Vermonters do actually earn quite a bit of money from things like maple syrup production.
Finally, things like winter sports and tourism are also big economic factors for the Green Mountain State. The northern regions of Vermont are a paradise for skiers and snowboarders and tens of thousands of tourists flock to the slopes each winter from all across the country.
People from New York and Massachusetts particularly enjoy spending time in the state as the slopes of Colorado are just a little bit too far for a nice weekend away.
The Housing Market Forecast in Vermont for 2019
If you are interested in purchasing a home in Vermont in 2019, here are the figures that you should be keeping in mind before you go:
2019 Housing Market in Burlington
Zillow says that the median home value in Burlington, Vermont is about $316,800. So, quite a bit higher that the average in the rest of the state. Home values rose about 2.5% in 2018 and Zillow predicts they will go up about 1.4% in 2019.
2019 Housing Market in Vermont
The median home value in Vermont is $202,700, according to Zillow. Vermont home values have gone up a modest 4.5% over the past year and are only expected to go up 1.5% in 2019. So, as you can see, the market in Vermont is a pretty steady one. There is no rush to either buy or sell.
Next Steps for Moving to Vermont
If you are interested in off the grid living, slowing down for a bit, living a more active lifestyle, or simply a nice place to retire, moving to Vermont could be the best choice that you could make.
However, to find the best properties in Vermont, you need to find the right person first. Many of the prime homes and bits of land in the state are tucked away, so you will need the expert guidance of someone who has lived and worked in the area for ages to find them.
Deciding which town in Vermont is right for you, and then the community within that town, can be overwhelming without the proper support! This is why you need the help of a licensed, experience, Vermonter Realtor.
Clever Real Estate has Partner Agents located throughout the great state of Vermont, so, whether you want to live in bustling downtowns like Burlington and Manchester or find a slopeside abode up near Stowe or Jay, we've got you covered.
Fill out our online form to get connected with a Vermont real estate agent who can help you find your next dream home — and save thousands in the process!