South Carolina is home to great golf courses, low taxes, a thriving arts scene, and a booming housing market. If you're considering a move to the Palmetto State in 2019, Clever can help you connect with a local real estate agent who knows the South Carolina market inside and out.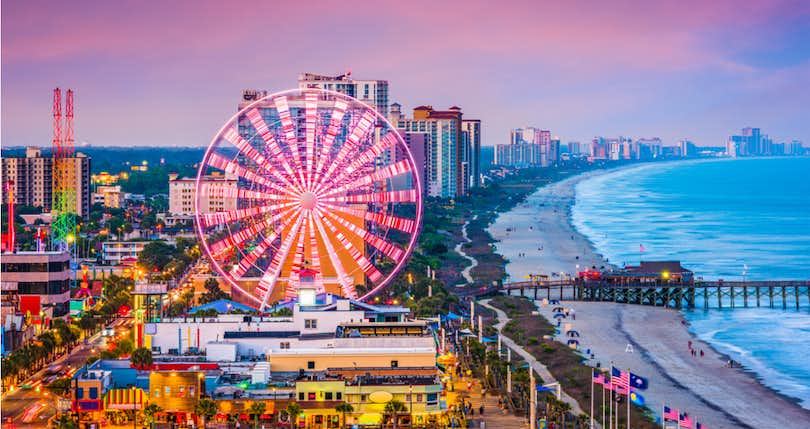 South Carolina has been a defining presence in the United States for as long as the country has existed — and before. Originally named after King Charles I of England, South Carolina saw more action in the American Revolution than any other state; a third of the war's combat took place on South Carolinian battlefields.
During wartime in 1778, South Carolina was the first state to ratify America's original Articles of Confederation, and — war won — the eighth state to ratify the U.S. Constitution a decade later.
Nicknamed the Palmetto State after its distinctive state tree, South Carolina's motto reflects its long history of believing in a brighter future: dum spiro spero. While I breathe, I hope.
If you're looking for a brighter future too, South Carolina may be just the place for you. Here's what you need to know if you're planning your next move.
Top 5 Reasons to Move to South Carolina
5. South Carolina has some stunning geography. From the gentle hills of the Piedmont Plateau to the majesty of the Blue Ridge Mountains to its 187 miles of coastline, South Carolina has a setting for everyone.
4. South Carolina is affordable. The cost of living in South Carolina is almost 6% lower than the national average.
3. South Carolina has the best golfing in the country. That's according to the state tourism board, but they have a point — Myrtle Beach alone has upwards of 120 top courses to choose from. And if golf isn't your sport, South Carolina is a top choice among water sports enthusiasts too. The state is also home to Darlington Raceway, the first paved speedway in NASCAR history.
2. South Carolina has less traffic. The state has an average commute time 2.5 minutes below than the national average. That's over 10 hours less on the road every year.
1. South Carolina is a state on the rise. More jobs, lower unemployment, and a growing housing market are all on the table in 2019.
Quality of Life
South Carolina has a pleasant subtropical climate that makes for comfortable living year-round — even in the winter, where the overnight low in January is just 32 °F.
The state is famous for its natural beauty, rich culture, and well-preserved historic sites. There's no shortage of interesting places to visit — like Table Rock State Park — and activities to experience — like driving the scenic Cherokee Parkway.
South Carolina has a thriving art scene that includes the Newberry Opera House (the "entertainment center of the Midlands" since 1881), Spoleto Festival USA (a 17-day performing arts festival held in Charleston every spring), and a catalog of museums spread across the state. Creative industries provide work for over 78,000 South Carolinians and generate $9.2 billion for the state every year.
Economic Outlook
South Carolina has a population just north of 5 million — ranked 23rd in the nation — and an economy growing at a rate of 3.13% per year. In 2013, the Gross State Product (GSP) was $183.6 billion.
Though it varies by city, the state's median household income is $45,483.
South Carolina has an especially low unemployment rate, and experts expect it to drop to an even more impressive 3.1% in 2019. That's thanks in part to a predicted employment gain of 2.7% in 2019, following good job gains all over the state in 2018. Lower expected gas prices and increased consumer spending are also good predictions for the year to come.
The service sector in South Carolina makes up 87.3% of its economy, supplemented by strong agriculture and manufacturing industries. Major companies like Boeing (with an aircraft manufacturing facility in Charleston) and BMW (which has a production facility in Spartanburg County) contribute to this scene.
It's not hard to see why businesses are attracted to the Palmetto State: at 5%, its corporate income tax is one of the lowest in the country (North Carolina, in contrast, has a corporate income tax rate of 6.9%).
These tax savings aren't limited to big business. South Carolina has no state property tax or local income tax and makes a host of other exceptions for sales taxes, inventory taxes, and more.
Housing Market Forecast for 2019
The South Carolina housing market is booming right now. According to Zillow, home values have risen 7.3% in the last year and are expected to rise another 4.6% over the next one. That corresponds with a median home value of $165,100 and a median rent price of $1,330.
The highest median home values in the state can be found in Summerville ($187,900) and Greer ($179,700).
If you're looking for the best cities to live in, consider Columbia (the capital, with a relatively low cost of living), Tega Cay (the safest city in the state), or Charleston (a popular waterfront destination, the 17th most desired metro area in the country, and named in honor of the second King Charles of England).
Next Steps
Wherever you decide to settle down in South Carolina, Clever can help. We can connect you with a local real estate agent who knows not only the state's overall market, but the specific supply, demand, and prices you can expect in any given city.
A good agent can help you figure out the best move for your personal situation, and can take the reins on the full home buying process. That's a good deal for any buyer, but especially if you're trying to coordinate a stressful move from one state to another.
To get the ball rolling on home ownership in South Carolina, just get in touch with a Clever Partner Agent today. If you do end up buying a home, you could even get back up to 0.5% of the purchase price thanks to our Clever Cash Back Program.
Related Articles