New Mexico offers a diverse culture and rich history. The low cost of living, affordable housing, and a hard-working population of over 2 million residents make this state a desirable relocation option. Find out if you should add New Mexico to your short list of final destinations.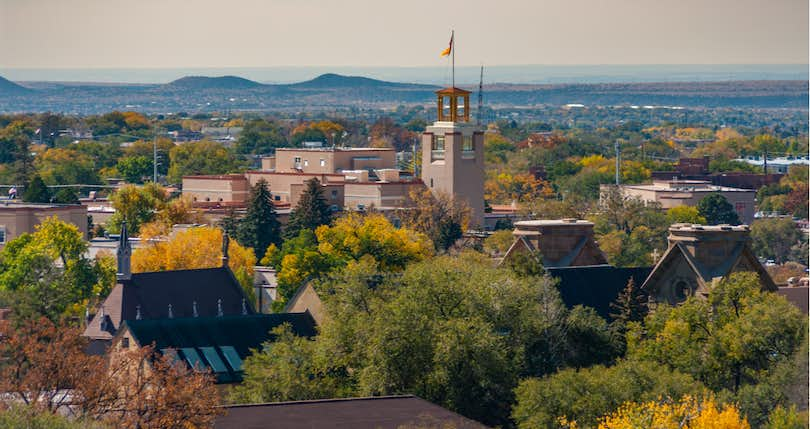 Known for its clear skies, picturesque landscape, and mild temperatures, New Mexico attracts more and more new residents from every region in the U.S. each year.
With more than 300 days of annual sunshine, people can enjoy the state's diverse geography practically any day they choose.
New Mexico's thriving metropolitan cities, excellent quality of life and low cost of living are just a short list of reasons you should consider moving to the "Land of Enchantment."
Top Five Reasons to Move to New Mexico
New Mexico consistently ranks in the top 10 states with the best quality of life.
Recent reports show New Mexico is ranked #1 for economic gains.
The state is the seventh-largest in available energy supply
New Mexico attracts 30 million tourists annually.
The state boasts a very small population to its total square miles.
Quality of Life
New Mexico is home to several metropolitan cities with top-level career opportunities and exceptional quality of life.
In 2017, New Mexico ranked #8 in quality of life among all 50 states in a study conducted by U.S. News and World Report. The report listed community/social engagement and natural environment as the top metrics for the rankings.
The majority of residents live in cities, and Albuquerque houses nearly a quarter of the state's population. The city offers a unique combination of small-town hospitality while delivering the amenities of a large city.
Downtown Albuquerque is home to several well-known healthcare and high-tech companies, and the cities natural landscape includes the Rio Grande River and the Sandia Mountains.
Santa Fe, the capital of New Mexico, features a stunning natural environment with distinctive architecture and an array of festivals throughout the year.
Residents enjoy a variety of outdoor trails for walking, biking, and hiking, and the city's historic downtown features several outdoor markets with plenty of shopping choices.
In New Mexico's southern desert region lies the city of Las Cruces, which is home to New Mexico State University. This city has plenty to offer outdoor enthusiasts with its four golf courses and 85 parks.
New Mexico Economic Outlook
Although New Mexico's economy ranked #46 in the U.S. News and World Report study, it ranked #1 in economic growth since 2107, according to a report by Bloomberg News.
The state is a leading supplier of oil and natural gas, ranking sixth in the U.S. in crude oil production in 2015.
With over 300 days of sunshine each year, "The Land of Sunshine" is an ideal location for producing wind and solar energy. Additionally, statistics show the state generates over $2 billion annually in tax revenue from its oil and gas production, and the San Juan Basin is home to the nation's largest natural gas reserve.
The economic outlook for New Mexico's tourism industry remains strong. In 2017, the state generated $6.6 billion in revenues from tourism, which represented seven consecutive years of industry growth. With its unique culture and diverse natural beauty, New Mexico remains a popular tourist attraction.
Many people don't associate New Mexico with film production and digital media; however, the state offers a generous tax credit to companies for multimedia projects and digital imagery. The New Mexico film office reported the state generated $506 million in production spending in 2017.
Although the state is well-known for the oil and gas industry, the government is actually New Mexico's largest industry. According to the Bureau of Economic Analysis, the government accounted for nearly 24% of the state's gross domestic product in 2017 (GDP).
The oil and gas industries were the biggest contributors to real GDP with mining, quarrying, and extraction accounting for .32% of real growth in GDP.
Housing Market Forecast 2019
With most of the nation experiencing a pullback in the housing market in 2018, New Mexico bucked the trend with record-breaking home sales.
November 2018 housing data issued by the New Mexico Association of Realtors showed a 30 percent increase in home sales compared to the last five Novembers.
November 2018's year-to-date totals helped put the state past its 2017 home sales totals by more than 7,000. By contrast, the nation's home sales for November 2018 were only up 1.9 percent from the same time in 2017 and down 7% year-over-year.
Experts suggest New Mexico's housing market will remain hot in 2019. As oil and gas markets continue to increase, the state's economic outlook will remain strong throughout the year. Zillow forecasts home prices will rise by 3.9% in 2019.
New Mexico's median home value currently stands at $193,900, and the average list price of homes available for sale is $221,400. The median home value in the U.S. is $225,300, and the median sales price for listed homes nationally is $257,700. The state's median price for rent is $1,200.
With a lower-than-average cost of living, plenty of outdoor adventure, and a rich history, New Mexico is a land filled with opportunity. The friendly, welcoming nature of its culture and its residents make the state an attractive choice among people from across the country.
Moving to New Mexico: Next Steps
If you're considering a move to New Mexico — or anywhere, for that matter — it's always a good idea to connect with an experienced, local real estate agent as a first step.
Agents can provide invaluable insight and guidance on the ins and outs of the local market, including which neighborhoods or regions best meet your specific needs and goals, the best time to buy, what types of properties are the best investments, and more.
If you'd like to speak with a full-service, New Mexico buyer's agent, Clever can help!
Fill out our online form to connect with one of our top-rated Partner Agents in your desired city or region. A Clever representative will be in touch to answer any questions you might have and introduce you to a local agent for a no-obligation consultation.
Related Articles