Nebraska boasts a rock-solid economy, a welcoming population, a booming tech scene, and five Fortune 500 companies. With a healthy housing market and a low-cost-of-living, it might be the most underrated state in America.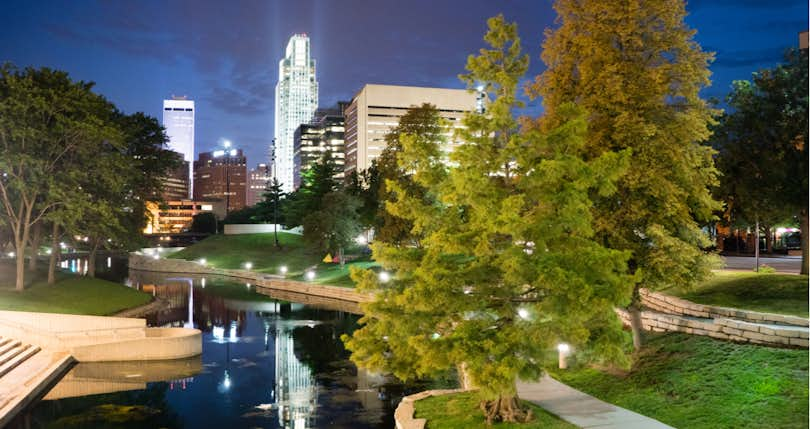 Some people call Nebraska the most underrated state in America, and they just might be right. Nebraska combines the friendliness of the South with the stability of the Midwest and throws in the booming economy of Silicon Valley. (No, really!)
It also offers some of the most breathtaking natural vistas in the continental United States, from postcard-perfect Chimney Rock to the one-of-a-kind Sandhills, and is home to the third-richest man in the world, Warren Buffett, who can often be seen strolling down the streets of Omaha. If you ask nicely, maybe he'll give you a free stock tip?
Our Top Five Reasons to Move to Nebraska
The Economy
It's possible that Omaha is actually the real tech capital of America. The US government relocated the Strategic Air Command to Omaha in World War 2 because it's far from the coasts and thus very difficult to attack from the air. Many businesses piggybacked onto the government's telecommunications infrastructure, and Omaha still has a record number of call centers.
Today, about 20 tech startups are founded every year in Omaha, and five Fortune 500 companies call Omaha home. Not only that, billionaire Warren Buffett, one of the world's richest men, still lives in the Omaha house he bought for $31,000 way back in 1957.
It's the Tailgate Capital of the World
The University of Nebraska's Memorial Stadium holds 90,000 people, and when it's filled to capacity, it qualifies as Nebraska's third-largest city. And it's been filled to capacity for every home game since 1962, a sellout streak unmatched in sports.
The National Tailgater Association named Nebraska the best tailgating college in the country, and who'd know better than they would?
The Great Outdoors
When you think of Nebraska, you think of endless flat plains, and yes, there's plenty of that. But there's also surprising climate diversity, and it's one of the most unspoiled states in America.
Three hundred foot tall Chimney Rock rivals the best of Utah or Arizona for iconic rugged beauty. And Nebraska is home to the largest wetland area in the country, in the form of the Nebraska Sandhills, a massive region of sand dunes and swamps that's the largest untouched ecosystem in the continental United States.
Every march, over a half-million Sandhill cranes stop in the Sandhills on their way north, a sight that some have described as a spiritual experience.
The Trees
Did you know the first Arbor Day in America was in Nebraska? (No, you didn't.)
When Detroit native J. Sterling Morton moved to Nebraska in the late 19th century, he noticed that the unusually flat state lacked windbreaks and that the state's fertile soil needed stabilizing, or it would blow away. So on April 10, 1872, Morton organized the planting of a million trees in Nebraska, many of which are still towering over the flat Nebraskan landscape.
The Health
For a place that likes tailgating and hot pockets so much, Nebraska is a surprisingly healthy place. In fact, it consistently ranks highly on Gallup's Well-Being Index; it recently placed 15th, and in recent years has placed as high as seventh. Don't underestimate the Midwest's wholesomeness!
» MORE: Corrigan Moving Systems Reviews: Everything You Need to Know
The Quality of Life in Nebraska
You probably won't be surprised to learn that the quality of life in a state with a friendly population, great natural environment, and a healthy economy is quite high.
The cost of living in Nebraska is much lower than the national average, and the unemployment rate, at just under 3%, is also quite a bit lower than the national average. The education system ranks ninth in the country, and the healthcare system is one of the best in the United States.
The Economic Outlook for Nebraska in 2019
Nebraska is a fiscally conservative state that's operated without any debt for a long time; this approach has yielded great results in the state, where unemployment remains historically low, and big business has boomed.
Nebraska's job growth rate is steady at just under 1% a year, and while farm income has dropped in recent years, manufacturing, construction, and service industries have seen large year-to-year growth.
The median household income in Nebraska is $56,927, which just a hair higher than the nationwide average. Considering the low cost-of-living in Nebraska, that's a very positive economic indicator.
The Housing Market Forecast for Nebraska in 2019
The Nebraska housing market is hot; home values have gone up 7.2% over the past year, and are forecast to continue to rise in 2019 by about 4.4%.
The average home value in Nebraska is $164,500, which is lower than the national average, and listings averaged 75 days, so properties are moving at a moderate pace.
With the state's low cost of living, unmatched stability, and rosy economic forecast, it's a good time to be selling a home in Nebraska.
Next Steps
If you're interested in a rock-solid, all-American place to live, Nebraska could be right up your alley. Whether you're interested in a modern loft in downtown Omaha, a multi-family rental property in Lincoln, or a rustic farmhouse overlooking the Sandhills, you'll get the best deal if you partner with an experienced local real estate agent. A seasoned agent can read the market, handle negotiations, and walk you through the intricacies of the largest investment of your life.
Clever Partner Agents are elite performers in their markets and come from top brands and brokerages. Contact us today to get started on finding your Nebraska dream home!
Related Articles