Located in the heart of the Midwest, Missouri is home to ice-cold beer and world-class barbecue. Kansas City and St. Louis are the largest cities in the state and populate most of Missouri's residents. With its low cost-of-living and affordable housing, many people now call the "Show Me State" home.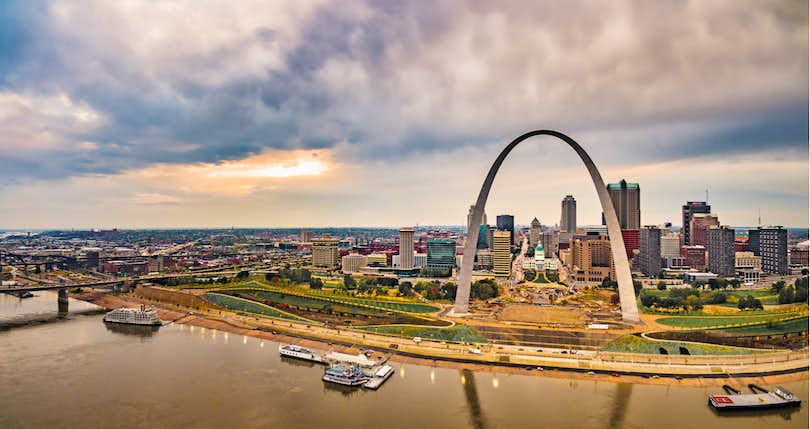 Missouri is one of the most affordable states in the U.S.
Residents experience all four seasons.
The state is home to some of the best barbecue in the world.
The public schools in Missouri consistently rank as some of the best in the country.
Missouri is well-known as one of the top farming states in the U.S.
Quality of Life
One thing is certain about the "Show Me State," the low cost of living doesn't hurt its quality of life. With an abundance of fairs, festivals, culture, and art, Missouri has plenty to offer new residents without costing a fortune. In 2018, Missouri ranked #6 on CNBC's list of the most affordable states to live in the U.S.
Known for some of the finest BBQ in the country, Missouri is a hub for grilling enthusiasts from around the country. Excellent barbecue isn't the only culinary delight. Missouri's food scene is diverse with restaurants and eateries offering cuisines from across the globe.
Located on the opposite sides of the state, Kansas City and St. Louis are the two largest cities in the state by population. St. Louis is home to the famous Gateway Arch, a 630-foot structure that many Missourians call the "gateway to the west." Both cities are home to two professional sports franchises and provide easy access to an excellent public transportation system.
If you're a wine aficionado or just love a cold beer, Missouri is home to over 120 wineries and 55 breweries. With its headquarters in St. Louis, Anheuser-Busch is one of the most recognized beer brands in the world.
Branson is one of the most popular tourist attractions in the state. Known as the capital of live country music, this city has over 60,000 theater seats and 100 live shows each year.
If you're an outdoor enthusiast, the state has over 1,000 miles of hiking, biking, and walking trails. In 2013, the state's outdoor trails were ranked the best in the U.S.
Economic Outlook
Missouri's overall economy has been on the rise in recent years. The state's unemployment rate is 3.2% as of Jan. 2019, and The Missouri Economic Research and Information Center predicts St. Louis alone will add 68,742 jobs by 2026.
The highest-growth industry is personal care, which will account for 38.3% of the job growth. The council estimates over 11,000 new jobs will come from high-growth sectors such as home health aides, medical secretaries, nursing assistants, and registered nurses.
The construction industry is booming in Missouri. However, there is a shortage of skilled labor, and many companies report it will get worse over the next year. The projected job growth in Missouri's construction industry is 9.8% between 2014 and 2024.
Missouri's median household income is just shy of the national average at $53,567. In 2018, the state experienced a 1.2% increase in job growth, and 2017 net migration was 4,700. Forbes ranks Missouri #18 in its best states for business list.
The beer and wine industries will help shape Missouri's economy over the next few years. Other sectors will play a critical role, including electrical equipment, food processing, aerospace, and chemicals. One of America's largest gene companies, Monsanto makes its home in St. Louis.
Housing Market Forecast 2019
With home prices that are well below national averages, Missouri is one of the most popular states for home buyers and investors.
Over the past 12 months, home values in Missouri rose by 8.5%. Zillow predicts values will rise by 16.3% over the next year. The prediction is 8.8% higher than what Zillow estimates will happen with national home values in the next 12 months.
Currently, Missouri's median home value is $161,400. The median list price for homes available for sale is $179,500. Average rents currently stand at $995.
Although St. Louis is a thriving metropolitan city, the median list price is a surprisingly low $143,900. The average sales price is even lower at $122,000, as of Jan. 2019. Home values currently stand at $119,600.
Kansas City, the state's largest city, has a higher list price at $194,999. Median home values currently stand at $149,300. Zillow predicts home prices in Kansas City will rise by 5.2% over the next year.
Moving to Missouri: Next Steps
Before you move to Missouri or any other state, it's always a good idea to talk with an experienced local agent who can give you the facts about local markets, the best times to buy, current real estate trends, or other statistics that will keep your move organized and save.
If you're ready to call Missouri your next home, fill out our simple online form and one of our representatives will contact you to set up a free initial consultation with a local Missouri Clever Partner Agent.
Related Articles