Mississippi is a state with a rich history, a growing housing market, and the lowest cost of living in the United States. If you're thinking about moving to Mississippi in 2019, Clever can help you get in touch with a local real estate agent who can find you the perfect place to settle down.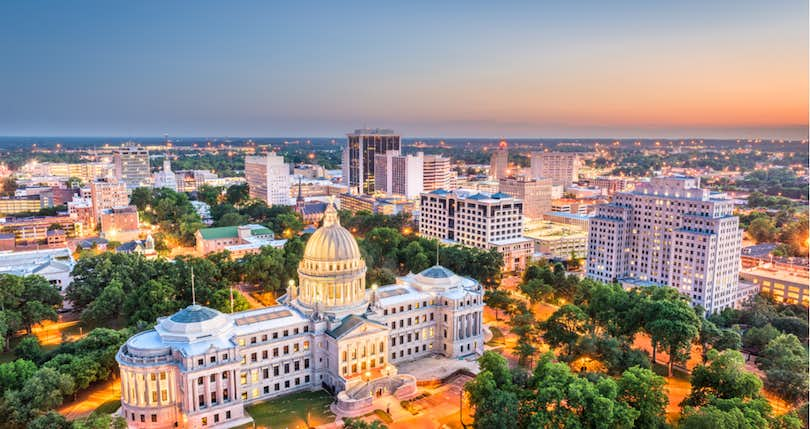 Mississippi gets its name from the Ojibwe word misi-ziibi, meaning "Great River." Though this Great River is the largest and most famous in the United States, Mississippi is also home to other huge waterways like the Yazoo, Pearl, and Big Black Rivers.
Nicknamed the Magnolia State — after the flower blossoms that dominate its late spring and early summer air — Mississippi has a rich geography and an even richer historical legacy.
It's the 32nd largest state and the 34th most populous in the U.S. Mississippi is a prime destination for nature enthusiasts, music fans, and food lovers the world over.
If you're thinking about settling down in Mississippi in 2019, you've come to the right place. Here's everything you need to know before you make a move.
Top 5 Reasons to Move to Mississippi
5. Mississippi has the lowest cost of living in the nation. If you're currently living in an expensive city, a move to Mississippi can increase your standard of living considerably.
4. Mississippi has some of the freshest fish in the country. If you've ever tried fried catfish, it likely came from one of Mississippi's aquaculture farms. And if you haven't, what are you waiting for?
3. Mississippi has some of the most popular casinos in America. Mississippi River towns like Tunica constitute the third-largest gaming area in the country. That's good news whether you like to play poker yourself or just enjoy the taxes paid by those who do.
2. Mississippi has a rich musical legacy. The Mississippi Delta is considered the birthplace of blues and has helped shape jazz, rock, and country music to boot. Elvis Presley — the King himself — hails from Tupelo.
1. Mississippi has all the flavor and hospitality of the South. From its collection of antebellum mansions to old fashioned crawfish boils, the Mississippi Delta has earned its title of "The Most Southern Place on Earth."
Quality of Life
Life in Mississippi is nice no matter what the season. The state's temperate climate means the summers are long and hot, and the winters quick and mild.
The state has a population of just under 3 million, so there's plenty of room to spread out. And if you do run into a fellow Mississippian, you'll be in good company: Mississippi has some of the happiest (and most charitable) people in the country.
A wide variety of geographical features — dense forests, lush swamps, and sandy beaches on the Gulf of Mexico — means there's always something new to explore. Mississippi's 24 state parks, as well as protected sites like the Natchez Trace Parkway and Tupelo National Battlefield, further add to this lively and historical inventory.
Economic Outlook
Mississippi has the lowest cost of living in the United States. This is great news for anyone making the move from a more expensive state, but it's important to note that Mississippi's average income per capita is similarly low to match.
Mississippi's economy is backed by strong agriculture and manufacturing industries, as well as some of the biggest colleges and casinos in the country. With attractions like the Mississippi Civil Rights Museum and Biloxi Beach, tourism makes up a fair chunk of state revenue as well.
In 2010, the state's total product was estimated at $98 billion. The current employment rate in Mississippi averages 94.3%.
In terms of high employment, low crime rates, and the best ratio of income to living expenses, some of the best cities to live in Mississippi include Jackson (the capital), Oxford, Madison, and Tupelo.
Housing Market Forecast for 2019
According to Zillow, the median home value in the state of Mississippi is $127,300. This is up 9.2% over the last year, with similar growth — 7.7% — expected over the year ahead.
Due to a shortage of home listings throughout the state, Mississippi is currently in a "very hot" sellers' market.
The median rent price throughout the state is $1,150.
The hottest Mississippi markets in 2019 are in Starkville (with a median home value of $183,700), Olive Branch ($164,600), and Brandon ($168,700).
With a median household income of $71,944 and an unemployment rate of just 4.2%, Brandon is an especially lucrative place to settle down this year.
Next Steps
If you're ready to cruise down the Mississippi and stake your claim in the Magnolia State, Clever can help. We can connect you with a local real estate agent who knows the Mississippi market inside and out.
Clever Partner Agents can walk you through current home prices in Jackson, Biloxi, or anywhere else in Mississippi to help you figure out your next best move. A good agent can not only help you find your place in the local market but can guide you through the entire home buying process from start to finish.
Related Articles