As one of the nation's first colonies, Maryland has an invaluable place in American history. Maryland is a vibrant state with a unique culture and diverse background. If you're thinking of moving to this historic state, learn why many families are now calling Maryland home by reading this guide.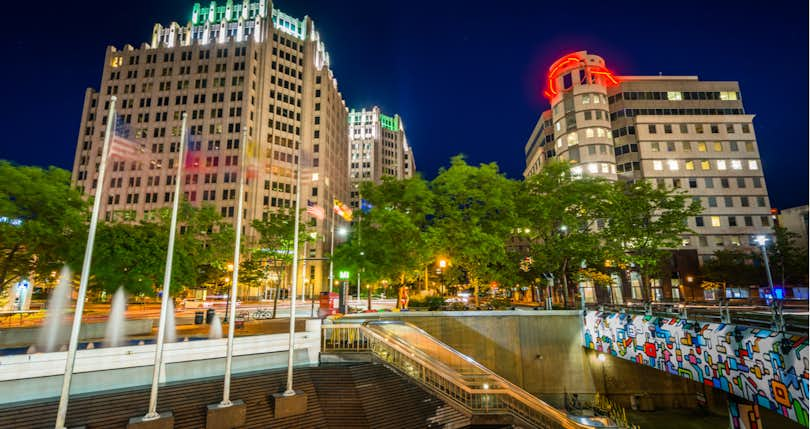 With its close proximity to Washington, D.C. many Maryland towns offer all the amenities a metropolis has to offer without all the costs of living in a big city. The state is a hub for America's future. It's home to most of the federal jobs in the U.S. and reaps enormous rewards as a destination for military contractors. Learn why you should consider moving to Maryland.
Top Five Reasons to Move to Maryland
The state has one of the fastest growing job markets in the country.
Affordability is much lower than many of the state's neighbors.
It is home to the world-renowned The Johns Hopkins Hospital.
Maryland's outdoor life is a unique combination of sandy beaches and rugged mountains.
For a small state, it is rich in history and culture.
Quality of Life
Although Maryland is the ninth smallest state, it has a significant presence in the success of the nation. With over 60 federal agencies located in the state, it is a hub for employment in the federal government. Federal employees make up the fourth largest percentage in the nation.
With a population of just over 6 million, families aren't shy about packing up and moving to Maryland for its educational system.
In 2018, Maryland ranked third in the nation in U.S. News and World Report's ranking of the best high schools.
The University of Maryland has one of the top aerospace engineering programs in the country. That's no surprise since the state is home to most of the country's defense contractors and aerospace companies.
Loyola University and Johns Hopkins, two of the nation's most prominent private schools, also call Maryland home.
If you love the outdoors, Maryland doesn't disappoint. From the chiseled Blue Ridge Mountains to sandy beaches of Chesapeake Bay, the state offers an eclectic mix of outdoor adventure.
Baltimore, the state's largest city, is a thriving community with friendly people and a rapidly growing food scene (It is world famous for its crab cakes).
Many of the neighborhoods offer their own unique story. Some have a historic designation.
Little Italy in downtown Baltimore is a delightful neighborhood where thousands of people gather to discover the Italian culture.
In 2018, Baltimore ranked as the 83rd best place to live in the country by U.S. News and World Report.
Annapolis, the capital of Maryland, is home to the world-renowned U.S. Naval Academy.
It's also known for its robust music scene and vibrant nightlife. Annapolis maintains an east coast vibe while never forgetting its seagoing roots.
Economic Outlook
Years of strong economic growth have made Maryland a popular destination for workers. In October 2018, the Bureau of Labor Statistics reported the state added 10,700 jobs, which was the highest total in nearly three years.
Tech, health care, and construction remain a driving force behind Maryland's economy. The state consistently ranks in the top 10 for the best places to find tech jobs.
However, the state is struggling to find skilled workers to fill many available tech jobs. Economists say that the future of Maryland's economy in 2020 and 2021 depends on a highly-trained workforce.
Commercial construction in Maryland is rising at an accelerated pace. While many states struggle to find land to build on, Maryland has an unusual amount of industrial and commercially zoned land available.
Several commercial developments for 2019 are underway in Baltimore County and downtown Columbia.
Maryland plans to invest in much-needed infrastructure improvements. Thanks in no small part to the federal government's willingness to spend freely, it is one of the few states with a budget surplus.
Amazon also plans to build a new facility in Northern Virginia, and economists believe residents of Maryland will fill most of the high-paying jobs.
Housing Market Forecast 2019
Although the state saw its median sales price climb in 2018, Maryland's housing market remained stable for the majority of the year.
Most of the sales price gains came from an increase in competing buyers. However, experts predict that a continued lack of inventory may cause the state's housing market to slow in 2019. The average sales price in 2018 was $336,866.
Maryland's current median home value is $291,000 with an average list price of $305,000, which is down significantly from the 2018 average.
The current median sale price is $264,700. Zillow predicts the state's median home value will rise by 3.7% in 2019.
The average rent list price is $1,700.
Moving to Maryland: Next Steps
It's never easy to gather all the data and facts you need before you move to a new state. To guarantee a safe and organized move, you should talk to a local real estate agent who can get the critical information you need.
Speak with a Clever Partner Agent today and learn when, where, and why you should buy a home in Maryland.
If you're ready to find the home of your dreams in Maryland, fill out our simple online form and a representative will connect you with one of our expert Partner Agents.
Related Articles