If you love the coast, want to surround yourself in natural beauty or just simply enjoy the taste of lobster, Maine may be the right move for you. The state possesses a charm that many say calls them to it. With incredible coastlines, nearby ski slopes and pristine forests, there's a little something for everyone.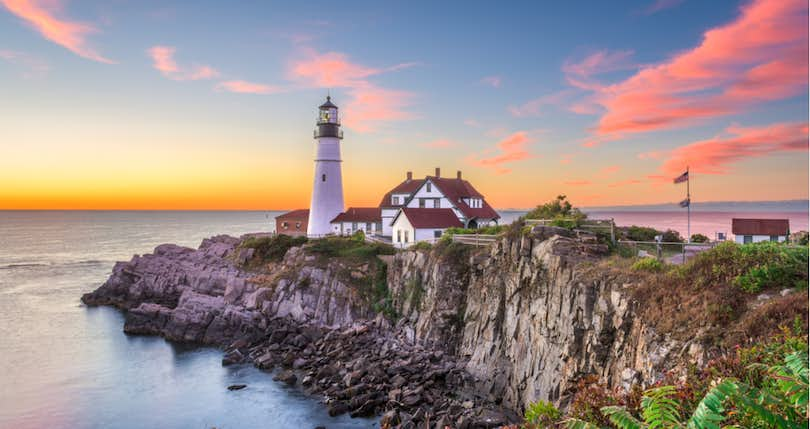 Many people who have moved to Maine say it wasn't a choice — they were called there.
With its storybook fishing villages, sandy beaches and abundance of breath-taking untouched forests, it's easy to see why.
Nearly 3,500 miles of jagged, rocky coastline meander from southern New Hampshire all the way up to Canada — in fact, Maine shares more of its border with Canada than any other contiguous U.S. state.
Maine forms the northeasternmost tip of the United States in the New England region. The most populous city is Portland with a population of 66,000, inhabiting nearly half of the state's total population of 1.35 million.
Considering a move to Maine? Here's what you need to know.
Top 5 Reasons to Move to Maine
1. Jaw-dropping Coastline — With 3,500 miles of meandering coastline, Maine gives its more popular coastal counterparts a run for their money. Spend your summers in the sand and once winter hits, head to the mountains for some skiing or snowboarding.
2. Cute Little Cities — Darling bed and breakfasts seem to have taken over Maine, but that's part of the charm. And it's not just a stereotype — more than 60 lighthouses dot the coast of the state.
3. Untouched Natural Beauty — Travel along U.S. Route 1 along Maine's coastline and you're in for a road trip of a lifetime. Much of Maine's landscape is untouched, including the second most visited park in the United States, Acadia National Park.
4. One Word: Lobster — You can order it anywhere and most chefs will have their own variation of a lobster meal.
5. Quality of Life and People — Mainers are generous, down-to-earth people. They enjoy spending time in the great outdoors and helping out their neighbor. Maine frequently sits near the top of the list on most national lists for quality of life.
Quality of Life
The Pine Tree State is an incredibly peaceful place to live and has one of the lowest crime rates in the United States.
Both of these facts may be the reason Maine is home to so many retirees. Maine is the oldest state in the country with a median age of 44 years, according to the U.S. Census Bureau.
While Maine generally has an older population, the state has been making a conscious effort to recruit younger workers to live there.
They even developed a program several years ago called "Visit for a Week, Stay for a Lifetime" where growing companies agreed to offer reimbursements for vacation expenses to visitors who ended up deciding to move there.
Maine's abundant nature, tasty culinary scene, and slower pace help the state frequently top national quality-of-life lists. The state's motto "The Way Life Should Be" rings true.
Economic Outlook
Maine's economy is looking good for 2019 — the state raised its minimum wage to $11 an hour in January and unemployment sits at just 3.4%, well below the national average.
The state also ended its most recent fiscal year with a budget surplus of $175 million, according to the Maine Department of Administrative and Financial Services.
As the state's workers continue to age and with unemployment at a low, you likely won't have a difficult time finding someone hiring, especially in the technology, healthcare, and tourism sectors.
Housing Market Forecast for 2019
The Maine housing market was red hot in 2018 with values rising 6.2% and still expected to rise 9.2% within the next year, according to Zillow.
The state broke records last year for both the number of homes sold and the median price, at an average statewide median of $215,000. Both growth numbers outpaced that of the nation overall.
However, there are indications that things may be starting to shift. Some experts say they see the market cooling and price growth slowing from the runaway numbers from 2018.
This could be due to rising interest rates, increased construction costs due to lack of labor, and economic uncertainty.
Next Steps
If you're looking to relocate and buy a home in Maine, congratulations! Be sure to reach out to a trusted real estate agent in the area to learn more about the local market.
They're the experts in current prices, market conditions, and desirable locations and can help tailor your search to needs.
If you're flexible in your move, they can also help you decide the best time to buy and sell for the most bang for your buck.
Be sure to ask about recommended companies for things like homeowner's insurance and mortgages, too.
Related Articles