If you're looking for Southern charm and a great climate, Georgia could be the perfect place to live. With a varied economy, strong growth, and excellent stability, it's a great affordable place to live.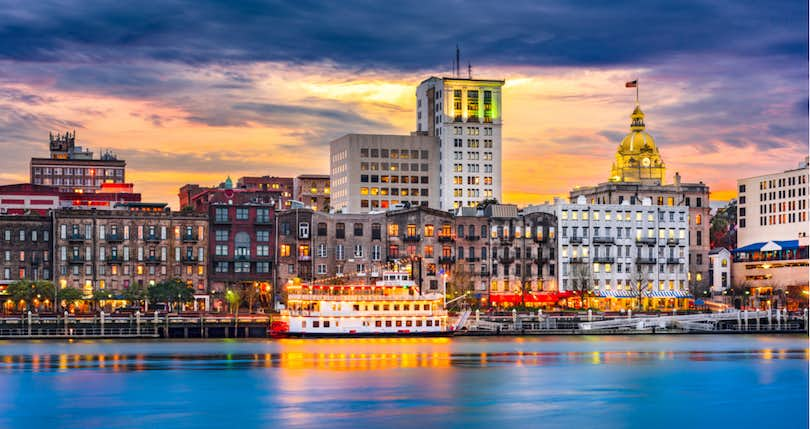 Georgia is well-known for its peaches, but there's so much more to the state than that. It's got natural beauty, an escape from the cold that plagues much of the U.S., and an affordable cost of living. If you're thinking about moving to the Southeast, Georgia could be the perfect landing place.
Thinking about moving to Georgia? Here are the things you'll need to know.
Five Reasons to Move to Georgia
The Peach State boasts a variety of terrain and people full of Southern hospitality. Interested in why people love to live there? Here are five reasons to move to Georgia.
5. Affordability of Homes
Where the median price of homes in the U.S. is 258,500, median home prices in Georgia are only $148,100. You'll also save money on gasoline, property taxes, and other expenses.
4. Friendly People
Southern charm is a real thing, and Savannah, GA was listed as one of the friendliest cities in the country. If you choose to move here, you'll likely have great neighbors.
3. A Strong School System
The South sometimes gets a bad reputation for having poor schooling, but not Georgia. In fact, there are great public and private schools around the state, and there are incredible universities as well.
2. Temperate Weather
The average high for January in Georgia is 52 degrees, and even in the warmest month (July) the average high is 89.4 degrees. Compared to many areas of the country that routinely get below 0 or above 100, Georgia is a great place to live.
Great Job Opportunities
Georgia is home to a wide variety of industries and major employers. The unemployment rate is only 5.3%, and 18 Fortune 500 companies call Georgia home.
Quality of Life
What's it like to live in Georgia? The state has incredible beaches and stunning waterfalls, along with a huge mix of industries and a large military presence.
Georgia boasts 10 million people spread over more than 59,000 square miles. 38% of the population is college educated. The world's busiest airport is located in Atlanta, and the state hosted the Summer Olympics in 1996.
If you're looking for big city living, Atlanta is the place for you. The Atlanta metro area has 5.8 million people, and it's a bustling metropolis with a lot going on. Almost all of the major sports team in Georgia call Atlanta home, including the Major League Baseball Atlanta Braves, the NFL Falcons and the NBA's Hawks.
The state ranks very highly in terms of infrastructure and economy, along with financial stability. Georgia also has an incredible natural environment, as well as strong scores for air and water quality.
Economic Outlook
If you're looking for a great place to work, Georgia has a lot of options across a lot of different sectors. For instance, 10% of the industry is in manufacturing, but another 11.6% is in "Professional, Scientific, and Management," while 21% is in "Educational Services and Health Care and Social Assistance."
Georgia ranks 10th in the nation in economic growth and 19th in business environment. The job growth rate of 2.2% is above the national average, and only 3.5% of roadways are in poor condition (compared to 22% nationwide!)
The credit rating of the state is higher than average, reflecting excellent stability. Georgia is rated highly in long-term fiscal stability and above average in short-term fiscal stability.
Housing Market Forecast for 2019
Of course, if you're looking to move to Georgia you want to know what the housing market looks like. Home prices and availability vary, so be sure to work with a qualified local buyer's agent.
One of the best places to live in Georgia includes Augusta, well-known for the Masters' golf tournament. This city is the second-biggest in the state and boasts great weather with a low cost of living.
Many people enjoy Columbus, which has 50 public parks and the longest urban whitewater rafting course in the world. Many families and young professionals call this city home, and the public schools are great.
You might also look at Savannah, the oldest city in the state and a draw to many tourists interested in Southern history. There's a lot to do, with a strong nightlife, a lot of diversity, and many bars and restaurants.
The median home prices in Georgia are significantly lower than other areas of the country, so take advantage of the opportunity to move into a beautiful new area! Home prices are increasing over time, so an investment in a home now should pay off in the future.
Next Steps for Moving to Georgia
The first thing to think about when considering a move to Georgia is what is drawing you there. Are you in the military, getting ready to relocate? If that's the case, you may want to consider a VA loan and work with a real estate agent familiar with military relocation.
On the other hand, if Southern living is drawing you in, you have a lot of options. A quaint smaller city like Savannah may be perfect for you.
Finally, if you're looking for a thriving city in a great climate, look for homes in Atlanta. You'll have a lot of employment options and a local real estate agent can help you find the perfect neighborhood to live in.
Whatever brings you here, a Clever Partner Agent can help you find your dream home in the Peach State!
Related Articles