Arkansas, nicknamed the Nature State, offers residents rivers, mountains, and waterfalls along with a low cost of living and growing economy. A hot, but still affordable, housing market, makes this a great state for first-time home buyers. Check out Arkansas if you're thinking of moving.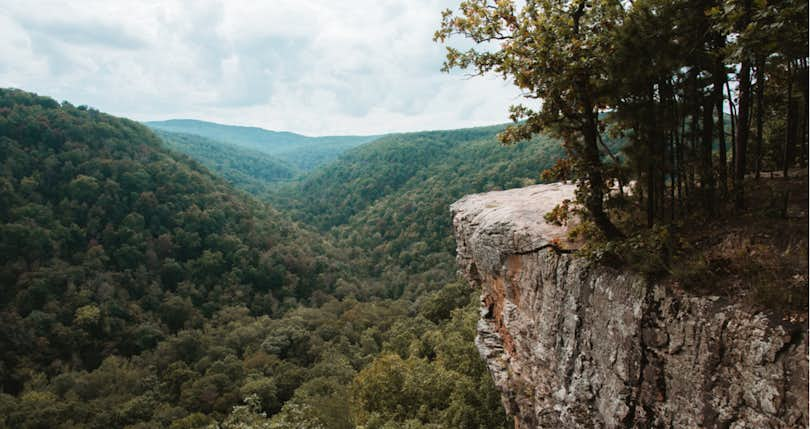 Arkansas, a Southern state, features the beautiful architecture and history of the South but also shares the South's difficult history. Plantation and sharecropper agriculture put the state behind the rest of the country for decades, but Arkansas has been making strides to catch up.
A growing economy, cheap cost of living, and great housing market are some of the reasons that the state's population has been growing. Thinking about relocating? Look at Arkansas.
Top 5 Reasons to Move to Arkansas
From the climate, to the affordable housing market, here are the top five reasons to move to Arkansas.
Low cost of living - Arkansas cost of living is 38% lower than New York, and the cost of living for a four-person family is less than $4,000 a month.
Hot housing market combined with low property taxes - Arkansas' housing market has been growing, with median prices rising. But their property taxes are still the tenth lowest in the nation.
The average commute is short - If you're tired of spending hours in your car, the average commute time in Arkansas is just twenty minutes. You'll be able to get from your inexpensive house to your job in no time.
Arkansas has mild seasons - Despite being a Southern state, Arkansas' climate is relatively mild. The lowest temperatures in the winter are around 32 degrees Fahrenheit and the highest in the summer are around 89 degrees Fahrenheit.
The Ozarks and more - The Ozark mountains are known for their beauty. Heavily forested and filled with rivers, waterfalls, and lakes, they're the perfect spot for a weekend fishing trip
Quality of Life in Arkansas
Arkansas' nickname is "The Natural State." Spend less time in your car getting to work and more time hiking, camping, or canoeing. The Mississippi River makes up one of the state's borders, but it also has the Arkansas and the Red Rivers. No matter where you live in the state, one is just a close drive away.
Salaries may be slightly lower, but your money will go further. Housing is inexpensive, though you can expect your home to appreciate and your investment to gain value.
Arkansas has never been the home to any professional sports team, but there are plenty of college teams to cheer on. Locals are passionate in their support of the University of Arkansas Razorbacks' teams.
The Arkansas Arts Center in Little Rock is just one of the many artistic venues in the state. Grab tickets to a touring Broadway show or treat your ears to the sounds of the Arkansas Symphony Orchestra. It's easy to find a reason for a night out in Arkansas.
Economic Outlook of Arkansas
According to the Arkansas Economist, employment growth has accelerated since 2014, with especially positive growth in manufacturing and construction. In general, the state has been experiencing slow but positive economic growth since the last recession.
One good sign is that personal income is on the rise, and at a higher rate than the country as a whole. Rural Arkansas hasn't fared as well as metropolitan areas, though agriculture is still an important part of the state's economy, and is coming back slowly.
The unemployment rate has hovered around 3.6% for much of 2018 and 2019, slightly lower than the United States' unemployment rate. Employment is shifting in Arkansas, with jobs moving from manufacturing to service employing sectors such as education and hospitality, education, and construction. If you've made your career in a growing field, Arkansas could be a great place to relocate.
Housing Market in Arkansas
The home market in Little Rock is hot, with values rising by 1.4% in 2018. They're expected to go up again 1.8% this year, but housing is still extremely inexpensive. The median price of sold homes is $144,100, and the cost of living is below the U.S. average.
Fort Smith's rise in home values beats Little Rock's, at 8.5% growth in 2018 and predicted growth of 2.8% in 2019. Homes sold at a lower median price of $134,300. These low prices are related to the fact that salaries aren't as high in Arkansas. Median household income is only $44,334, though it's grown by 5.7% in the last three years.
Jonesboro is less of a rosy picture. While home values rose last year, they're expected to fall 1.5% in 2019. The median home price is $187,800, a significant jump from other cities in Arkansas but still much cheaper than other areas of the United States.
Median homes prices in Fayetteville are $227,900, the highest of all the major Arkansas cities. They rose 8.7% last year and will rise another 9.9% in 2019. Housing prices are higher in Northwest Arkansas because much of the state's growth has been concentrated in that area.
Overall, Arkansas has a hot, but still affordable, housing market. If you're a first-time homebuyer who has been struggling to buy a home, your dream could be realized in Arkansas.
Next Steps
While you might not be ready to put your house on the market, Arkansas might have just risen a few spots on your list of potential places to move. Plan a trip and ask the locals about what they love about the state. Before starting a job and home hunt, get in touch with a local realtor. They will be able to answer many of your questions about neighborhoods, schools, and quality of life.
Clever partners with top-rated buyer's agents across Arkansas, so if you'd like to speak with one, fill out our online form!
A Clever representative will contact you to answer any questions you might have and connect you with one of our trusted Partner Agents in the area for a no-obligation consultation.
Related Articles