Are you considering moving to Arizona? The Grand Canyon has a lot to recommend it — an incredible climate, natural beauty, thriving arts and theater, and much more. Here's what you need to know as you think about moving to Arizona.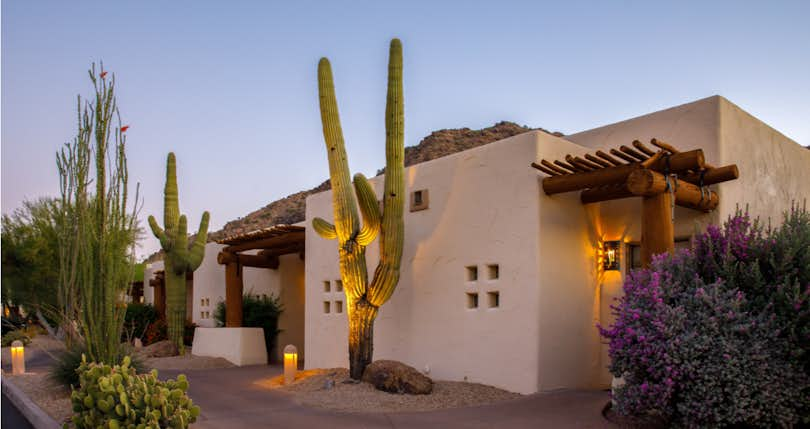 Are you considering moving to Arizona? Whether it's to escape cold winters or simply to enjoy the beauty of the desert, many people love to call the state home. It boasts large cities and small towns, along with miles of scenic landscapes.
If you're thinking about a move to the Grand Canyon State, you're making a good choice. Here's the ultimate guide to help you find the right community and the perfect new home.
Top 5 Reasons to Move to Arizona
Why do residents of Arizona love it so much? Because there are so many great reasons to live there! Here are the top five reasons to become an Arizonian.
1. So Much Sunshine!
The climate of Arizona means that a lot of the seasonal chores you may have known in other parts of the country don't apply. There's no snow shoveling, lawn mowing, or leaf blowing. Instead, you'll enjoy 299 sunny days per year.
2. Excellent Wine
Wine grapes enjoy a longer growing season in Arizona, which means that there's more alcohol and the wine produced is stronger than neighboring states. You can taste wines from 30 varietals of grapes grown in Arizona.
3. It's a Great Place to Enjoy the Arts
Throughout Arizona, art centers are thriving. Small areas like Sedona, Jerome, and Bisbee are havens for creative people, and larger cities like Phoenix and Tucson have incredible local street art, music, and theater scenes.
4. Amazing, Inventive Food
Did you know the chimichanga was invented in Arizona? Other things that make the list of can't-miss food include Sonoran hot dogs, cowboy steak, mesquite flour bread, and prickly pear margaritas. The food alone is a great reason for moving to Arizona!
5. The Scenery is Unbeatable
There's nothing like the landscape of Arizona, with waterfalls, cacti, blooming flowers, huge canyons, and gorgeous bluffs. The amazing sunsets and a wide range of ecological zones mean you can see almost anything and never leave the state. And of course, you can't forget the Grand Canyon itself, which is like nothing you'll ever see in your life.
Quality of Life
Arizona is a fun place to live simply because it's always possible to do things outside. Tourism is a booming industry simply because there are so many interesting things to see and do. This means that residents have access to incredible attractions all year round.
Because of the dust from the desert, the air quality can suffer, but Arizona still sees less than one bad air-quality day per year. It's a rapidly growing state with a low cost of living, and a lot of Americans like to retire in Arizona. As a result, 17% of the population is 65 and over.
Of course, you can't overlook the thriving art scenes in cities like Tucson, which give you so many things to see and do. Whether you love to create yourself or simply watch to look, Arizona is perfect for you.
Bisbee, Arizona was named the best historic small town in the country by USA Today, and Arizona State University was ranked the #1 most innovative school in 2016. There's clearly a lot to love about living in Arizona.
Economic Outlook
The one thing that is a challenge in Arizona is that wages tend to be below the national average. However, the amount of economic opportunity in the state is growing quickly, and Arizona is among the top in the country for job creation.
In rankings for the best places to get jobs or start a career, Arizona cities are commonly in the top five. For instance, Scottsdale ranks #1 with WalletHub. Other cities you'll see ranked highly are Chandler and Tempe.
As a state, Arizona is square in the middle of the pack. Arizona also ranks above average for economic growth and business environment.
The economic opportunity in Arizona continues to improve, and the state appears to poised to be among the top states for economic growth and job gains again in 2019.
Housing Market Forecast for 2019
The housing market in many large cities, such a Phoenix, is expected to be red-hot for 2019. With the strong economy, the housing market will grow as well.
Still, Phoenix's single-family homes have a 65.7% affordability rate compared to the national average of 59.3%. For the state overall, home inventory is decreasing, so now is the time to get involved in the market before prices jump.
Other excellent areas for home buying include Tucson, Clifton, Paradise Valley, and Gilbert. These areas have affordable housing, excellent schools, and low crime. There are also fun amenities and good nightlife in many of these areas.
Next Steps for Moving to Arizona
Are you ready to take the plunge in moving to Arizona? It's important to find the right home in the right area. Working with a top real estate agent is a great place to start. They are professionals in their specific markets and can help you find your dream home.
Of course, if you're moving for job-related reasons, you will want to find a place to live near where you will work. If you haven't landed employment yet, consider moving to a high-growth area like Scottsdale so that you can have maximum opportunities.
If you're retiring to Arizona, you may enjoy a smaller city with a lot to do, such as Tucson. Or, you might enjoy the quiet life of a smaller town like Bisbee.
No matter who you are or what you're looking for, Arizona has the variety and diversity you need. Come enjoy the Grand Canyon state today!
Related Articles