Are you ready for the farm life? Running a hobby farm can be an incredibly satisfying enterprise — growing your own food, raising your own animals, and selling your produce. But, you'll quickly discover the time, energy, and costs add up fast. Read this guide to help you avoid common farm pitfalls.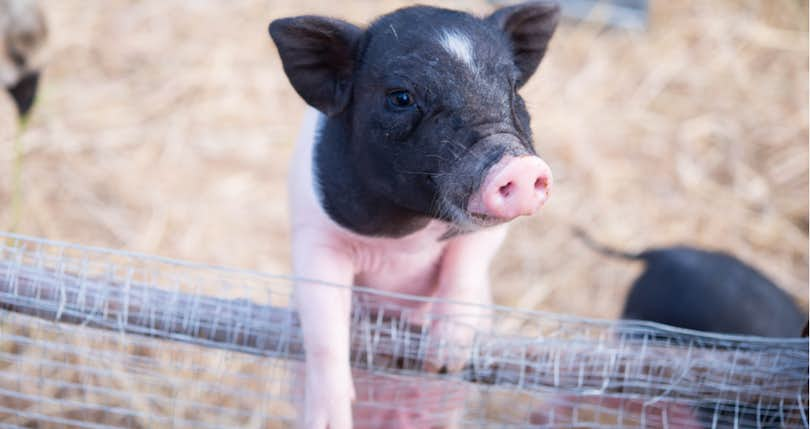 Perhaps you've dreamed of the quiet, simpler life — you quit your job, purchase a bit of land, raise your own chickens, grow your own veggies, and live the farm life.
Well, if you have goats or chickens, it may not be so quiet, and as for simple, you'll soon learn the reality of hard work and complex, scientific growing techniques needed for a successful crop.
But, if you're prepared and have done your homework, running your own farm can be an extremely rewarding and exciting venture.
There's certainly a great deal you need to consider and ask yourself before you buy your own piece of farmland. Do you want a hobby farm or a larger homestead? Are you raising animals, growing produce, or both? What is your budget? How much time are you willing to commit?
To help you think through these questions, we put together an in-depth guide to get you started and lay out what you need to do to run your own mini farm.
Decide What Type of Farm You Want
First and foremost you'll want to choose what kind of farmer you want to be. Will you be raising chickens? Growing veggies? Or will you have a few cows and goats?
Deciding on what type of farm you'd like to run will determine the amount of space you'll need, type of equipment and land, and of course, your budget.
For instance, if you want to raise chickens, you'll need a chicken coop and fencing protection from predators. With goats, they love eating invasive plant species but will also devour your planted produce.
Hobby or Homestead?
Another of the bigger determining factors is whether you will have a hobby farm or a larger homestead.
Typically, a hobby farm is a part-time enterprise where the farmer works another job for financial support. With a homestead, the goal is self-sufficiency where the farm is the main source of income.
Indeed, many times, no matter what type of farm, the most important part of starting a mini farm is to be flexible and open-minded.
What you initially envisioned might not be what you actually want in reality. Perhaps you discover goats aren't your thing or that you don't have the time to care for a large veggie crop.
Be patient — starting out you'll have a steep learning curve and a lot of trial and error!
Finding the Right Location
You've decided what type of farmer you want to be, now you need the perfect spot of land.
When beginning your farm search, research beforehand how much acreage you'll actually need. You may not need 50 acres for what you want to do on your small hobby farm.
For reference, an average small homestead can range from 150 to 250 acres while a small hobby farm can range from only a few acres to 15 acres. With fewer acres, you'll take on less work and save money.
How Rural Should You Go?
Along with acreage, take into account the distance from larger cities. Will you be commuting to your hobby farm or are you living directly on the land? How close are the farmers markets where you'll sell your goods?
With rural farms, be aware that you may have limited access to phone or internet, and in many remote areas the city may not provide road maintenance on certain private roads. You'll be responsible for plowing or re-graveling roads and driveways.
Take into consideration if the farm has a septic system, if there's easy access to water, whether it's a well or an established irrigation system, and if the property comes with existing buildings, note if they're structurally sound including checking the electric, heating, and plumbing.
Along these same lines, if your farm is in a remote or less desirable area, you may have difficulty if you ever decide to sell the property.
Additionally, consider the weather and climate of your farm's location. You'll certainly be utilizing drastically different farming practices if you farm in Minnesota rather than in Texas.
Financial Costs
Of course, expenses are one of the main deciding factors when starting a mini farm. From buying land and equipment, to purchasing animals and animal feed, you'll be spending plenty of cash. Fortunately, running a mini farm may not be as costly as you'd initially think.
Your startup costs will be the most spendy part of running a mini farm. One expense will be a down payment on the land which encompasses existing farmhouses, barns, and other buildings on the property.
Depending on your location and quality of the land, you can expect to pay anywhere from $1,400 to over $10,000 per acre. And if buying outright is too expensive, leasing farmland may be a better option for you.
Farm loans do tend to have higher interest rates so it's always a good idea to look into grants and other programs that help beginning farmers.
For instance, head to beginningfarmers.org for great resources and check out the USDA's Farm Service Agency for federal farm loan programs. Many of these financing options assist with purchasing land and acquiring used equipment at bargain prices.
Once you get your farm going, your costs may be more manageable.
One family spent only $511.68 per year to run their mini farm which included farming, raising animals, gardening, and homesteading. Between saving on groceries by growing their own food and selling livestock, this family saved big.
To save even more on costs, buy used or refurbished farm equipment and grab the toolbox yourself to fix basic repairs without hiring outside help.
Know Your Area's Farm Regulations
Before you start purchasing land, research your area's zoning laws and the permits and licenses you'll need to obtain in order to successfully run a hobby farm and to sell your products at farmers markets.
While you do not necessarily need to have USDA approved facilities or products, regulations vary depending on your state and the product you're selling. For instance, there may be more requirements surrounding meat products than with whole foods like vegetables or fruit.
Additionally, under tax law, running a hobby farm does not technically make you a farmer as you're not seeking a profit, rather it's a hobby. Under this definition, you unfortunately cannot deduct farming expenses or losses on your taxes.
Finding Your Farm
Running a hobby farm can be extremely rewarding, but there's a lot of planning and hard work that goes into getting your farm off the ground even if you purchase an existing farm.
If you feel ready to take the next step and run your own mini farm, you should always work with an experienced, local real estate agent for assistance and support throughout the entire process.
Your agent will be there to help you navigate farm regulations, expenses, and to help you find that perfect bit of farmland that meets your hobby farm vision.