Buying a recording studio can be a great investment, but only if you understand exactly what you're getting into and what you want to get out of it. Here's what you should look for before investing in a recording studio.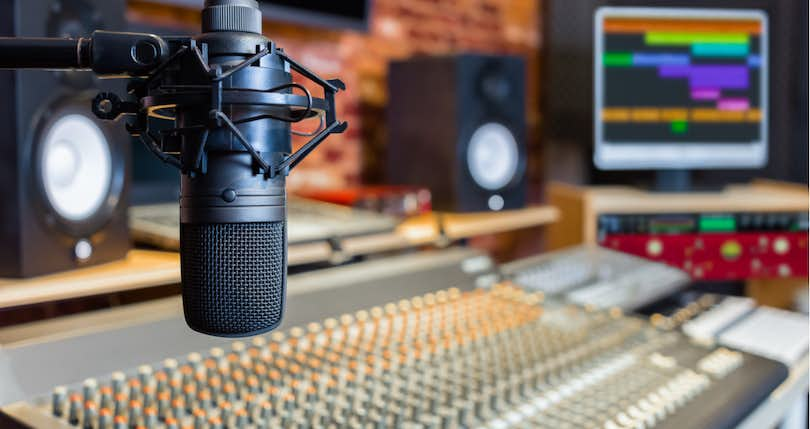 A recording studio can be an exciting and profitable real estate venture. A well-outfitted and well-run recording studio can easily clear six figures in profit a year, if it meets the right standards.
You might be tempted to build your own recording studio from the ground up, but while buying a recording studio that's ready to go, right off the bat, is more expensive than building your own studio, it's worth it. The initial investment for soundproofing and equipment requires a massive outlay of cash and the expertise of someone with experience in the industry.
But what features and specifications do consumers look for in a recording studio? Let's look at some of the factors you'll want to consider when you're looking to purchase a recording studio.
JUMP TO SECTION
The Structure
A recording studio is only as good as the audio that can be recorded there, and the audio quality is going to heavily depend on the studio's physical structure. While you'll always want to inspect any investment property for structural integrity, it's doubly important with something like a recording studio; the smallest crack, gap, or imperfection can ruin the sound quality.
You'll want to closely inspect the property to make sure the floors are elevated, it has high ceilings, the walls are adequately soundproofed, and windows are sealed. Walls should have irregular surfaces and floors need to be carpeted or otherwise softened. Even the doors should be of a specific, double-thickness type that's made for studio spaces.
Since the studio will be as sealed off as possible, it will also need a high-quality ventilation system. Make sure to inspect the system for good airflow, and make sure it's soundproofed as well.
The Equipment
This is probably the most important single factor contributing to a recording studio's success or failure. Obviously, you'll want to make sure that the studio has professional grade recording equipment, but it goes past that.
Do they have vintage equipment available? Depending on your target market, your users may want the option of using older, "warmer" sounding equipment.
Are there multiple monitoring systems for playback? What kind of microphones are available? You're going to need a lot of gear, so compile a checklist and make sure it's all there. And beyond confirming that this equipment is furnished in the studio, you obviously need to confirm that it will come with the property.
Looking for a recording studio to invest in?
A Partner Agent will find you an opportunity in your budget.
The Purpose
What kind of recording do you plan on doing in the studio? Besides recording music, many studios today take on various kinds of audio work, from voiceovers to audiobooks. Each type of recording will require different equipment and facilities, and commands a different hourly rate. Understanding the potential for various income streams will affect how you evaluate a studio's investment potential.
Many recording studios also provide on-site video production services. If the studio you're looking at doesn't already incorporate a production space, is there room to build one, or to expand the facility?
The Location
Just making sure that the recording studio itself is in good shape and includes all the proper equipment is only part of the equation. Artists who use the studio will want to stay nearby; are there hotels in close proximity? Look for restaurants, lodgings, entertainment, and other amenities.
The other facet of the location is that you want to make sure the studio isn't in a heavily residential area, or close to neighbors who might complain. It's also important that the studio isn't near highways, bus routes, or under airplane flight paths. Even the best soundproofing will be defeated by a passing jetliner.
The Ambience
Beyond location and technical considerations, a recording studio should be welcoming and comfortable. Your prospective clients will be spending hours, days, or even weeks at a time in your studio, so your studio should be accommodating. Obviously, you can redecorate or renovate the interior, but if the space is cramped, or lacks natural light, it could be difficult to make it appealing.
The Staff
If you're buying an existing, operating recording studio, it will probably already be fully staffed. While the staff obviously can't be included in the deal, you might want to inquire about whether they'd be interested in staying on. Recording studios are not only highly technical, but also every studio is unique, with audio idiosyncrasies that only an experienced hand would be familiar with. Even if you aren't interested in retaining the present staff, you should try to speak with them before the handover, and ask about the studio's quirks and eccentricities.
If you're ready to invest in a recording studio, your next step should be to partner up with an experienced real estate agent. A great local agent will know exactly which properties meet your requirements and your budget, and will help you through the entire buying process, from making an offer, to negotiating the price, to closing.