Have you ever thought about owning a Christmas tree farm? How much money would it take to buy and operate one? Are they profitable? Here are the answers to all your questions.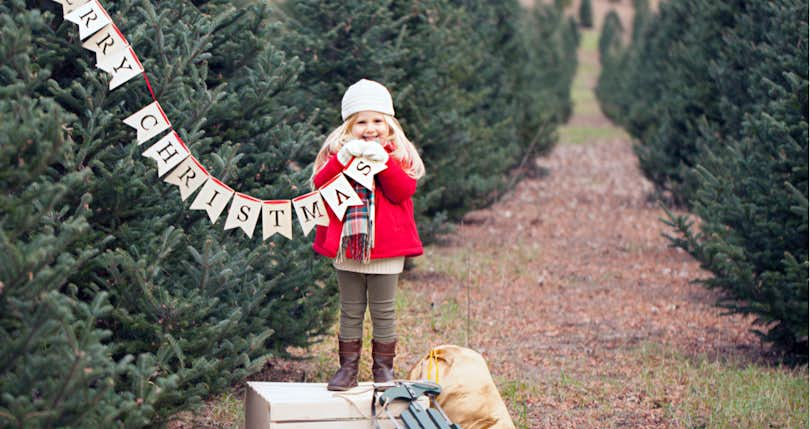 The smell of a Christmas tree instantly evokes the season. And, more and more, buyers prefer real trees to artificial. The Christmas tree industry has actually grown over the past few years. If you've been thinking of buying a Christmas tree farm, there's a lot you should know before hanging up the holly at your new farmhouse.
Christmas trees mature on average every eight years and are a low maintenance crop. Following guidelines of 5x5 spacing so that you have access for loading, you can plant roughly 1,500 trees per acre. Rotate your planting to have some ready to chop and sell every year.
Christmas tree farms don't take much work. You have to mow for weed control and shear and prune the trees to keep the conical shape that buyers prefer. If you can do it all yourself it keeps your costs low.
If you start from scratch, you'll have to find land for sale that has the right properties to grow trees. You can either buy seeds or transplants or start with a mixture of both so that you make money faster. Most farmers aim to sell 200 trees a year, so plan carefully to stagger your growth cycles.
The benefits to buying a farm that's for sale is that you'll be able to make money your first year, instead of waiting a while for your first seedlings or transplants to reach the desired height. The current owners probably have an established lot to sell their trees, or contracts with places to resell them.
Before making any major agricultural purchase, talk with an experienced realtor. They can help you evaluate potential deals and find a profitable farm to purchase.
Typical Farmland Costs
Experts advise acquiring at least 10 to 20 acres for a Christmas tree farm.
The average price of existing Christmas tree farms ranges from $450,000 to over a million dollars. If you're just looking to have a small, side operation to raise extra cash, it might be cheaper to acquire land and plant yourself. Look for well-drained, loamy soils, which most common types of Christmas trees prefer.
Zoning Considerations
If you buy an existing farm, it likely is abiding by all the zoning considerations of the area. But if you have plans to expand into cut-your-own tree operations or a gift shop, you should check with your local zoning board. These types of operations, called agritourism, are subject to different rules.
For example, in Ohio zoning laws impose restrictions on the size of the buildings, parking lots for visitors, and egress or ingress from the property for agritourism businesses. It's estimated that over 5 million people buy their trees at a cut-and-carry lot, and many farmers are finding it profitable to make their farm a destination.
If you want to add a Santa, hayrides, and other attractions, you could run afoul of zoning laws. Check with your local city land office.
Industry-Specific Fees
Unless you also plan on investing in large trucks to transport the trees, you'll have to hire someone to take them to market. Plan on paying for chemical weed control, to have the trees pruned or cut down when ready to sell, or advertising costs.
You may have to pay fees to rent a lot in a town or city to sell your trees, and expect to work long hours during the busy season. If you buy land that isn't growing anything yet, you'll have to pay a farmer with a tractor to plow the dirt.
USDA Standards
The USDA has established grading standards for Christmas trees. There are three grades; Premium, Number 1, and Number 2. To qualify for each grade characteristic such as the tree's healthiness, cleanliness, taper, and shape are considered.
These standards apply to trees which are marketed as Christmas trees and will have an effect on how much you can charge for your trees.
Economic Outlook for Christmas Tree Farms
The outlook is good for Christmas tree farms. After suffering through the depression started in 2008, left with an overabundance of supply, now farmers are seeing rising demand combined with less product on the market.
Unfortunately, because it takes so long to grow the trees, it's harder for farmers to adjust supply to time market demands, which is something you should keep in mind when planting.
Financing Options for Would-Be Farmers
The USDA makes funding available to farmers, including Christmas tree farms, through Direct and Guaranteed Loans. Available in amounts ranging from $300,000 to $1.4 million, these loans are available to farmers who have been unable to obtain credit from commercial lenders.
As their name implies, Direct Loans are issued directly by the USDA and Guaranteed Loans are issued by approved lenders but the USA guarantees 95% of the loan's balance. Loans can be used to purchase a farm, keep it running, or help during emergencies.
If you're considering purchasing an established farm, work with an experienced, local real estate agent for assistance and support throughout the process. They will have the inside scoop about farms for sale in your area and, more importantly, why they're for sale. There is a big difference between buying a farm because the owner wants to retire and buying a farm that's failing.
Reach out to Clever today to be put in touch with an agent in your area who can help you buy your own Christmas tree farm.
Related links