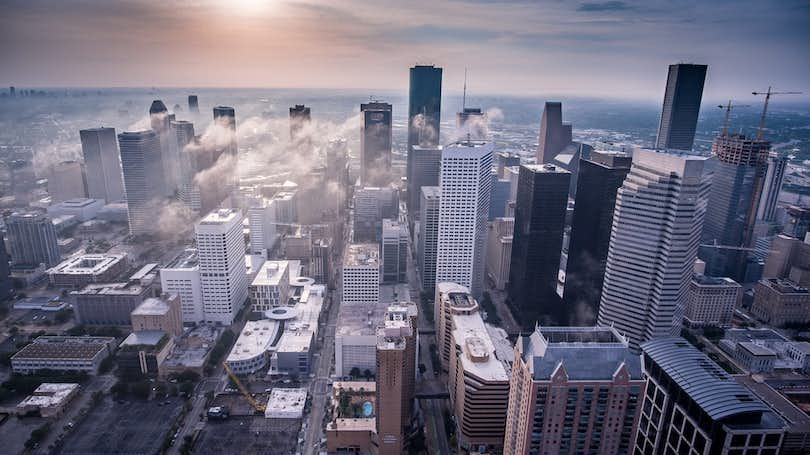 Living in Houston, Texas, is a real treat.
As one of the most diverse cities in America, Houston proper hosts nearly 2.3 million souls. However, nearly 6.8 million people call the "Greater Houston Area" (as most locals refer to the sprawling metropolis) home. The area covers 9,444 square miles. That's an area larger than five states, including New Hampshire, New Jersey, and Connecticut.
Beyonce is from Houston. Jim Parsons is from Houston. Howard Hughes is from Houston. And, soon enough, you could be, too!
» FIND: Top Real Estate Agents in Houston
What Is Living in Houston Like?
The quality of life in Houston is very high. This is because the economy is strong, the community is thriving, and the food is very good.
Working in Houston
Did you know that Houston is home to the headquarters of 19 Fortune 500 companies? (Plus Fortune 500 companies Anadarko Petroleum and the Huntsman Corporation have their headquarters in The Woodlands, Texas, just north of Houston.)
Because of this, the job market in Houston is booming and there is always an abundance of work for both white- and blue-collar workers.
When you live in Houston, the possibilities are endless. You can easily be a business owner, doctor, lawyer, engineer, or teacher. However, the booming economy is causing a surge in the need for constructions workers, landscapers, plumbers, mechanics, baristas, and more.
Whatever kind of work you would like to do, it's waiting for you in Houston.
Playing in Houston
When you're not working, you can enjoy time in the city's many green spaces, like Discovery Green downtown, Hermann Park in the Medical Center, and Memorial Park near the Galleria.
After your time outdoors, take the afternoon to go shopping at the Galleria (one of America's only "mega malls"), Memorial City Mall, or one of the smaller boutique developments like City Center in Sugar Land or LaCenterra in Katy.
If you like sports, you can always tailgate at NRG Stadium before cheering on the Houston Texans or maybe hang out at Minute Maid Park as you watch the Houston Astros gun for another World Series title.
There are also men's and women's major league soccer teams in Houston (the Dynamo and the Dash). And don't forget about basketball: The Houston Rockets play at the Toyota Center. If you like college football, the University of Houston Cougars, locally known as the Coogs, will not disappoint.
Sports not your thing? No worries! Houston also has a world-class museum district.
The Museum of Fine Arts Houston has a permanent collection that rivals that of the Metropolitan Museum in New York or the National Gallery in D.C. After taking in other museums like the Museum of Natural Science and the Children's Museum of Houston, you could choose to spend the afternoon at the nearby Houston Zoo.
To top off your day of culture, head downtown for a play at the Alley Theater or a show at one of Houston's world-class arts organizations, the Houston Grand Opera or Houston Ballet.
Eating in Houston
There is no shortage of good food in Houston. A major immigration hub, Houston has the best Mexican, Vietnamese, Turkish, Korean, Chinese, Peruvian, Lebanese, and Czech food you could ever ask for—all with a South Texan twist.
While there are plenty of chain restaurants available if you need an easy fix, Houston is also known for its locally owned franchises, like Pappdeux, Mama Ninfas, and Shipley's Donuts.
If you want to cook at home, Texas magnate H-E-B (named after Texas entrepreneur Howard Edward Butt) is the go-to grocery store, but there are many locally owned farmers markets and organic growers to choose from.
The main point? You'll never be hungry while living in Houston.
Getting Around in Houston
You won't be able to survive living in Houston without a car. While the downtown area has a light rail system and there is a network of commuter buses that connect the outer suburbs to a few of the main business districts, without a car, you are essentially stranded.
Like most major cities west of the Mississippi, the urban sprawl of Houston is nearly uncontrollable. Houston's bus system, the Houston Metro, can hardly keep up. This means the city of Houston's Walk Score is very low.
However, Houston did do one thing right: There is plenty of parking. While the city pushed its boundaries and exploded outwards, it left any plans for widespread public transportation in the dust. But what it did do was ensure that every new piece of construction came with a large parking lot or multiple story parking garage.
And the best part? Most of this parking is free. While some places in the downtown areas might charge you by the hour, in the majority of the city, when you find a spot, it's yours—no questions asked.
The only exception to this is parking for major sporting events or shows. Lots that are typically free or inexpensive suddenly cost $30 for an evening. However, this can be expected in any city, so it is not a unique con of living in Houston.
A hot tip for a cool time: Make sure your car has great air conditioning. Houston is extremely hot and humid for most of the year.
Education in Houston
Houston has world-class schools. There are two major school districts within the city proper: Spring Branch ISD and Houston ISD.
There are more than 17 other districts that either border or overlap with the city. That's just how big Houston is.
Best Neighborhoods in Houston
The city itself is divided into many different districts—all with their own charms, amenities, and price points.
For example, every Houstonian knows that the oil billionaires and business tycoons live in the exclusive River Oaks area. West University (named after the nearby prestigious Rice University) is home to many lawyers, business owners, and medical professionals. These people might even commute to the nearby Medical Center.
The sprawling suburbs of The Woodlands, Katy, and Sugarland are home to millions of commuters who travel into the city center each day to work in Houston's thriving business, medical, and engineering industries.
If you live in Memorial, the large lots and lush trees will ensure that you never want to leave.
There is no particular style of house in Houston, Texas. This is because there are no zoning laws, so you can essentially build what you want, where you want.
Want your home to look like a Frank Lloyd Wright piece? You can find it in Houston. A shotgun house? It has 'em! A charming colonial? Check! What about an adobe house? For some reason, also yes.
Seriously, Houston has everything.
Real Estate Market in Houston
Housing in the Houston metro area is considered affordable.
If you earn an average salary in Houston, you will be able to afford to purchase a home. In June 2018, the median sales price for a home in Houston was $245,000, while the average salary in Houston was $59,649. This makes owning a home a very easy reality, especially in two-income households.
Due to the strong economy, Houston is growing—fast. There is currently a boom in housing construction along the "Energy Corridor," a section of Interstate 10 on the city's western side. This gives homeowners the ability to buy a brand new home, for less.
In fact, the current average 30-year fixed mortgage rate in Texas increased one basis point from 4.38% to 4.39%. Texas mortgage rates today are two basis points lower than the national average rate of 4.41%.
‧ ‧ ‧ ‧ ‧
To get in on this affordable housing market is surprisingly easy, especially when you use Clever! Our local Houston agents love their city and they can't wait to help you make it your home. Call us today at 1-833-2-CLEVER or fill out our online form to get started.
Related Articles
You May Also Like