Real estate agents can be a real asset when you're selling your home — but not if they're not totally honest with you! Here are some common lies a bad agent may tell potential clients and ways to check up on them.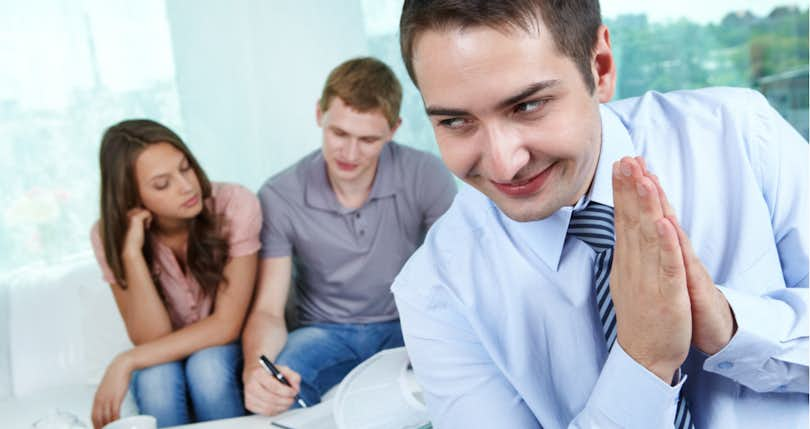 By and large, most real estate agents provide trustworthy and helpful service when selling your home. But, you may run across some that will do anything to get the sale — even if that means being less than honest with you about how much your home is worth or their experience. Here are some of the most common ways an agent may mislead a seller and how to know if your agent is legit.
Dishonest about listing price or home value
At one of your first meetings with a real estate agent, you'll likely discuss the pricing of your home. A good agent will be candid about how much your home is worth and base this value on good comps and their research about the local market. They won't sugar coat if your home is in need of certain expensive repairs that may bring down the price, or if it may not sell for as much as you'd like it to.
On the other hand, an agent who is just trying to land you as a client — or buy the listing, as they say in the real estate world — may inflate how much your home is really worth. Once they get the listing, you'll likely end up lowering the price because of a lack of buyer interest, or have to concede to lots of repairs and thus, reduce your profit.
When interviewing agents, don't go with the one that suggests the highest listing price. Review the agent's comparative market analysis to make sure it's accurate and use good judgement when pricing your home.
Lies about brokerage fees
Brokerage fees — or commissions — are how real estate agents get paid for providing their services. Some agents may say they have the lowest commissions in the area. But, they may not be comparing apples to apples or you might see other fees included to make up the difference.
When interviewing agents, don't always go with the lowest cost. Consider what services you need to be successful in the sale, try to compare agents side-by-side for similar services and choose accordingly. Then, carefully review the commissions and fees to make sure there's no fine print and you won't be charged extra.
Lie about negotiable commissions
Many agents will tell you that commissions are non-negotiable, but it simply isn't true. While on average, sellers will pay 5% to 6% of the final selling price in agent fees, it's not always this way. You may be able to negotiate this commission down a bit, especially if you're willing to forego some services.
Just know when negotiating that a certain cut — usually half — will go to the buyer's agent, as it's typical for a seller to pay commissions for both parties. Again, this is negotiable but not offering enough to the buyer's agent could negatively impact your buyer pool.
Lies about experience or expertise
You may especially see this lie in inexperienced agents, as it can be tough to get started in real estate. But, lying won't serve them well in an industry where most clients are gained through word of mouth. To determine if they have the experience and expertise you're looking for, check out their profile on Zillow or do an online search to get a good idea of sales volume. You can even call the local real estate association to see how long they've been selling and how many homes they've sold. If you're willing to work with a newbie, they may consider a reduced commission in exchange for your business and positive referral.
Lie about their network
Since a network can be an agent's greatest asset, not having one built up yet can be an issue for a new agent and a reason they may lie about it. It's best to choose an agent based on a recommendation from someone you know and who has had a good experience. But there are other ways to test their network. Most agents will have online profiles through Facebook or LinkedIn and through it you can see how many connections they have. While this won't provide the full picture of their network (since they may be connected with everyone through social media), it should give you a decent idea.
Lie about needing an agent to sell your home
It's in an agent's best interest (and good for their bank account!) for you to hire them. Thus, they may give you the impression that you have to use an agent in order to sell your home. But, if you have the skills and time to do so, you could save on the commissions mentioned above by listing your home as a for-sale-by-owner, or using a discount real estate agent.
Of course, you usually get what you pay for and there can be many good reasons to use an agent, including the fact that those who do generally sell for a higher price and more quickly.