While most sellers assume buyers will be focused on the shiny new kitchen countertops and revamped master bath, don't be surprised when buyers start opening closet doors and asking about storage space. Learn why you may want to pay a bit more attention to your closets when selling your home.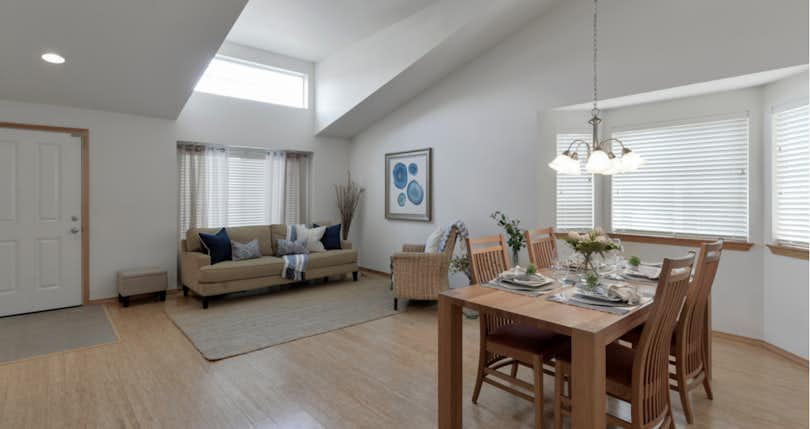 You've got a long to-do list when selling your home. One of the more tedious points in the selling process is decluttering, organizing, and staging your home.
And at a certain point after your third meltdown, when you're ready to tear your hair out, you may say screw it and shove all your extraneous items out of sight in your closets. But potential buyers will always look in your closets.
Storage and closet space are one of the top must-haves for home buyers. You definitely want your closets to make a good impression.
And the pressure is on more than ever after the surge in popularity with organizing guru Marie Kondo who's made organizing closets into an art form.
Now you don't necessarily have to meticulously fold your towels into whimsical swans or other wildlife, but your closets should be clean, organized, and most of all, spacious.
Why You Don't Want to Overlook Your Closets
You have a lot of stuff. And so do your potential buyers. They want to make sure they have enough space to store things including their inflatable holiday decorations, boxes of photos, and big luggage sets.
If a buyer sees your master bedroom's closets are jam-packed and they have to dodge falling items when they open the closet door, they're going to conclude that if you don't have enough room for all your things, they won't stand a chance either.
By organizing your closets so they look spacious and welcoming, you'll help the buyer imagine how they'll store their own belongings in an organized and painless way.
Not sure what type of closet space buyers expect?
A Clever Partner Agent will give you advice on what local buyers want.
What Your Closets Say About You
Without saying a word, a disorganized closet speaks volumes. Not only will potential buyers think your home doesn't have enough space, but they will also think you're disorganized as a person. Buyers may reconsider working with a seller who they think doesn't have it all together.
Additionally, while a disorganized closet might not be inherently dirty, it doesn't scream clean either. If buyers see a dingy or rundown closet, they may assume that's how you've taken care of the rest of the house as well. They'll pass through with a more critical eye searching for faults.
Tips for Creating an Amazing Closet Buyers Can't Pass Up
So what can you do to make your closets stand out to buyers?
First, you'll want to take everything out of all your closets and do a thorough cleaning including dusting, wiping them down, and getting rid of any musty odors.
If your closets are a dark wood or dark color, consider painting them a lighter neutral color and adding light fixtures or easy-mounting LED lights on the ceiling, floor edges, or back wall to illuminate and brighten up the closet to make the space look bigger.
Now comes the formidable task of decluttering and organizing. You only want to fill your closets about a third-way full so the space looks big and organized. Choose your nicer looking clothing to go at the forefront of the closet and pack away your old worn-out sweatshirts.
To store the rest of your things not on display, you can put them in opaque bins out of sight in the attic, stored neatly in the garage, or pack them in suitcases under the bed.
Put all the clothes you've chosen to put in your closet on the same black, velvet hangers creating a cohesive and clean look. Organize your clothes into sections such as pants, dresses, shirts, and sweaters and then arrange them by color putting all the reds together, greens together, and so forth.
Do the same with all your closets. For instance, in your linen closet fold everything neatly and arrange by usage and color. Don't have sheets half-hazardly jammed in there. Same with your coat closet — organize all your hats and mittens and hang umbrellas on a wall hook.
Be sure to have nothing on the floor in any of your closets — this will make the space look smaller and crowded. Buy a cheap shoe rack to get your shoes off the floor or for a closet with cleaning supplies buy inexpensive shelves or hooks to get your brooms and mops off the ground.
Marie Kondo would be so proud. Plus, not to mention buyers will be swooning over your beautifully organized and spacious closets.
Work with an Experienced Real Estate Agent
You don't have to go through the closet overhaul journey alone.
When you connect with an experienced Clever Partner Agent they will be able to help you stage your home and give you expert advice on what local buyers expect when they open your closet doors so you can sell your home quickly and for the best price.
Partner Agents will also save you more on commission as they work for a flat fee of $3,500 or 1.5% if your home sells for over $350,000. This puts more money back in your pocket so you can make the necessary improvements on your closets and staging to sell for more.
Get started and reach out to Clever to connect with a local Partner Agent and learn how you can save more.
Related Articles
You May Also Like