While some can rebuild a home from scratch without blinking, others may have trouble simply hanging up a picture evenly on a wall. If you're the latter, consider buying a renovated home that's ready to move in. Here's how you can start your search and find the perfect refurbished home.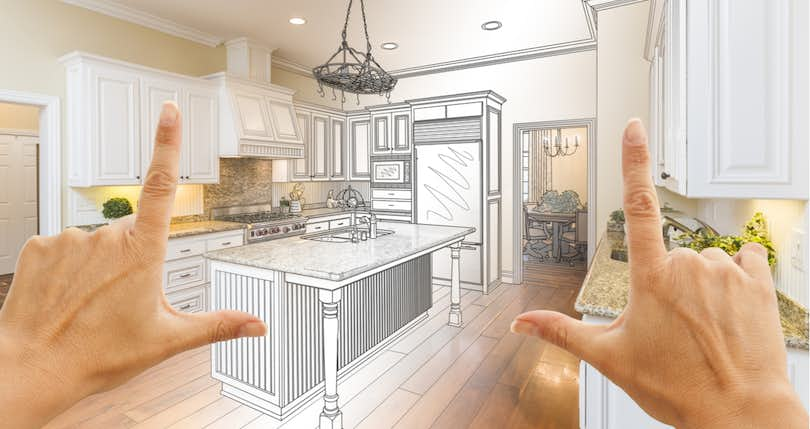 While fixing up and refurbishing your own home is an exciting prospect, before you're in the thick of it, struggling to follow YouTube tutorials and restraining yourself from yet another fight with your significant other about the kitchen cabinets, think twice before committing.
Buying a home is stressful enough, you don't need to add on additional work for yourself. The fixer-upper home may not be for everyone.
You can still find homes with the new, high-tech appliances and freshly redone kitchen and bathroom without throwing more money, time, and energy, or perhaps what was once a very happy, carefree marriage before renovations, down the drain.
What you're looking for is a renovated home. A local, experienced realtor can help you find the perfect fixed up home for you once you've decided what you need.
To get you started, we'll give you some great resources to find your perfected renovated home, though first, know what renovated homes to avoid and the red flags that indicate you may run into some trouble down the road.
What to Look for in a Renovated Home
More specifically, a renovated home is a move-in-ready home that has been updated with repairs and renovations to make it structurally sound, aesthetically pleasing, and modernized to keep up with the current style trends and technology.
While typically, renovations in these homes are relatively minor and don't require complete demolition or gutting of entire rooms, it can sometimes be necessary to make the home structurally safe.
Most renovated homes you'll find are flipped homes where an investor has bought an old, run-down or out-of-date home, fixed it up with new, upgraded renovations and tries to sell it for a profit. Most of these fix and flip homes are beautiful, however, this is where you should be cautious.
You may not run into any trouble with fix and flips, but before you buy you'll want to do a thorough walk-through and get an inspection as some investors cut corners focusing solely on cosmetics over structural integrity as they're anxious to move onto the next renovation.
Indications of rushed work, and eventually later, expensive problems, can be uneven floors, gaps in bathroom tile or between countertops and the wall, doors don't close flush, there's poor water pressure, or crooked light switch plates and baseboards.
If you discover any of these red flags, your amazing, newly renovated home may be a bust.
How to Find a Great Renovated Home
Start Online
Nowadays, online real estate websites are where you begin your home search. Sites like Zillow and realtor.com allow you to filter and search specifically for renovated homes. It's a great place to start and virtually tour homes to see if one sparks your interest.
These sites pull data from the multiple listing service (MLS), a database only accessible by real estate agents, where they post property listings for sale. With listings from the MLS, you'll get a good idea of the price and type of renovated homes available on the market.
And if you find a home you like, you can take the next steps and research the contractor who worked on the home, vetting them and checking reviews to see if there's any disciplinary issues or past clients unhappy with their work.
Then you can schedule an open house to tour and check for any warning signs of rushed or shoddy workmanship before you move forward with the buying process.
Real Estate Investment Association
You may be less familiar with the Real Estate Investment Association (REIA), however, they can be a great resource when searching for quality fix and flips and renovated homes.
The REIA is an organization for real estate professionals and investors to collaborate and network with local groups all around the country.
These real estate agents and investors not only share and exchange information with each other about properties, but they know the best contractors, lenders, and inspectors in their area.
Contact your local chapter and ask to pick their brains about the best contractors working on renovated homes. They even may tip you off about where the best place is to start your search for homes in the area or point you to the real estate agent who works with a lot of renovated properties.
Along with the REIA, check your area for local real estate clubs and open networking events you can attend to meet local agents and contractors.
Work with a Real Estate Agent
One of the best ways to find renovated homes for sale is through a real estate agent. An agent has direct access to the MLS database, unlike a third-party site like Zillow where listings appear nearly a week after being posted on the MLS.
Your agent will be first to see new renovated home listings and can use their experience and expertise to show you homes that match what you're looking for in a renovated home.
They can also use their vast professional network to learn about homes not even on the market yet and will have insight if any renovated homes might have been a rushed job.
Your agent will help you navigate the market and research the home's history and the contractors who worked on it making sure they're well-qualified and ensuring you won't be overpaying for a newly renovated home with lousy workmanship.
Interested in buying a renovated home?
A Clever Partner Agent will find you options that were repaired right.
Partner with Clever to Connect with an Experienced Real Estate Agent
With a Partner Agent, you won't be going at the home search process alone. When you work with a Clever Partner Agent, you'll be working with a top-rated, experienced and local agent who knows your market and will work to find you a high-quality renovated home within your budget.
Your Partner Agent will work with you every step of the way and be there for inspections to spot any red flags that you may miss when looking at renovated homes.
Plus, when you work with Clever you may be eligible for even more cost savings with Clever Cash Back. Once you've closed on your new house, we'll send you money back. No restrictions on how this money is used — it's that simple.
Get in touch with Clever to learn more and get connected with an experienced Partner Agent in your area.
Related Articles
You May Also Like