Probate sales provide buyers with an opportunity to buy properties at prices far below fair market value. However, they must be prepared for a long process rife with potential pitfalls. Here, we'll explain how to find probate properties and what to expect throughout the purchasing process.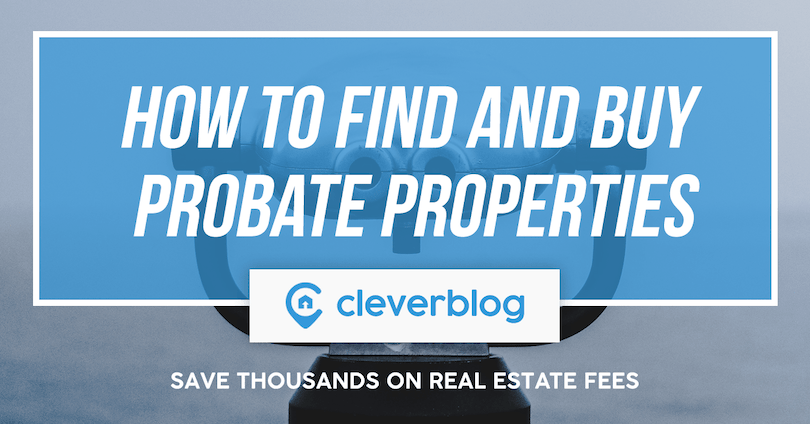 Buyers that want to get a great deal on a new home may consider looking into probate sales. When a house is sold in probate, it usually sells for a price that's far below its fair market value. In exchange, buyers need to be prepared for a lengthy buying process and poorly maintained homes.
If you're interested in purchasing a home in probate, it's crucial that you work with an experienced realtor to guide you through these murky waters.
Get in touch with a top local agent to learn how they can help you save thousands on a probate sale.
In this guide, we'll show you several ways to find probate properties for sale. You'll also learn the basics of the probate process, and what you can expect when embarking on this complex endeavor.
What is probate property?
When someone dies without leaving their property to an heir, their assets go into probate. This means that the state probate court has taken control of their remaining property and will appoint the late owner's closest living relative as an executor to administer its sale. Probate property is any property that is currently at any stage in this process.
Buying a house in probate has one major advantage: a greatly reduced price. Heirs usually want to get rid of the property as soon as they can, which means they likely won't put in the work required to maximize the potential selling price of the home. Homes in probate can sell for as little as 40% of the normal market value.
Unfortunately, buyers must be willing to pay their savings back with their time: probate sales can take an extremely long time, usually lasting between 18 and 36 months — that's three years just to buy a house! For reference, it usually takes just 65 days on average to close on a home.
What's more, due to the circumstances in which a house goes into probate, fewer properties are well-maintained. Buyers looking to purchase a home through a probate sale should be prepared to buy a fixer-upper and spend some money on repairs.
4 Ways to Find Probate Property
If you're looking for probate property, here are four surefire ways to find something that will fit your needs:
1. Contact Local Real Estate Agents
Real estate agents are the key to finding probate property for sale. Local realtors can look through the MLS (multiple listing service) and use their professional network to find suitable probate properties.
It's a realtor's job to keep track of the different properties in the area, so if there's a steal of a property in probate, you can be sure the local real estate agents will know about it.
Get help navigating the probate process from a top agent.
Partner with an experienced agent to get the help you need.
2. Contact Your Local Probate Court
Upon request, the clerk at your local probate court can provide you with a list of all recently filed probate cases. After receiving this list, you can determine which cases are still active, and if a case's inventory contains real estate, you can contact the executor for the case.
3. Look in Local Newspapers
Just like any other home sale, probate sales are often listed in the newspaper. Executors are tasked with marketing the home as best they can, so they will typically get the property listed in the local newspaper. Similarly, social media and online bulletins can be a great way to find probate listings.
Looking through the obituary section can also provide useful leads as probate sales depend upon the death of a property owner.
4. Find Local Home Auctions
Probate property is often sold during an auction. Looking through the newspaper and speaking with your realtor can help you find one. However, be advised that prices can easily rise to fair market value during a bidding war, so home buyers looking for a killer deal will want to avoid auctions for the most part.
How to Buy Probate Property
If you've found a probate property you're interested in, it's time to move on to the next step. Here's what you'll need to do:
Anticipate Delays
The probate sale process is a long and bureaucratic one. Since there are so many moving pieces including the local probate court, the executor, multiple real estate agents, and often multiple interested buyers, it's not unusual for delays to occur. Remember that probate sales generally take somewhere between 18 to 36 months to reach their conclusion, so plan for things to take quite a while to wrap up.
Make an Offer
Unlike regular home sales, probate sales require the buyer to provide a 10% down payment as soon as the executor accepts their offer. If the executor counteroffers, you'll need to pay 10% on the newly proposed amount.
If the offer is accepted, it will need to be confirmed by the probate judge. A court date will be set for this confirmation process. Generally, the court date is 30 to 45 days later.
Keep in mind that purchase agreements for properties in probate do not allow for any contingencies, so be careful when making an offer.
Request an Inspection
Even though you can't back out of a purchase agreement for a probate property for any reason, it's still a good idea to get the home inspected. If it turns out that the home is in much worse condition than you expected, you'll likely want to cut your losses, lose the 10% down payment and move on.
Finalizing Your Probate Property Purchase
If the executor accepts your offer and the home inspection turns out well enough, you'll move onto the next phase in the probate sale process — court confirmation.
Timeline
The executor can continue marketing the property and accepting offers for 30 to 45 days after they accept your offer. If the executor accepts another offer during this time period, all interested buyers with accepted offers will meet on the set court date to petition the court.
Court Hearing
After the 30 to 45 day waiting period has elapsed, all buyers with accepted offers will petition the court at the same time. The petitioning process is similar to an auction: each buyer will make a bid on the property, and the other bidders can raise them. Once the highest bidder has been determined, the court will confirm the offer.
The Bidding Process
In general, the bidding process is just like any other auction. However, if someone makes a bid higher than yours and then you outbid them, you must provide a cashiers check for a 10% down payment on the new offer price immediately. Because of this, it's a good idea to decide the maximum amount you'll bid on the property, bring a cashiers check to the hearing, and be prepared to pay 10% of whatever that maximum bidding amount is.
Next Steps: Partner With a Top Agent
The probate sale process is by no means easy. Indeed, it is likely one of the most complex processes in all of real estate. Because of this, it's absolutely essential to partner with a top-rated local real estate agent if you want to stand a chance of successfully finding a property in probate, making a competitive offer, winning the bidding process, and ultimately closing on your new home.
Clever connects buyers with top-notch local real estate agents who can help guide them through the probate sale process and find properties for sale. Clever partners with experienced realtors from major brands like Keller Williams, Century 21, and RE/MAX who offer a full-service experience at a discount price. What's more, buyers have access to on-demand showings!
To learn more about how Clever Partner Agents can help you find a probate properties and successfully complete a purchase, fill out our form and we'll reach out to you shortly.
Top FAQs About Buying Probate Property
Can a house be put up for sale before probate is granted?
If a surviving spouse or partner of the deceased is a joint owner on the title deed of the property and wants to get rid of it, they can sell it without needing to go through the probate process. If the late owner is the only one named in the title deed, however, then the property cannot be sold before probate is granted. That said, the property can still be marketed before probate has been granted, and it's advisable to do so in many cases.
How long does it take to buy a house in probate?
Buying a house in probate generally takes a minimum of six months. However, it is not uncommon for probate sales to take 18 to 36 months, so buyers must be prepared to commit to a long and bureaucratic home buying process. There are a number of fairly long waiting periods, and there are often many delays, so buyers that want to purchase a home in a timely manner may want to look at more conventional opportunities.
Related Articles
You May Also Like