Finished basements are popular. While unlikely to recoup the initial investment, basement finishing can add value to a home and make it more appealing to potential buyers. Here are some points to keep in mind when trying to determine how much a finished basement will affect a home's resale value.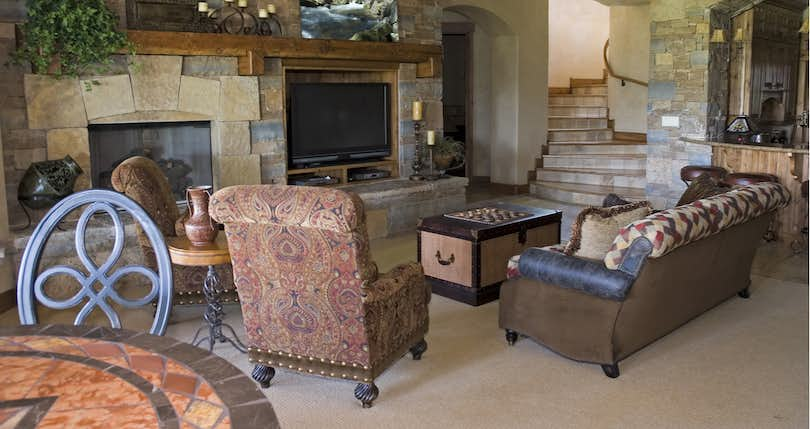 Basements are often ignored and thought of as nothing more than dark, musty storage areas. However, these overlooked underground sections of a home are wells of potential just waiting to be tapped. Whether it's a workout room, game room, in-law suite, or home theater, finishing your basement can increase the value of your home.
But just how much value can they add? Basements are a popular renovation because they are much cheaper than building an entirely new above-grade addition. However, they tend to be valued at only 50% to 70% of an equivalent above grade space, so despite their cheaper cost, most basement renovations will not earn back their initial investment in equity.
Finishing a Basement
Because of this, finishing a basement with the sole intent of increasing your home's equity or as a pre-listing renovation is usually not recommended. In some cases, a finished basement can make a home more difficult to sell as it robs the buyer of the ability to finish it in whatever way they prefer. If you turned the basement into a workout room, but the buyer wants a wine cellar, they may decide to pass on your home. However, in some hot markets, having a finished basement can make your property stand out from the crowd, so it's hard to set any steadfast rules.
That said, if you are planning to stay in your home for a long period of time and would enjoy the renovations yourself, then finishing your basement may be a good choice. Finished basements will add value to the home, they just likely won't earn back their cost. But if you can earn that difference back in the pleasure you reap from your new space, then it can hardly be considered a loss!
If you're thinking about finishing your basement, there are a few things you should know about how much value it will add. Speaking with a qualified real estate agent can help clarify and give insight into how your renovations will affect your home's resale value. Let's take a look at a few of the most important factors.
Basement Type
The value of basement finishing varies widely depending on what type of basement your home has. There are three main types:
Walk-out basement: This basement features a lot of natural light with a full-size door that provides access to an outside area. This is the most valuable type of basement.
Garden level lot/partial drop in grade: This is a basement with some natural light, but usually no full-size door or outside access. While the natural light is an attractive feature, these are not as desirable as a full walk-out basement.
Standard lot/non-walk out basement: This is your stereotypical basement: no natural light, no outside access, just concrete walls, and a storage room or cellar aesthetic.
Finished walk-out basements will add more value than garden level lots, which in turn are more valuable than non-walk-out basements. Certain types of basements may be better suited for some uses than others. For example a non-walk-out basement may be more desirable if converted into a home theater than it would be as a guest suite due to the lack of natural light.
Personalized vs. Generalized Basement Finishing
If you're renovating a basement solely for resale value, it's wise to keep the direction as general as possible. While you might enjoy a mirror-lined dance studio yourself, such a specific use case would probably be a turn-off for any potential buyer who isn't a dancer; they would have no use for it and would likely have to redo it again themselves. However, a basement that's finished and made into a general living space would appeal to a much wider audience and add more to the resale value of the home.
Regional Variation
The return on investment that a basement can be expected to yield varies based on region. In the Pacific region (California, Oregon, Hawaii, etc), the average ROI is approximately 86%, while in the West South Central region (Arkansas, Oklahoma, Louisiana, etc) the ROI is less, sitting at around 81%. The ROI is lowest in New England, with an average ROI of only 53%.
Certain renovations may also be more popular depending on the region. For example, wine cellars are more likely to be appreciated in upper-class neighborhoods or regions that are known for wine than in rural areas with a focus on rustic living.
Functionality
Whatever renovations you make, be sure that they don't impinge on the functionality of the space. If you're installing light fixtures, be careful that the ceiling will still be at least 7'6" — ideally 8" or more — after the installation. While electrical circuits and hot water heaters need not be in plain sight, they should still be easily accessible in case they need repairs or other work done on them.
Before making any major renovations, it's a good idea to consult a qualified real estate agent who can advise you on how your plans will affect your home's resale value. If you're selling your home, Clever Partner Agents can provide great value by helping you through the selling process for a flat fee of only 1.5% of the final closing price. If you'd like some more information, just fill out our form and one of our experienced agents will get in touch with you shortly.
Related Articles
You May Also Like