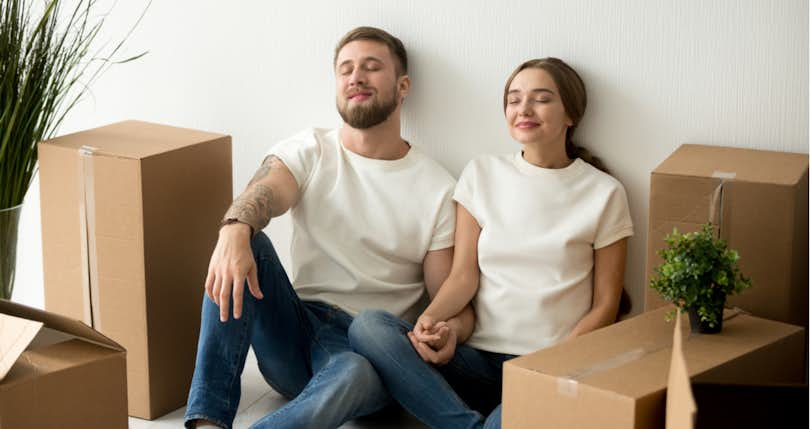 Are you a first time home buyer eager to begin house hunting, but feel overwhelmed with where to start and what to know?
You're not alone, we're here to help.
Buying a house is one of the biggest financial commitments of your life. It is Important to know beforehand what to expect so you don't end up wasting precious time and money in the process.
Here we'll go through 7 tips to help you better understand where your time, money, and energy is needed throughout the home buying process. If you are short on time, or need a quick reference in the future, download this printable house hunting checklist for first time home buyers as a resource.
1. Avoid Extra Fees by Paying the Golden 20% Down Payment
Your down payment lays out what you can or cannot afford to spend on your first home. It is typical that 20% of a home's value be required as the down payment for the home.
If you cannot afford to put down 20% of the home's value then you can be lent the money through a lender (with a fee) until you reach the golden 20% value — this is known as Private mortgage insurance (PMI). PMI interest typically costs between 0.5%–1%.
PMI is essentially insurance for the lenders as they assist you in financing your down payment. They help you afford the 20% down payment with interest payments on the loan until you are able to afford or pay off the 20% down payment amount on your own.
You can choose to incur the monthly interest from a PMI that can add up to extra thousands of dollars or you can avoid the payments all together if you wait, save up, and put down a 20% down payment on your own.
Better Credit Score = Better Mortgage Rates
Do everything you can to boost your credit score. The better your credit score, the lower your interest rate will most likely be.
Bad credit: 300-629, minimal options to obtain a home loan

Fair credit:630-689, select home loan options available, but expensive interest rates

Good credit: 690-719, multiple home loan options, affordable interest rates

Excellent credit: 720+, largest variety of home loan options, lowest interest rates
I suggest using one of the many online platforms provided by banks to help you predict your interest rate for your home mortgage. This resource combines factors of your down payment, credit score, and length of the loan to give you a better idea of what your monthly payments may look like.
It may be worth it to put off buying a house until you improve your credit score in an effort to have a better mortgage with lower interest rates. An improved credit score could save you thousands of dollars in mortgage interest rates down the road.
2. Beware of Extra Costs
Two additional expenses that factor into the overall costs are closing costs and annual home maintenance costs.
1.Closing costs are the the expenses incurred, typically 2%-5% of the homes value, in order to complete the transaction. Typical closing costs may include appraisal fees, title searches, title insurance, surveys, taxes, deed-recording fees and credit report charges.
The closing costs can fall on the buyer, the seller, or both, depending on the circumstances. Often times if a seller is trying to sell their home quickly, the buyer may negotiate to have the seller pay all the closing costs to ensure a speedy buying of the home. Either way, it is important to budget for an extra few thousand dollars to secure the deal.
2.In addition, predicting the annual home maintenance cost is important to keep in mind when considering the upkeep affordability of the home year after year. It is suggested to budget 1% of the value of your home to be used for general maintenance and upkeep every year.
Thinking about these costs can help you wisley eliminate houses with large yard maintenance costs, think pools or large lawns, which could potentially make the overall cost of the home financially out of reach.
3. What is Mortgage Pre-Approval and Why Do You Need One?
A mortgage pre-approval can improve your odds of securing your first home, especially if you are shopping in a competitive buyers market.
Mortgage pre-approval is essentially a promise from the lender that you're qualified to take out a home loan at a specific interest rate. The lender takes into account your credit and verifies your income to determine if you are mortgage pre-approval material.
This allows for a quicker buying/selling process of the home as well as gets you in front of a professional to go over your savings, credit, and wish list to help you make a wise home purchasing decision.
In addition, having a mortgage pre-approval will improve your odds of working with a realtor. A realtor wants to be sure that they are spending their time helping someone buy a house who can actually afford it.
4. Trust Your Realtor & Home Inspector
Rely on professionals to guide you. Buying a home is possibly one of the biggest purchases that you will make in life, making it imperative to trust the value and role of a realtor and home inspector in your home buying journey.
What does a real estate agent do? A realtor aims to identify your pain points and match you in the best house at the best price. The best realtor will be able to identify if a house is correctly priced as well as negotiate a fair deal through their knowledge of the location, amenities, and overall appeal of the home.
In addition, a home inspector will be able to warn you of the home's potential dangers that are not always seen with the naked eye. Your realtor should be able to suggest a property inspector that will catch all major issues with the home. Mold or foundational issues can be costly and laborious to fix, hiring a home inspector can save you from investing into an unknown money pit.
Trusting a realtor and a home inspector could be the difference between a smart investment or a crippling one.
5. Make a Short Home Buying Wish list
Here comes the fun part! Think of your absolute must-haves for a future home. This list will vary for everyone, but consider the short list below as a starting place, take note of the things that are the most important to you and add anything that may be lacking—
Proximity to work or school

General location/neighborhood

Proximity to family

Square footage

Number of garage doors

Large back yard/outdoor amenities (pool)

Number of bedrooms

Number of bathrooms

Newer finishes and renovations
Having a short wish list will keep your priorities at the forefront of your mind. Remember that you may have to sacrifice something to get what you want in the right price range. Consider ranking your wishlist's priorities in order of importance to help you think through the possibilities of what you can and cannot give up.
6. Don't Be Afraid to Walk Away
A recent Freedom Debt Relief survey reported startling information regarding buyer's remorse among homeowners. Of the respondents surveyed, more than 25% said their home ownership cost is a burden and 52% said that their monthly mortgage payment is too high.
This is a warning to be picky about what you want and what you can afford. If you have time to wait, wait.
With so much time, money, and energy involved in the home buying process, it is tempting to get discouraged or feel cornered into choosing a house simply because you want to, rather than because it is the right fit.
It's okay if your priorities shift after becoming more educated on the reality of the market and financial restraints that you must work within.
It is better to make a smart decision rather than a quick one.
Researching is a crucial part of avoiding buyer's remorse so if you are wanting even more information and tips on home buying then check out our home buying archive. Happy house hunting!