Popcorn is a delicious treat at the cinema, but not quite as desirable on your ceiling. If you're considering removing your popcorn ceilings but aren't sure if it's worth the time or cost, we've laid out the facts for you.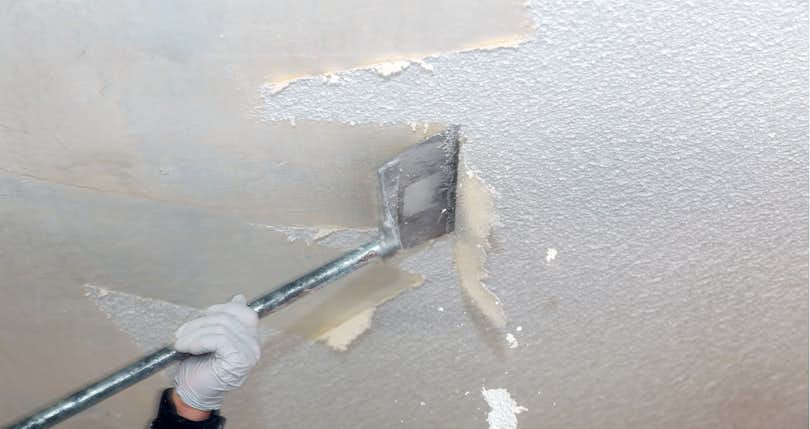 What was once a trendy addition to ceilings, popcorn ceilings are now not desirable to the modern buyer. Originally made popular as a method of supposedly dampening sound, popcorn ceilings are also a builder's best friend, as they make it easy to hide imperfections.
But in the modern home is a popcorn ceiling detrimental to your home's value? Read on for the pros and cons of removing a popcorn ceiling.
💡 Curious about your home's current value?
If you want a starting point for finding out what your home is currently worth, a free online home value estimator is a great place to start. Our home value estimator tool provides a free, quick, and convenient home valuation, as well as useful local real estate market trends. Find out what your home is worth now!
What is a popcorn ceiling?
Also known as an acoustic or textured ceiling, popcorn ceilings look a little bit like cottage cheese and were once extremely popular in residential homes between the 1950s and the 1980s.
What are the concerns about popcorn ceilings?
As with most interior design trends, popcorn ceilings have come in and out of popularity and are currently not as desirable as they once were. Having popcorn ceilings in your home is typically a negative for the modern buyer's aesthetic, but there are also other issues to consider.
In the worst situation, popcorn ceilings may contain asbestos. Asbestos is a harmful substance if inhaled, and was used for many years in several different building construction materials. However, it is now banned from use.
It is impossible to tell if your popcorn ceiling contains asbestos by sight alone. If your popcorn ceiling is damaged in any way and you are concerned about the presence of asbestos, hire a trained asbestos professional to test your ceiling for asbestos and put plans in place for removal.
Don't waste money making unnecessary home changes.
A Partner Agent can tell you if you need to remove popcorn ceilings.
How do you remove popcorn ceilings?
Removing a popcorn ceiling can be difficult and costly, even if you do it by yourself. As removal can cause widespread fine, white dust to cover your home, it is essential that you cover your flooring and furniture with plastic sheeting to protect it.
You can remove popcorn ceiling in the same way that you would remove wallpaper — by spraying it with water and letting the water soak in before scraping it off.
If you decide to hire a professional to take on the job, you should expect to pay around $1,675. However, this could vary substantially depending on the size of the area and whether or not the popcorn ceiling contains asbestos.
Does removing popcorn ceiling increase your home's value?
Yes, removing a popcorn ceiling can add value to your home, especially if it is an executive home or is particularly large.
As popcorn ceilings are not currently very desirable to buyers, it is advantageous to remove it wherever possible. Still, if your home is on the smaller side or under $300,000, it may not be necessary. This is because smaller or less expensive homes are typically cheaper to renovate.
If time is of the essence, and you need to sell your home quickly, removing a popcorn ceiling could mean the difference between your home sitting on the market or selling.
When selling your home, it is essential to remember that the property's overall condition and aesthetic appearance decide whether removing a popcorn ceiling is necessary to sell it. For example, if your home is freshly painted and all major components are taken care of, a popcorn ceiling is likely a non-issue for potential buyers. If your home needs substantial renovations; however, a buyer is likely to view the popcorn ceiling as another expense to calculate.
If you're considering selling your home, but aren't sure whether your popcorn ceilings could affect the sale, reach out to one of our Clever Partner Agents who can advise you the best way to move forward. Clever Partner Agents are experienced local agents who can accurately assess your homes market value and any updates that may need completing before it goes to market.
Related Articles
You May Also Like