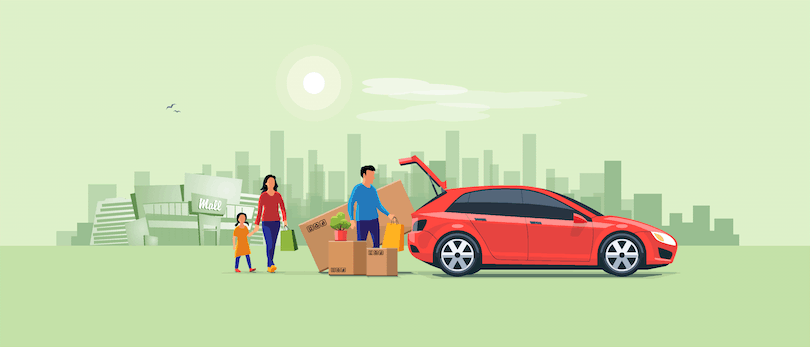 Living in a bustling city is exhilarating. From restaurants to entertainment, there's always something to do. But the COVID-19 pandemic and higher rates of inflation have driven many people to the suburbs. This type of move is often born out of a need for more space and a lighter financial burden. If you're considering the suburbs, here are 20 things to be aware of before you find a real estate agent and begin house hunting.
1. Driving is necessary
If you don't have a car, it's time to get one. Unlike the city, most suburbs aren't very walkable and public transportation can be lacking. While it may seem pointless to hop in the car to go half a mile to the grocery store, this is usually necessary. If you somehow find a suburb with walking paths that make it easy to get around on foot, that's great! But just know that it's rare.
2. Your commute may be longer
On that note, if you're still planning to work in the city, you will likely have a long commute. Many people with families choose to move out to the suburbs while maintaining a job in a metropolitan area. That means you'll be on the highway with a lot of other people headed in the same direction at the same time. This is where the term "rush hour" really comes into play.
3. You'll likely have more space
Buying a home in the suburbs means more space! Because it's more affordable, you'll likely have a house with plenty of room. Even if you choose a townhome or condo, it's still probably bigger than an apartment for the same price in the city. More space is a wonderful thing in most cases, but this also means you have more square footage to furnish.
4. More maintenance responsibilities
A house needs maintenance. From changing the HVAC filters to cleaning the bathrooms, there's more ground to cover and more to worry about. This is important to keep in mind if you're not particularly handy. When in doubt, ask your new neighbors for a list of trusted home service providers.
5. Utility costs may be higher
More real estate means higher utility costs. You'll be using more electricity and gas for everyday tasks, especially if you work from home. Although you will likely spend less on your monthly rent or mortgage payment, this is still something to prepare for.
6. People are community-driven
Suburbs are tight-knit communities that typically enjoy being together. From family gatherings in the park to service opportunities, you'll find that the suburbs are friendly. Even if social events are different than they look in the city, you'll still find plenty of opportunities to get to know people in your new area.
7. Nightlife is limited
When it comes to nightlife, the city has it all! Out in the suburbs, nights look a bit different. It's rare for bars to stay open into the wee hours of the morning. Most of them are part of restaurants and probably close around 10 o'clock. This can often deter younger people from making the move from a city to the suburbs.
8. It's a slower pace
Beyond the topic of nightlife, people generally operate at a slower pace in the suburbs. You'll find less rushing around and more opportunities to chat with people as you go about your day. Many families also reserve the weekend for religious services and family gatherings, so you're less likely to find a bottomless mimosa brunch in town.
9. Your neighbors will want to get to know you
Don't be surprised if your new neighbors arrive with a casserole the day you're moving in. Suburbs are friendly places with neighborhoods that embrace block parties and look out for each other. Although it may sound stereotypical, this is the norm in many smaller communities.
10. It's easier to have a pets
Having a pet in an apartment is difficult, especially when it comes to large dogs and particular breeds. But when you move out of the city, greener pastures make it easy to have a pet. In addition to having yard space for your furry friends to get out, you'll enjoy access to dog parks and walking trails.
11. Schools are usually better
Better school districts are a big draw for people with children who are already looking to flee city life. Simply put, there is usually more funding in smaller, suburban school districts. This leads to more resources and smaller class ratios.
If you plan to sell in the future, a highly-rated school district may also help you get top dollar.
12. Diversity may be lacking
Diversity isn't as prevalent once you get out of the city. According to Pew Research Center, only about one-in-ten suburban (10%) counties are majority non-white. That said, as the country becomes more diverse, these numbers are expected to shift.
13. Privacy is important to people
Everyone is used to living in close quarters in the city, but the suburbs are a different story. People don't want neighbors peering into their yards, so you'll probably have more space between your home and the next one. You may also notice strategically placed fences and trees as you're browsing listings online.
14. Outdoor activities are the norm
From walking paths to hiking trails, there are plenty of opportunities to be outdoors. People also like to invest in their backyards by adding pools, built-in grills, and covered sitting areas. With more sprawling space, there are more chances to be outside. You'll also find more parks and playgrounds for your children or pets.
15. Safety is a high priority
Crime is usually not a big problem in the suburbs. Why? For one, residents typically won't tolerate it. From neighborhood watch programs to police departments that are very invested in the community, suburbs are typically safe in comparison to their city counterparts.
16. There are fewer amenities
One downside to leaving the city is losing access to so many amenities. Whether you need a hair stylist or a dentist, there are usually more options in big cities. You'll certainly find these things in the suburbs, but you may not have the luxury of being selective.
17. First-time home buying is simple
When you make the move to a suburb, home buying gets a lot easier. In addition to being more affordable, it's probably less competitive. As suburbs continue to grow in popularity, many have new developments popping up everywhere. All you need is a great real estate broker.
18. The local job market is competitive
Fewer people, fewer jobs. This doesn't mean you won't be able to find one, but depending on your industry, it could be more competitive. This is because there will be more individuals vying for fewer positions. Some people end up commuting to the city every day or working remotely from home.
19. Local government plays a big role
Whether it's the city council or the school board, local government entities are integral in small towns. It's not uncommon to see people stepping up and getting involved to help make big decisions.
20. Home values are promising
Buying a home is a big decision, but the suburbs present a great opportunity. Depending on where you settle down, your home value will probably continue to increase over the years. Do research ahead of time to make sure you're choosing a top real estate investment market.