What is a chef's kitchen? | Key features | Benefits | Drawbacks | How much does it cost to renovate a kitchen? | FAQs
Are you thinking about installing your very own chef's kitchen in your home? If the answer is yes, we've got you covered with this guide to the features, costs, advantages, drawbacks, and frequently asked questions for chef's kitchens.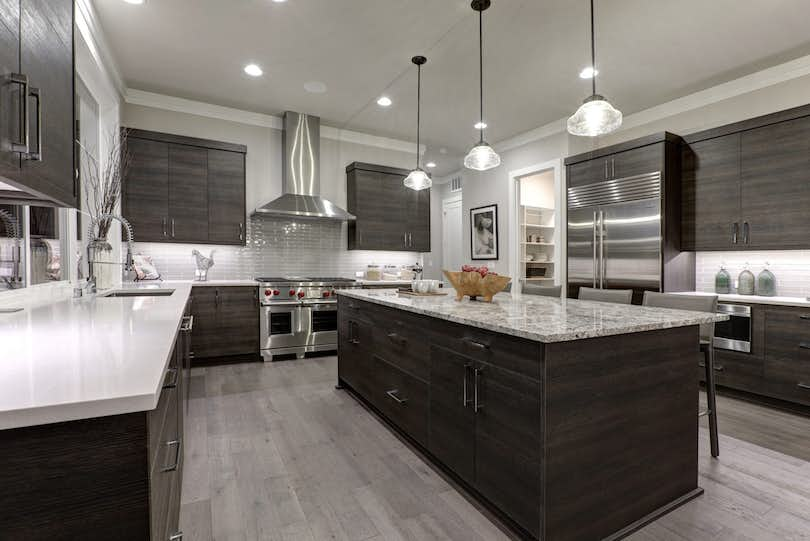 Cooking for your family and friends can be a stressful and laborious experience, especially if your kitchen is crowded, old, or poorly equipped. Upgrading your current setup to a chef's kitchen is not only a fantastic way to increase your home's value, it's also a great way to turn cooking and meal preparation into an enjoyable and rewarding family activity.
If you aren't sure whether a chef's kitchen is feasible for your home, we recommend that you reach out and discuss your concerns with a top agent in your local area.
Remember, adding a chef's kitchen to your home (or renovating your current kitchen into a chef's kitchen) is a major home improvement project. Before you begin, you need to make sure you've carefully considered the costs involved and whether you can accommodate a chef-style kitchen in your home.
Read on to learn more about chef's kitchens, and whether they're the right design choice for you and your home.
What is a chef's kitchen?
As the name suggests, a chef's kitchen is a type of kitchen that can accommodate the storage, preparation, and cookware requirements of a professional chef. Now, before you say it, we understand that adding a chef's kitchen to your home sounds equal parts extravagant and unnecessary.
However, it's important to recognize that a chef's kitchen is more than just a bigger cooking area — it's also a communal space that you can use to hone your cooking skills, entertain family and friends, and become more conscientious about where your food comes from and how it is prepared.
Key features of a chef's kitchen
There are a lot of features, both major and minor, that distinguish a chef's kitchen from your everyday kitchen. Although every chef's kitchen is different, the following kitchen features are generally present in one form or another:
Storage
Warming drawers or heat lamps to keep dishes hot before serving or between courses.
A large, sub-zero fridge and freezer with a vacuum seal to keep food fresher for longer. Industrial quality fridges and freezers also use internal air purification systems to prevent food from spoiling.
Preparation
Two or more deep sinks for washing vegetables, cutlery, or dishes. Chef's kitchens typically house multiple dishwashers to ensure a constant supply of sparkling, clean dishes.
Most chef's kitchens have a faucet next to, or over the top, of the main stovetop or gas cooker. This feature saves you or your chef from lugging large pots of water from the sink to the stovetop.
Cooking
Chef's kitchens usually have a main freestanding convection oven and multiple regular ovens to accommodate for larger meals, multiple courses, and more intricate dishes.
A gas cooker with multiple burners is an absolute essential in a chef's kitchen. If you want to commit to chef-quality appliances, look for a gas cooker with a high BTU output rating.
Benefits of a chef's kitchen
Whether you're a budding chef or simply wanting to improve your home cooking, a chef's kitchen is an excellent environment to learn new culinary skills and create restaurant quality dishes. Chef's kitchens are also the preferred kitchen type for people who operate a work from home catering business.
If you have enough experience, the extra space and enhanced functionality of a chef's kitchen can drastically cut down on your preparation and cooking time in the kitchen. For this reason, chef's kitchens are particularly beneficial to homeowners who enjoy cooking for large family events, work dinner parties, and holiday gatherings.
However, if you're looking to sell your home, having a chef's kitchen can also help increase your property's resale price. As a high-value home feature, adding a chef's kitchen to your home gives you substantial leeway to increase your asking price, particularly if you can name drop high-end appliance brands in your property listing.
💰 How much is your home worth?
Discover the true value of your home with our Home Value Estimator!
Find My Home's Value
Drawbacks of a chef's kitchen
The most obvious drawback to installing a chef's kitchen is the high cost of hiring contractors and upgrading your appliances. To give you an idea of how much a chef's kitchen can cost, we've listed a basic cost breakdown of three high-end chef's kitchen appliances (as of July 2019):
$10,690 for a 48" Gas Range with 8 Burners.
$8,940 for a 36" Premium Fridge/Freezer.
$1,800 for a 30" Warming Drawer.
As a larger kitchen space, chef's kitchens can quickly become messy and uninviting unless you are frequently cleaning the benchtops and appliances. If you're short on living space, a chef's kitchen can also make your kitchen and living area feel cramped.
Remember, despite the advantages of having a chef's kitchen, you can just as easily cook great meals in a conventional kitchen, especially if you can afford a few functional improvements on your kitchen equipment and layout.
How much does it cost to fully renovate a kitchen?
The costs involved in upgrading a conventional kitchen into a chef's kitchen are largely contingent on your feature requirements and the current state of your kitchen. The most expensive aspect of a chef's kitchen renovation is upgrading your current appliances. The total cost of a chef's kitchen renovation will also depend on whether you're planning on upgrading your cabinets or countertops with more luxurious finishes and fixtures.
In most cases, you can expect to pay anywhere between $50,000 to $100,000 to completely renovate your kitchen. While this is by no means a small sum of money, you need to keep in mind that a chef's kitchen is a long-term investment in both yourself and your home. Not only will a chef's kitchen save money on catering and eating out, you'll also be able to add the cost of the kitchen renovation to your asking price should you ever decide to sell your home.
Does a chef's kitchen make sense for my home?
If you want to know more about buying or selling a home with a chef's kitchen, it might be time to talk with a professional. A good real estate agent will not only talk you through the pros and cons of a chef's kitchen, they'll also provide you with key insights about local demand for high-end kitchen designs and appliances.
👋 Next Steps: Talk to an expert!
If you're weighing your options for buying or selling a house, Clever can help!

Our fully-licensed concierge team is standing by to answer questions and provide free, objective advice on getting the best outcome with your sale or purchase.

Ready to get started?

Give us a call at 1-833-2-CLEVER or enter your info below. Our concierge team will be in touch shortly to help.

Remember, this service is 100% free and there's never any obligation.
FAQs about chef's kitchens
What's the difference between a chef's kitchen and a gourmet kitchen?
A gourmet kitchen is far more casual than a chef's kitchen and is usually designed to accommodate the specific cooking style and needs of the homeowner.
Taken up pickling? A gourmet kitchen will have enough bench space to accommodate the entire pickling process and enough cupboard space to store both your pickles and preserves. Although gourmet kitchens have a more personal use case, both styles of kitchen share several key features, including extra countertop space, high-end appliances, and high-pressure chef sinks.
How much does an IKEA kitchen cost?
Depending on the size and features you'd like to include, an IKEA kitchen can be a cheaper and more efficient renovation alternative to hiring a kitchen remodeling company. IKEA offers a wide range of kitchen styling options, giving you a lot of freedom on how you want your kitchen to look and how you'd like it to fit with the rest of your home.
IKEA will deliver all your cabinetry in flat packs, giving you the option to install part of your kitchen yourself. If you're good with your hands, installing your own cabinetry is a great way to avoid paying IKEA's labor costs.
With a single IKEA kitchen cabinet unit costing as much as $2,500, it's easy to see how quickly costs can add up when designing and installing an IKEA kitchen. Even still, the cost to build an IKEA kitchen is nowhere near as high as the cost of contracting a kitchen remodeling company.
To get a more accurate estimate of how much an IKEA kitchen will cost you, get in touch with your local IKEA kitchen planner. After you map out your new kitchen plan, an IKEA kitchen planner will offer you a fixed quote on the various labor and material costs.
What is a butler kitchen?
Separated from your main kitchen area, a butler's kitchen or pantry is essentially a smaller kitchen, equipped with all the storage and cooking accoutrements you may need. Butler's kitchens are particularly popular amongst homeowners who enjoy hosting dinner parties and entertaining guests.
Having meals prepared in the butler's kitchen conceals any mess created during the cooking process, ensuring that your main kitchen and entertaining area is always clean and presentable. A butler's kitchen also allows you to use your main kitchen bench space to lay out prepared platters and meals for easy serving.
Related articles
You may also like