Florida's average premium rate for homeowners insurance is $1993 per year. It's almost $820 more than the national average of $1173. Florida is frequently affected by natural disasters such as tornadoes, wildfires, and hurricanes. In fact, Florida has seen over 7 devastating hurricanes in the last decade; the most dangerous one being Hurricane Irma.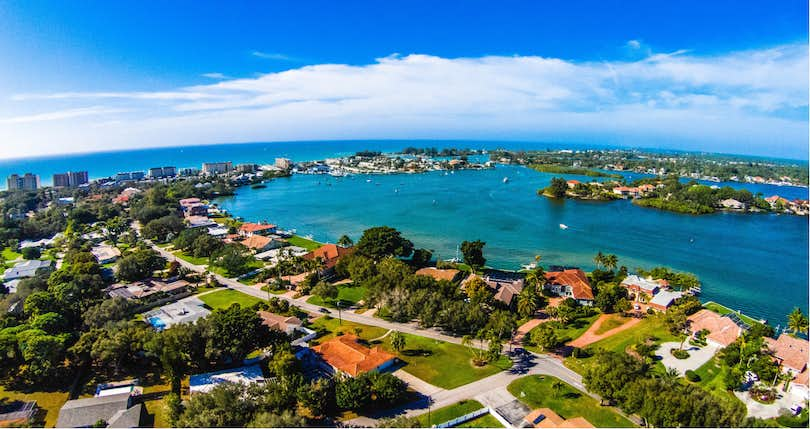 Whether you've just bought a home in Florida or plan to buy home insurance for your existing home; you're in the right place. It's a wise decision to understand some home insurance basics, and explore different homeowners insurance companies in Florida before you make a choice.
Homeowners insurance premium rates in Florida are pretty high. But, for a good reason. Talk about natural disasters, and Florida is regularly affected by wildfires, tornadoes, and devastating hurricanes. In fact, Florida has seen over 7 deadly hurricanes in the last 10 years, especially Hurricane Irma that wreaked havoc in the state in 2017. You'll be shocked to know that people are still dealing with Irma's aftermath, and during the hurricane, the condition oh homeowners was so critical that one of the homeowners insurance companies trained real estate agents to help homeowners handle flood insurance claims. 2004 and 2005 alone witnessed 6 hurricanes.
Even though Florida is known as the "Sunshine State," the weather is not all sunny, and homeowners need to be prepared for extreme weather changes anytime. The average homeowners insurance premium rate in Florida is $1993 per year, compared to the country's average of $1173 per year. That's almost an $820 difference, and, it's BIG. So, if you're a homeowner in Florida, you should be ready to pay high insurance premiums. However, if you tackle to scenario smartly, and thoroughly research about the top homeowners insurance providers in Florida, you can save big on your premiums, and get good coverage option. Here, in this post, we'll list the top 5 homeowners insurance companies in Florida and discuss their benefits briefly.
Top 5 Homeowners Insurance Providers in Florida
Here's the list of top 5 homeowners insurance providers in Florida:
Tower Hill Insurance Group
Tower Hill Insurance group is the second-most popular homeowners insurance company in Florida. They provide great coverage options such as coverage for sewer, water, identity theft, and valuables. They also provide homeowners with flood insurance. Even though you can buy flood insurance from the National Flood Insurance Program, Tower Hill's flood insurance covers for up to $2.5 million in household items and $5 million in building replacement.
On comparing their premium rates with other homeowners insurance companies on the list, we found that their premium rates are affordable considering the coverage options they are offering.
Other notable features of Tower Hill home insurance:
> Emerald Endorsement - A package that covers additional items
> Imperial Shield Program - Caters to the requirements of high-value homeowners
> Affordable and reliable
The company has received an "A" rating from A.M. Best, so you can rest assured about their financial backing. They have a stellar reputation for outstanding customer service too.
State Farm
State Farm is the only national player on this list, and we don't need to talk much about their reputation. The company has received an "A++" rating from A.M. Best, and provides ample coverage options such as personal property coverage, umbrella liability coverage, and identity theft coverage. Also, there's no dearth of discounts at State Farm. If you prefer multi-line discount for both, home and auto insurance, State Farm can be your ideal match.
Their site is easy to use, and loaded with informative resources for homeowners in Florida. When it comes to customer service and claim processing services, Tower Hill and State Farm are on the same level. However, the major difference between the two companies is the homeowners insurance premium rates offered by both. State Farm's home insurance is a little costlier than Tower Hill. Moreover, they do not provide flood insurance, and you'll have to get it separately from the National Flood Insurance Program.
Citizens Property Insurance Corporation
Citizens Property Insurance Corporation is also referred to as "insurer of the last resort." That's because it's easily available to homeowners who do not have any other option. However, we've not put it in the last position on our list due to some reasons.
Even though the company does not offer a plethora of coverage options like State Farm and Tower Hill, their policies do offer options such as sinkhole damage coverage, and personal property coverage. You can also avail discounts by installing burglar or fire alarms, and home security systems.
Citizens Property's Learning Center on their site offers education resources in video and text formats to help homeowners like you understand the policies better. They also cater to Spanish speakers. However, you cannot request a quote online. The only way you can contact them is by speaking to an agent over the phone. Their customer service is also not as effective as State Farm and Tower Hill.
Universal Insurance Holdings
Universal Insurance Holdings is the largest homeowners insurance company in Florida. However, Tower Hill, State Farm, and Citizens Property Insurance Corporation are more impressive when it comes to customer service, coverage options, and discounts. Nevertheless, if you're looking for basic coverage options, you can choose them.
They have a good overall reputation, and have received an "A+" rating from the Better Business Bureau. This implies that many homeowners are satisfied with their overall services, claim processing, and response rate.
Universal Insurance Holdings does provide homeowners in Florida with an online quote tool and live chat option that can be of great help. The online quote tool is very interactive, and helps a great deal in finding the best homeowners insurance policies in Florida. However, if you're looking for a more customized home insurance policy, we recommend you get in touch with an insurance agent.
Federated National Insurance Company
When it comes to online resources, Federated National's site is not very informative and helpful. You'll hardly find any information about the advantages of homeowners insurance policies. However, they allow you to request a quote online, and cater to the requirements of Spanish speakers.
They also provide flood insurance, and umbrella liability insurance. However, you'll have to contact an agent for detailed information. They favor human interactions over online communication. But, many homeowners don't prefer communicating over the phone; so this is one place where Federated National lacks.
Additional Considerations Before You Commit to a Homeowners Insurance Carrier
So, you've found the 5 best-rated homeowners insurance companies in Florida, and explored the benefits of each. But, there are some other factors also that you should consider while picking the best option. These include:
Flood Insurance
Make sure the homeowners insurance policy you're planning to buy covers flood insurance. Since Florida has hurricanes almost every year, flood insurance is something you'll need all year long. Many standard home insurance policies typically do not cover flood insurance. Talk to an agent, and see if they can help you.
Hurricane Deductible
As a homeowner in Florida, you should prepare to pay a hurricane deductible along with your standard homeowners insurance deductible. In Florida, these deductibles can go up to 10%.
Premium Rate Comparison
Since you have 5 options in front of you, it's a good idea to compare the premium rates each is offering by each before you narrow down your choice to one.
Critical Ratings
Make sure you check the company's financial and customer satisfaction ratings from A.M. Best, Moody's, S&P Global, Consumer Reports.
If you're currently evaluating your options for homeowners insurance on your next property in Florida, a good first step is to connect with an experienced local real estate agent.
Agents can provide valuable guidance and advice on what kind of coverage you should be looking for, how much you'll need given your property type and location, and make recommendations that can help you save on your monthly premium. They can also point you in the direction of quality insurance carriers and trustworthy local agencies or independent agents.
Fill out our online form to connect with a top-rated buyer's agent near you for a no-obligation, introductory call.
Related Articles
You May Also Like