If you're looking at a major project like a kitchen remodel, home addition, or a new roof, a home equity loan could be a great option! Use the equity you have in your home as collateral to finance any of these projects, consolidate your high-interest credit card debt, or even send your kid to college.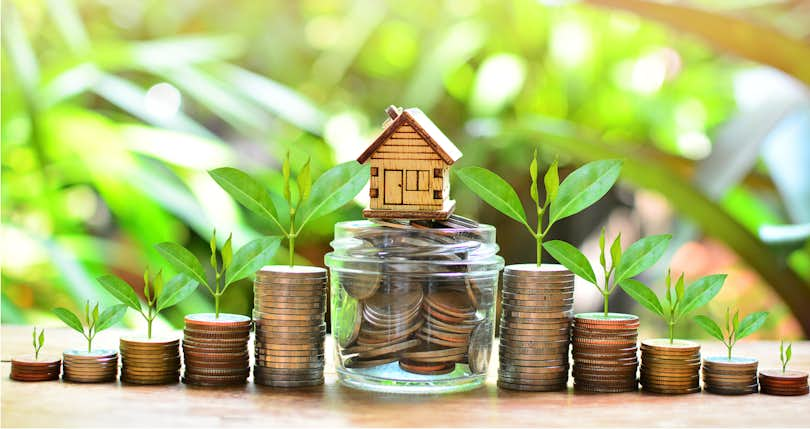 When you're thinking about making a major renovation to your home, you're probably looking into taking out at least a portion of the cost in the form of a loan.
A bathroom remodel, kitchen overhaul, or simply fixing that persistent leak in the basement can end up costing some major dollars. Home equity loans can help you finance these types of projects and more — here's how they work.
What is a Home Equity Loan?
Similar to a traditional mortgage, with a home equity loan, a lender will give you a set amount of money in a lump sum.
The borrower makes monthly payments of the same amount to pay off the principal amount of the loan plus interest by the pay-off date.
These monthly payments are predictable and the interest rate doesn't change throughout the life of the loan, which can range from 5 to 15 years.
To determine your equity, simply take its current assessed value minus any amount you still owe on your first mortgage. This is the amount of equity you may be able to borrow against in a home equity loan.
However, keep in mind a bank may not loan out this full amount — many banks extend credit in the amount of 80% loan-to-value (LTV).
For example, if your home is worth $200,000, your LTV amount is $160,000. Also, banks may require their own assessment, which could differ from that of your county assessor.
Home Equity Loan Vs. Home Equity Line of Credit
Both are backed by the equity in your home and considered second mortgages, but there are some key differences.
A home equity loan has a set monthly payment because both the interest rate, the borrowed amount, and the payoff period are also set.
In contrast, a home equity line of credit (HELOC) is more similar to a credit card — a line of credit you borrow against as you need it, up to the credit limit set by your lender.
The interest rate is variable, but most HELOCs will have a rate cap. Many banks offer a low promotional interest rate for the first year or so, then increase the rate.
After qualifying for a HELOC, your lender will give you an interest rate and a draw period in which you'll make monthly payments on the interest of any amount you owe.
After the draw period, you'll begin paying back the principal and interest in your monthly payments in order to completely pay off the loan by the pay-off date. If you were to sell your home before that date, you would then have to pay the full amount of your loan.
How Can I Use a Home Equity Loan?
Both home equity loans and HELOCs have similar uses. Many people use them to make upgrades to their home or consolidate other debts like credit cards to a lower interest rate.
The difference is that with a home equity loan, you are given one lump sum when your loan is approved and would need to apply for another loan in order to draw more money.
The HELOC, on the other hand, has a variable interest rate, meaning you can draw and pay back the amount whenever you wish, as long as you don't overdraw your limit and are able to pay back the lender by the end of the payoff period.
Pros and Cons of a Home Equity Loan
Pros
Since most aspects of a home equity loan are fixed, it's easy to remember your monthly loan payment since it remains the same amount each month.
Plus, you're getting a fixed interest rate so it stays the same for the life of the loan and won't fluctuate up and down as lending rates change.
If you're using the loan on a true home upgrade and not personal items or to pay off debt, you can deduct the interest amount from your taxes each year.
Home equity loans typically have a lower interest rate than personal loans since they're backed by the equity in your home. They also have a longer pay off period.
Cons
While home equity loans are stable loans, other types of loans may keep you from paying as much interest or offer more desirable long-term benefits.
For example, many banks offer a low-interest rate for the first year of a HELOC so this could be a good option if you plan to pay off your loan quickly.
You may also look into refinancing your first mortgage and wrapping your expected renovation costs into this new loan, especially if interest rates are better than when you took out your first mortgage.
You would then pay lower interest on the full borrowed amount and only have to track one payment.
A home equity loan can be a great tool for making renovations to your home that may increase its value or for consolidating debt, but you'll want to consider the terms of the loan and your past borrowing behavior to determine if its right for you.
10 Best Home Equity Loan Companies
Of course, the above terms are subject to change, so it's best to talk through options and the most current loan terms with a qualified expert.
If you're considering using a home equity loan to purchase a second home or investment property, it's always a good idea to connect with an experienced real estate agent as a first step in the process.
Agents will not only help you evaluate your financing options but also guide you through the entire purchasing process, uncovering additional cost savings opportunities and ensuring everything goes smoothly.
Want to connect with a top-rated real estate agent near you? Clever can help! Fill out our online form and a Clever representative will be in touch to answer any questions you might have and introduce you to one of our full-service Partner Agents in your area.