This guide covers the best flooring for each room of a rental property, based on durability, price, and aesthetics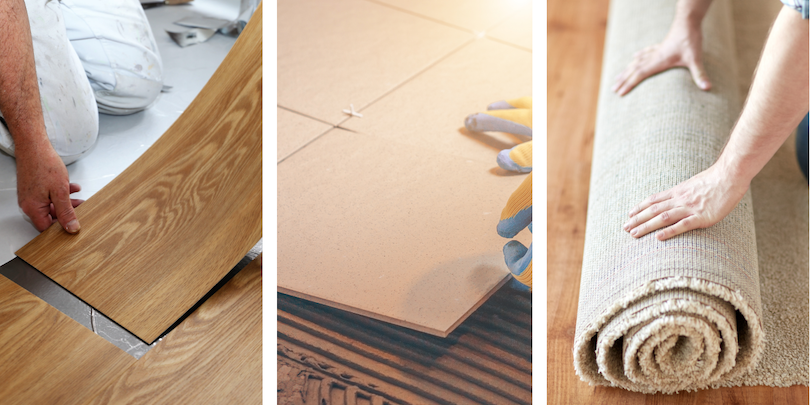 About The Author: Ben Mizes is a real estate investor, licensed real estate agent, and CEO of Clever Real Estate. Ben has renovated most of the properties in his 22 unit portfolio.
If you're renovating a rental property and redoing the floors, you're probably looking for a solution that will hold up against even the worst tenants without breaking the bank.
At the same time, it needs to look good enough to make the property attractive to potential renters.
I've renovated a lot of apartments over the past four years and, largely through trial and error, have learned a thing or two about flooring: what types look the best, are the most durable, and/or are just too expensive to make sense for a rental.
In this article I'll share the products and materials that have worked well in my own properties, and which rooms they're best suited for.
JUMP TO SECTION
Flooring I Recommend For Rental Properties
Refurbishing Existing Hardwood Floors
Hardwood floors are beautiful and can last hundreds of years if maintained properly. A few of my rentals have hardwood floors that are over 90 years old. After refinishing, they still look brand new.
If you have old hardwood floors in a rental property, odds are you can refinish them by sanding and then coating in polyurethane. Even floors that have been painted or deeply scratched can usually be saved.
In addition to looking great, refinishing hardwood usually costs around $2 per square foot, making it a cheaper and more durable option than most other new products.
I've also found hardwood floors that show well will help apartments rent quickly.
Click Lock Vinyl Flooring
Vinyl flooring used to be terrible — it looked cheap and didn't last long. In the last few years, however, that's changed dramatically.
Newer products "click" together like puzzle pieces and look almost as good as real hardwood or tile.
Some of the newer vinyl flooring is made out of a stone polymer composite, which means it's 100% waterproof and won't expand or contract much like other vinyl flooring.
Most vinyl flooring will also come with a 15-30-year warranty and is surprisingly affordable. When we renovated our office at Clever, we got a 20-year commercial warranty for flooring that was only $1.76 per square foot.
Vinyl flooring can be used to replace both hardwood flooring and tile.
Quick Tip: If you're renovating a property for sale, Clever can help!
If you're choosing new flooring to get a property ready for sale, Clever can help you get more when you sell.
Clever can connect you to a top real estate agent that will list your home for just 1.5% — half the usual rate!
You'll get full service with a top agent from a major brand or local brokerage that's experienced working with investors. On average, homeowners that list with Clever save over $7,000.
If you're buying, Clever can connect you with an investor-friendly agent and you can even get cash back on your purchase to help cover repairs or other expenses.
It's 100% free to meet with agents and there's no obligation to move forward.
Tile (Ceramic or Mosaic)
Tile flooring is one of my favorite products, assuming you have a solid contractor that can do a good job installing it at a cost-effective rate. Once installed, tile lasts a long time, looks great, and is incredibly easy to clean.
In some markets (like St. Louis, where I invest) tile is commonly used in hallways, kitchens, and bathrooms.
In my own units, I prefer whatever ceramic or porcelain tile I can get on sale at Home Depot that still looks good. When I'm using tile, I generally use the bigger square or rectangular tiles in the kitchen, hallways, or shower walls, and use black and white octagonal mosaic tile for bathroom floors.
Carpet (in some situations)
I have a love/hate relationship with carpet. Many tenants love carpet and won't rent a place without carpets in the bedroom — but it can be an expensive headache to maintain.
Carpet is incredibly unforgiving if you have bad tenants. Dogs, cigarette butts, stains, and furniture can all ruin carpet beyond repair and require replacing between tenants.
If you decide to use carpet in your rentals I have a few suggestions:
If you're renting to college students, you can usually get away with commercial carpet squares that are easy to replace. I've found that college students are pretty agreeable if you explain to them that if they spill beer on the carpet, you only have to charge them to replace one piece of carpet instead of the whole thing.
For more normal rentals, I'd recommend looking for carpet remnants at carpet supply stores or medium-priced carpets that advertise durability.
The easiest way to maintain your carpet isn't actually based on the type of carpet — it's really about the type of tenants you rent to.
Generally speaking, carpets work better in properties with higher rent, as tenants will take better care of the carpet — and you have a larger security deposit if they don't.
You can learn more about the best carpet for rental properties here.
Best Flooring For Bedrooms
If you're looking to redo a bedroom, my number-one choice would be to refinish original hardwood floors — that is, if you have them.
If you don't, or you've noticed that rentals in your area rent fast with carpeted bedrooms, I'd recommend a product like the TrafficMaster brand at Home Depot with a 5-year warranty for lower rent apartments.
For higher end apartments, you could spring for something a bit more expensive, as those tenants will likely be expecting it.
If you do go with carpet, I'd consider not allowing dogs in your apartment, as dogs are likely to "dig" in the carpet and wear it out quickly — not to mention potential house-breaking-related issues.
Best Flooring For Kitchens
When it comes to kitchens, my preferred flooring is square or rectangular tile, with the actual tile size depending on the size of the kitchen.
I love tile for the kitchen because it's waterproof. Kitchen floors get spilled on constantly, which can make hardwood a bad choice.
While vinyl flooring is sometimes waterproof, I'd only recommend it if you can't find someone to install your tile at an affordable price. In addition to being more durable, I think tile just looks much nicer — even if you use the vinyl flooring that's meant to imitate tile.
Best Flooring For Bathrooms
For bathrooms, I strongly recommend using tile. I invest in old houses and I've found that ceramic, octagonal, mosaic tiles A) look great and B) are easy to install, as they come in a sheet.
However, more modern bathrooms will use long rectangular tiles, which can look great as well.
You can use waterproof vinyl planks for your bathrooms, but as I mentioned in the previous section, compared to tile, they're not as durable and simply won't look as nice.
Best Flooring For The Living Room
For the living room, I always recommend going with refurbished hardwood if you can — and vinyl plank if you can't.
Both of these options will make your unit look great in listing photos and showings, are very durable, and give your tenants tons of flexibility when it comes to personalizing their living space.
While carpet is certainly an option, it's very rare to find tenants that will require it in the living room to sign a lease. That usually only happens with bedrooms.
The Best Flooring In Your Market
I hope these recommendations help you choose your flooring for your next project. However, if these products aren't commonly used in your local market, I'd recommend looking at the products that successful landlords with lots of apartments are using, and model your flooring after that. These landlords usually have a ton of experience, and will be using products that work well in your specific market.
Related Articles