Are one bedroom apartments good investments? Before you decide, learn what you need to know to make the best decision for you. Review your lease. Speak with your landlord. Check your city requirements. Make sure your insurance will cover you. And then you can move forward!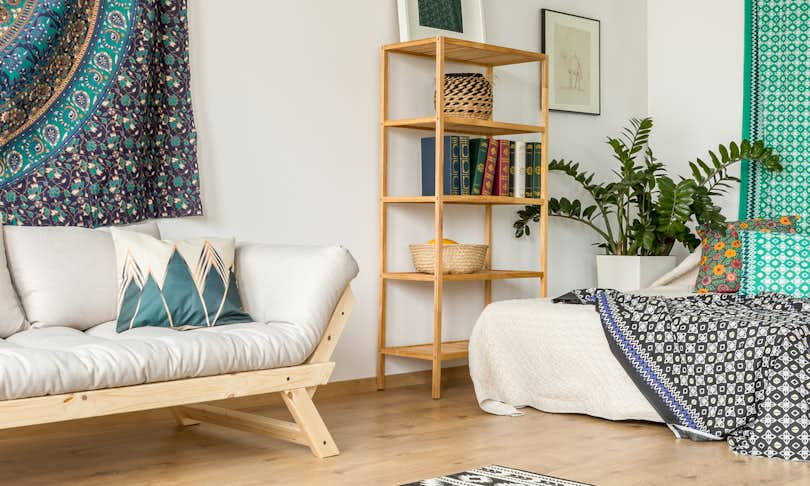 Short terms rentals on sites like Airbnb or FlipKey have become more and more popular in the last few years. Whether it's a single-family home, condo or an apartment, there are guests looking for a place to stay. Investing in a single-family home is a well-known tactic. What about one bedroom apartments? Are one bedroom apartments a good investment and if so, how?
Are one bedroom apartments a good investment?
A one bedroom apartment can make a perfect Airbnb or other short-term rental for guests coming to the area. These units are usually bigger and better equipped than a hotel room, yet cost less than many hotels. They offer the perfect amount of space for singles, couples or even small families.
Many apartment properties and units have more features and amenities than hotels. A one bedroom apartment provides the perfect opportunity to "live like locals"! In fact, 47% of all the short-term rentals on Airbnb are apartments.
How to Rent Out a One-Bedroom Apartment on Airbnb
To make your unit stand out in the Airbnb listings, consider these guest friendly ideas.
Offer Tips
Offer your guests personalized tips on things to see and do in the area. Or, leave a basket of brochures and information on restaurants and activities. These are ideas that help you stand out from your competition, including hotels.
Check Your Lease
Before you start marketing your apartment, check out your lease. Review it carefully to determine exactly what the landlord has included. Many leases will have a clause in them like this, "Tenant shall not sublet all or any part of the premises without Landlord's prior written consent." When you "Sublet", you rent out all or part of the apartment for a few days or longer. If you violate this provision, your landlord could choose to evict you.
Location
It's also important to review your property and location. Is your unit in a high rise? Do you have doormen or a concierge that watch comings and goings of tenants and guests? If so, that might cause a red flag and your landlord might be alerted.
One way to avoid this is to speak with your landlord and see if you can work out an arrangement between you. It might be possible to be creative and find a way this can benefit both of you. Some Airbnb hosts share their proceeds with landlords in an agreed upon rent split.
Check Local Laws
And finally, check local laws. As short-term rentals increase in popularity, more cities are enforcing regulations. Some cities are even increasing regulations. In cities like New York, they are adding laws that further restrict short term rentals. It is critical to know what you can and can't do with your rental.
Taxes
If you find that your area does allow short terms stays, make sure that you follow the requirements. For example,it is now required in many areas to collect taxes or other fees on your rental. Follow the guidelines of your state or area. If you are uncertain on what you need to do, a tax accountant can help.
Keep Track of Expenses
Keep track of your expenses and costs when renting your apartment. Recent changes in tax laws now allow for what's called a "pass-through" deduction (choose from either link below). This deduction allows small business owners to deduct up to 20% of business income. A short-term rental business can qualify for this deduction. It's definitely something work exploring!
A one bedroom apartment can be a great investment unit if you do your due diligence first. By following these tips, you might find yourself making more money and having a great side hustle as well!
Related Articles
You May Also Like