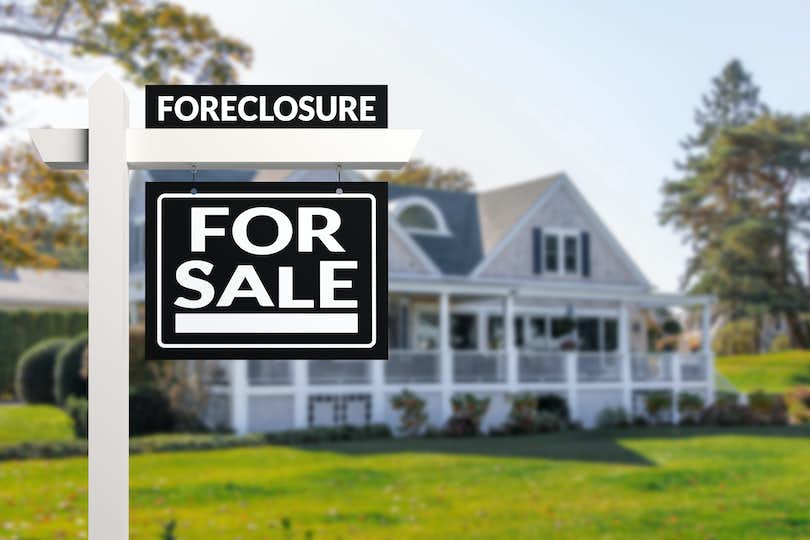 Buying a foreclosed home can be a valuable opportunity for first-time homeowners or real estate investors. Foreclosed houses are often sold below market value, which makes them a great deal in a competitive market.
But buying a foreclosed home comes with more red tape than a standard real estate transaction. It's important to know what you're getting into before making an offer.
If you're considering buying a foreclosed home, here's a look at frequent pros and cons involved with the purchase.
What is foreclosure?
Home foreclosure is the official legal proceeding where a mortgage broker takes ownership of a home from the homeowner. This happens when the buyer fails to make payments for several months in a row or violates other terms of the mortgage agreement. After notice of failed payments, the homeowner will have limited time to bring their account up to date before the property is considered foreclosed.
Once a home is considered foreclosed, the mortgage company takes ownership and will sell the property through a trustee's sale, auction, or with assistance from a real estate brokerage. The whole process can be time-consuming, ranging from three to nine months depending on the legal requirements in a state. However, the closing process is usually quick for buyers.
Pro: Low price point
Foreclosed homes typically sell for less money than comparable homes. With a foreclosed home, the mortgage company is looking to recover the money they are still due from the original purchase of the home. That means the asking price could be thousands, or even hundreds of thousands, of dollars below market.
Foreclosed homes are often sold at public auction. Depending on how many interested buyers there are, you could snap up the property before the prices are driven up and get a deal. Plus, you can save money on realtor commission fees.
Con: Buying as-is
When you purchase a foreclosed home, you're most likely agreeing to buy it as-is, and potentially without ever setting foot inside.
When buying a home as-is, you're agreeing to purchase it without any repairs made and without having an inspection completed. Home inspections can turn up major — and often costly — problems, such as issues with the foundation, electrical and HVAC systems, the roof, and more. So although you might be getting a deal on the home itself, you could end up spending a lot on repairs and renovations to make it livable.
Before the foreclosed home goes up for auction, you'll likely have access to basic and publicly available information about the home, such as how many square feet it is, the number of bedrooms, and its sale history. You probably won't have an opportunity to tour the home itself or see recent photos before placing a bid.
Pro: High renovation potential
Buying a foreclosed property as-is means more potential for home renovations. This means you may have more of a blank slate for creating your dream home or making it stand out on the market if you plan to flip or rent it out. You'll be able to leave your mark.
If you're going into buying a foreclosure with the intent to renovate, be prepared by having the necessary budget for renovations. It also helps to have established relationships with contractors who can help you get started soon after you take possession instead of leaving it standing empty.
Con: Limited financing options
When buying a foreclosed home, you may have more limited financing options. With good credit, you should still be able to qualify for a home mortgage, but you should also expect to put a large cash payment down. To save yourself time and hassle, check with lenders to get preapproved for a home mortgage.
If you're buying as an investment, your financing options will likely be limited to small business loans, which have quicker repayment plans than a home mortgage. In addition, you'll need extra cash on hand to make any necessary repairs or renovations before you move in or turn it into an income property.
Pro: Potential for high ROI
Whether flipping the home or living in it, a foreclosed property could yield a big return on your investment. By buying below market value and making renovations that add value, you can almost immediately see the price point on your home increase.
If you're a real estate investor, that means listing it for a higher asking price or charging more in rent. If you're making the property your home, you can have great peace of mind knowing that you will turn a profit down the road. Buying a home is one of the biggest financial decisions and investments most people will make, and the more profit the better.
Con: Competitive market
When buying a foreclosed home, you may find yourself facing steep competition. Even with the real estate market stabilizing in 2023, the hot spike in 2021 and 2022 has made buying foreclosed homes increasingly popular. At the same time, the increase in mortgage relief offers and foreclosure moratoriums of 2020 means there are fewer foreclosed homes on the market than in other years.
You can still get a deal on a foreclosed home, but with more interested buyers and less inventory, you could find yourself not getting quite as big of a deal as you'd like, and it may take you longer to find the right property. Keep this, and potential repairs, in mind when setting your budget and timeline.