There are a few differences between buying a residential home and purchasing a turnkey chicken farming operation. Make sure to understand all that chicken farming entails, including zoning, permitting, and possible market forecasts to ensure a beneficial purchase.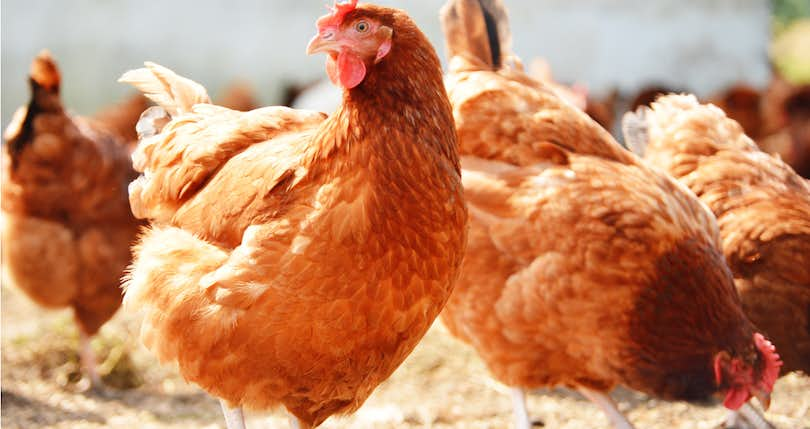 Perhaps you're ready to transform your backyard chicken-keeping hobby into a full-time professional endeavor. Maybe you want to make the jump into full-time chicken farming. No matter your reason, Texas offers a variety of chicken farms, in all shapes and sizes, to best suit your animal husbandry dreams.
Connecting with a local realtor can save you time and money during your chicken farm hunt. Experienced area realtors will be more familiar with zoning laws, agriculture regulations, and turnkey chicken farm operations up for sale.
JUMP TO SECTION
Want to buy a chicken farm in Texas?
Work with a Clever Partner Agent to find the perfect property.
Set your Chicken Farming Goals
Farmers usually raise chickens for two reasons — eggs (Layers) and meat (Broilers). Deciding which product you want to cultivate will dictate which type of farm to purchase. While it's not difficult to raise both, or swap one out for the other, it's wisest to start off with what you want.
Raising Layers requires different accommodations than raising Broilers. Layers need nesting boxes, require daily egg collection, and monitoring of egg production. Broilers are usually larger birds and don't require nesting boxes, but do need enough space to accommodate their greater mass. Broilers and layers shouldn't be kept together and if you wish to raise both, you'll need separate areas for each.
Scout your property
Depending on the desired acreage, poultry houses or coops, and business plan, you'll need to find a farm to suit your needs. Ranging from seven acres all the way up to 70, there are a variety of Texas chicken farms for sale throughout the state. It's difficult to nail down an average cost for chicken farms, as price differentiation relates to variables such as acreage, outbuildings, flocks, and production contracts.
For example, let's look at this 70-acre farm in Nacogdoches, Texas. It's comprised of a two-bedroom frame house, three-bedroom trailer, eight poultry houses, and is already under contract to raise broilers. The asking price is $2,350,000 and the would-be buyer must provide proof of funding.
In contrast, here's a custom home for sale that includes four chicken houses, on a little less than 40 acres. The property is income-producing but allows buyers to separate home life from farm life with a manageable flock and property. Listed for $749,950, this Winnsboro, Texas home could be your ticket into the chicken farming world and demand considerably less than the Nacogdoches property.
Know the rules and regulations
If you plan on raising broilers and selling the meat directly to the consumer, you do not need a Grant of Inspection from the Meat Safety Assurance Unit (MSA) but you will need a permit from the city or county health department. You'll also need to ship broilers away for processing as Texas does not allow retail sales of meat slaughtered on-premise.
If you're looking to sell eggs from your Texas farm, the process is much simpler. You can sell eggs from laying hens directly to consumers as long as the eggs are stored at temperatures lower than 45 degrees and are labeled "ungraded" followed by a "produced by" line with your name and address.
Selling to restaurants or selling graded eggs requires a license and monthly reporting. Farmers are allowed to grade their own eggs or can purchase an egg grading machine. Chicken egg farmers are also not allowed to claim organic without undergoing the proper inspection.
Understand the market forecast
Poultry isn't going out of style in the US anytime soon. In 2018, broiler exports rose 4.1% but egg exports dropped by 6.1%. Tyson, Pilgrim's, and Perdue, among others, hold majority market shares for poultry production and family farmers may choose to contract with them.
The US is the largest broiler chicken producer in the world, with 17% of broiler chickens exported to other countries every year. It's also the number one protein source consumed in the US. Family farms might have to work hard to find their niche if they don't want to contract with one of the big guys.
However, with a push towards sustainability, energy efficiency, and minimal waste, poultry purchasers are looking to get their birds from a nearby source. You can market your meat or eggs throughout the community, ensuring you have the proper inspection certificates or permits in place prior to selling. Your customers will know they are getting humanely raised meat and eggs, while you can honestly say that you now run a successful chicken farm!
Learn about financing options and grants
First-time farmers should look around for loan or grant options specifically tailored to agriculture property purchases. Chicken farmers can qualify for USDA Rural Development loans that can waive the entire down payment.
Guaranteed and Direct loans are also available, depending on the buyers' financial situation. Guaranteed loans are offered by USDA private lenders and provide flexible financing options for farmers.
Texas Farm Credit also offers a variety of loan types for the purchase of rural property, operational costs, and expansion projects. They even offer a loan geared towards young, first-time farmers. Those under 35 with fewer than 10 years of farming experience are encouraged to apply.
Nationally recognized lender, AgAmerica, is a well-known, reliable originator for poultry industry farmers. This private lender can help Texas farmers secure financing for their desired agriculture operation, big or small.
Now for the fun! If you're looking to buy a Texas chicken farm, big or small, contact Clever to connect with a local agent who can offer guidance and support throughout the entire process. Partner Agents are up-to-date on local market knowledge, have a vast network of professional resources, and are top-rated. Clever Cash Back may also get you more cluck for your buck. So don't wait, call today for a no-obligation consultation.
Related links