Buying or starting up a chicken farm can be a complicated process, with a lot of capital involved. A Florida real estate agent can help you decide between buying an existing farm or starting from scratch, tell you what you need to know about zoning restrictions, and help you find financing.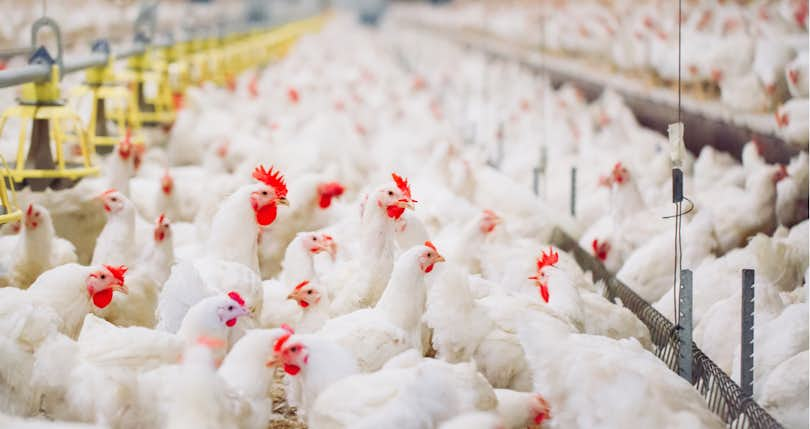 Maybe you just want to raise a few hens in your backyard and sell their eggs at the local farmer's market, or maybe you dream of a large-scale operation. Either way, you've started thinking about getting into chicken farming.
The pluses to buying a farm that's already up and running are that it'll have the necessary permits in place. The current owners should have profit and loss statements for you to examine and determine if it cash flows well, and you'll have a good idea of what it costs to run.
But if you can't find a farm near your current city, you might have to uproot your family and move hundreds of miles away. If you choose to buy the land and erect the buildings yourself, you have more control over the entire process. You choose how big of a brood to start with, you design the buildings and layout, and you can customize it to your family's needs.
However you decide to go about it, you'll need an experienced realtor on your side to help you navigate the ins and outs of buying a chicken farm in Florida.
Typical Farmland Costs in Florida
Whether you're buying an existing chicken farm or starting one from scratch, knowing the underlying value of the land will help you know if you're paying a fair price. In Florida, the average price per acre is $3,000 for farmland meant for crops. Farmland meant for pasture is $2,230 per acre.
You'll need a minimum of two acres to start a chicken farm, and don't forget that you'll have to pay to put up buildings and chicken coops. Make sure that the land you buy has access to fresh water and electricity, or the ability to hook both up to a barn.
Zoning Considerations
While you may be dying to start building the chicken coop you saw on an HGTV show, you have to take into account zoning considerations. Otherwise, you might have to tear that structure down right after pounding in the final nail.
There are plenty of chicken-friendly towns in Florida. Oviedo has no ordinances about chickens. In Jacksonville, you can get a permit and have up to five hens and in Bonita Springs, you can have four. Manatee County allows up to 12 hens.
While these towns and counties allow hens in relatively urban areas, there are restrictions on how close the coop can be to your house or a neighbor's or if they can roam free. This is one of the benefits to buying an existing chicken farm – you're reasonably assured that it's met all the ordinances and your realtor can double check this for you.
It is often the case that if your property isn't zoned as agricultural, you can only have hens in your chicken coop. Before putting your plan into action, consult this online library of property laws in Florida or look up information on your town's website.
Pertinent Taxes and State-Specific Fees
With chickens, there is always the risk of salmonella. Florida has many laws surrounding raising and selling poultry products, which have been put in place to protect the public. Different rules apply depending on the size of your poultry farm.
For farms with less than 1,000 laying hens or who dress and sell less than 20,000 chickens a year, some of the requirements include; a FDACS food permit, issued after an inspection, weekly limits on how much you can sell, an egg washing machine of sufficient size, and more.
There will be inspection fees and fees for licenses, and you will have to renew those licenses. Failing to observe the proper handling procedures or obtain the necessary permits could cause the state to shut down your business. Work with a realtor experienced in the local requirements for chicken farms to make sure you're taking care of everything.
Economic Outlook for the Agriculture Sector in Florida
According to the last census, Florida farmers sold 11 million broilers and other meat-type chickens in 2012, and production has been growing since that year. The state now has 78.5 million broilers and 11.3 million layers, aka hens that produce eggs.
A recent market outlook raised production estimates in egg production, rather than poultry, something to note if you're trying to decide which type of chicken farm to buy.
Financing Options for Would-Be Farmers
The USDA offers guaranteed and direct loans for would-be poultry farmers. With a direct loan, you can get financing up to $300,000. It can be used to purchase or operate the farm, or for emergencies. You must show proof of owning and operating a farm, and remain the owner after the loan closes.
If you need help with a down payment you can take out a Direct Down-Payment Loan, but it has stringent requirements. You must have 45% of the purchase price and appraised value to put towards your down payment, or $225,000.
Under the guaranteed farm loan program, you're borrowing from a commercial lender but the FSA is guaranteeing up to 95% of your loan. Their guarantee means that lenders will take on riskier loans and work with less credit-worthy borrowers. You will need a decent credit score and can't be delinquent on any Federal or USDA loans to qualify.
Florida poultry farmers can borrow from Farm Credit of Florida. They specialize in lending to poultry farms and generally finance new poultry houses for up to 15 years. Flexible payment options timed to require payment with your flock's movement and fixed or adjustable rates help farmers succeed.
If you're considering purchasing an established poultry farm, you should work with an experienced, local real estate agent for assistance and support throughout the process. Contact Clever today and one of our representatives will put you in touch with an agent in your part of Florida to help you purchase your dream chicken farm.
Related links