Dreams of hand raising chickens and plucking colorful eggs from nesting boxes? Purchasing a chicken farm is an exciting endeavor — one that takes a bit of research, perseverance, and understanding of Arkansas poultry rules and regulations.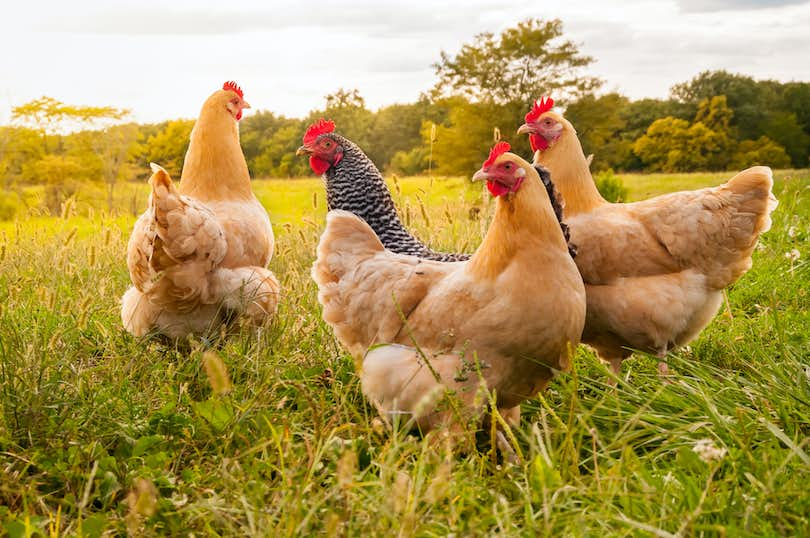 Ever dreamed of seeing a bright, glinting "For Sale" sign in the front yard of a sweeping chicken farm? Well, you're not alone! The draw of farming, living off the land, and cracking golden, delicious eggs right in a sizzling hot cast iron is definitely alluring and not all that unattainable if you know where to look!
The great state of Arkansas is an ideal destination if you're looking for farming and ranching property. Here's everything you need to know about buying a chicken farm in Arkansas.
Farmland Costs
Regardless of whether you've decided to raise broiler hens or laying hens, poultry need space to move, ground to scratch, and clean, containment free air to breathe. You'll need a good bit of land as the basis of your chicken empire and Arkansas has plenty to offer.
According to the Arkansas Farm Bureau, the average cost of farm land and buildings in Arkansas is $658,732. Equipment and expenses total up to an average of $215,146 per year. Although this cost seems high, the average farm acreage is 308 and farm revenue is $160,270.
While half-a-million plus may not be the figure you had in mind when picturing yourself on rolling Arkansas hills, surrounded by fluffy white hens, there are plenty of other farms that come in way under the average. 12 acres — poultry house included — comes in at a cool $169,000.
Rules and Regulations
The USDA and the FDA share regulating authority at a national level while the Arkansas Livestock and Poultry Commission (ALPC) acts as the state's regulating body. They regulate interstate and intrastate egg distribution and sale but provide exemptions for smaller, individual poultry farmers.
Let's pretend you're not planning on opening a gigantic, chicken farm, contracting with Tyson or Butterball (like many other Arkansas poultry farmers), and mass producing poultry products. Farmers selling less than 30 dozen eggs per sale and who sell door-to-door, directly to the consumer are subject to minor regulations — not door-to-door, Willy Loman-style with a trunk full of eggs and the open road but at farmers markets or farm stands.
You can read the fine print here but basically, small-time poultry farmers can apply for yearly inspection exemptions but still must be checked out on occasion by the Food Safety and Inspection Service.
Agriculture zoning widely varies depending on the area you want to purchase your chicken farm. Chances are, if you're purchasing an already established chicken farm, you're set with permitting. A knowledgeable local realtor will be a handy guide when choosing property with the correct zoning laws for your final farming goals.
Agriculture Outlook for Arkansas
Chances are, if you're a poultry farmer in Arkansas, your job prospects are pretty good. Arkansas is the second largest producer in the nation for total pounds of broiler meat. With over $2,400 broiler farms, poultry is the largest agricultural product in the state.
Arkansas is also one of the few states whose agriculture income is greater than any other industry. This agriculture-friendly state is constantly pushing for pro-ag legislation to keep the state and its farmers thriving. Agriculture alone adds $16 billion in revenue, so the government, residents, and businesses strive to keep this industry growing.
Financing Options for Aspiring Farmers
USDA loans are a huge help to wanna-be poultry farmers. Guaranteed and Direct loans are offered depending on your circumstances. Direct loans come straight from the USDA while Guaranteed loans come from their private lenders. Both have flexible financing options for newbie farmers. Offering a business plan, prior experience, and maintaining good credit work to your favor when trying to secure a USDA loan.
AgAmerica is one of the big time lenders for poultry farm loans, throughout the country. Specifically in Arkansas, this private lender can offer lines of credit and loans to help farmers grow and expand their poultry farms.
Additionally, a variety of private lenders work with farmers seeking to acquire a poultry farm, especially in Arkansas where the industry is booming. First Financial Bank is a leading lender for poultry farms and is based in El Dorado, AR. They offer customizable terms depending on the farmer's needs.
Where to Find Farms!
Truly — all over. Arkansas has a variety of potential poultry farms across the state, so it's a matter of where you'd like to live. Little Rock, Fayetteville, and Fort Smith are the three largest cities and offer a wide variety of amenities as well as access to the countryside and room for your poultry farm.
We recommend connecting with a local realtor in the area you're most interested in living to help you find potential poultry farms for sale. Contact a Clever Partner Agent for a no-obligation consultation and you could be on your way to farm fresh eggs and all-natural rotisserie chicken in no time.
Related links