Home buyers with physical disabilities need more from a city. Accessible and easy transportation and access to top-notch medical facilities matter more, which is why we've put together this list of top five cities to move to if you have a physical disability.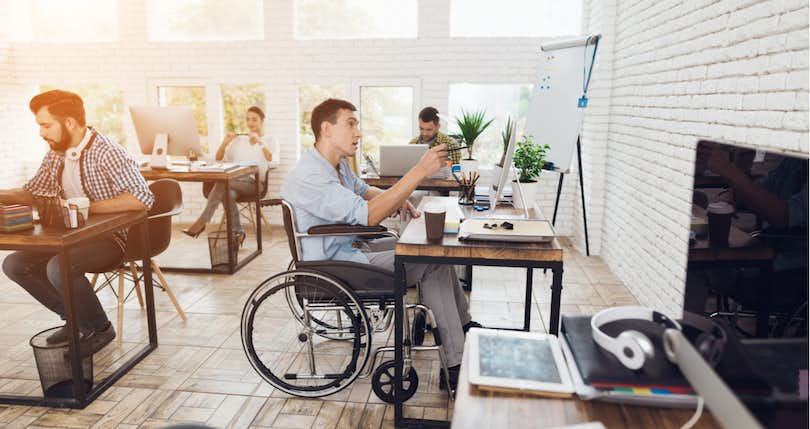 If you live with a physical disability that requires the use of a cane or wheelchair, you know that finding the right place to live can be hard.
You'll be looking for cities with high walkability scores, which indicate sidewalks you can use. Public transportation throughout the city is a must, as is access to quality healthcare. Some cities are the home to charities and organizations which work to make the city more disability-friendly, which is a big plus.
The right city for you will depend upon several important factors, so take the time to talk in-depth with a local realtor who can best guide your search. But here are five cities you should consider when looking for a new place to live.
Looking for a city that's ADA-accessible?
Get expert advice about where to live from a Clever Partner Agent.
Denver, CO
The headquarters of American Disabled for Attendant Programs Today or ADAPT, Denver is wheelchair-friendly. The city has an accessible mainline metropolitan transport system that makes it easy to get around. Colorado has over 100 hospitals, with three of the top ten in Denver.
ADAPT also offers a door-to-door para-transit bus service. It runs 23 hours a day, seven days a week, and doesn't limit the number of rides users can take. Outdoor lovers can enjoy many experiences, such as the Garden of the Gods, which have accessible, paved paths. The top of Seven Falls is accessible by elevator or you can enjoy the 12-mile paved loop of the Mineral BeltTrail.
Housing prices can be high, as median home values in the city are $424,700, but there are subsidies and help available for those with physical disabilities and the city has many Centers for Independent Living or CILs. Because of the ease of getting around winter snow isn't a huge issue, but the cold might bother those with respiratory or lung issues.
Overland Park, KS
Overland Park often makes the list of best places to live for people with disabilities. It has a high number of wheelchair-accessible restaurants and buildings and those with disabilities are integrated into daily life.
The beautiful Arboretum features many paved trails, though not all the gardens are wheelchair accessible. The city hosts free concerts throughout the summer at several parks and pools. Overland Park is home to four hospitals. It has a walkability score of 61 out of 100 and the city maintains 897 miles of sidewalks.
Overland Park has one of the highest employment rates in the country for people with disabilities and is second lowest for the percent of people with disabilities living in poverty. Median home values are $318,700.
Scottsdale, AZ
Scottsdale's weather can't be beat if you're looking for sunny and warm year-round but want access to the water. The city is known for its excellent quality of life with many restaurants, shops, and activities.
Scottsdale's walk score is 75 out of 100. Public transportation can be obtained through ADA Paratransit, which provides bus and rail services, including door-to-door transport for the disabled.
Scottsdale is a prime retirement location due, in part, to its many top-notch medical centers. Homes have a median value of $480,200. Showing its commitment to inclusivity, the city just built an accessible park for children and their parents.
Salt Lake City, UT
Salt Lake City has the Utah Independent Living Center, which advocates on behalf of the disabled to give them resources to live in their own homes. The city's Disabled Rights Action aggressively litigates ADA compliance, increasing the city's overall accessibility.
Median home values are $397,600. Some neighborhoods in the city are walkable, while others aren't, thus it's important to work with a realtor who knows the area. The city also has a mainline transit system, which is 70% accessible and Flex Trans for those needing more assistance, which both operate six days a week.
Attend hockey or basketball games, or check out adaptive skiing programs. The city is 24th on the list of best cities to live in the United States. Residents enjoy sunny weather and high quality of life.
Toledo, OH
There are many organizations in Toledo meant to help those with disabilities, which makes the city a good choice for Midwestern people with disabilities. The Ability Center of Greater Toledo provides help and support to parents of disabled children. The University of Toledo has several medical centers to help with speech, hearing, and other disabilities.
Toledo has numerous transport services for the disabled, which offset its lower walkability, and also offers options through public transportation. It's a major center for healthcare and financial services and ranks well for quality of life. Median home values are $69,900, which is much more affordable than other cities on this list.
An experienced Clever Partner Agent has the local knowledge to find buyers with physical disabilities a home that meets their needs. Reach out to connect with an agent in your area today!
Related Articles