Wilmington, NC has been a draw for celebrities for decades. Now, others are noticing too, and you don't have to be rich to live there. Here's our guide to the best neighborhoods, in Wilmington, North Carolina.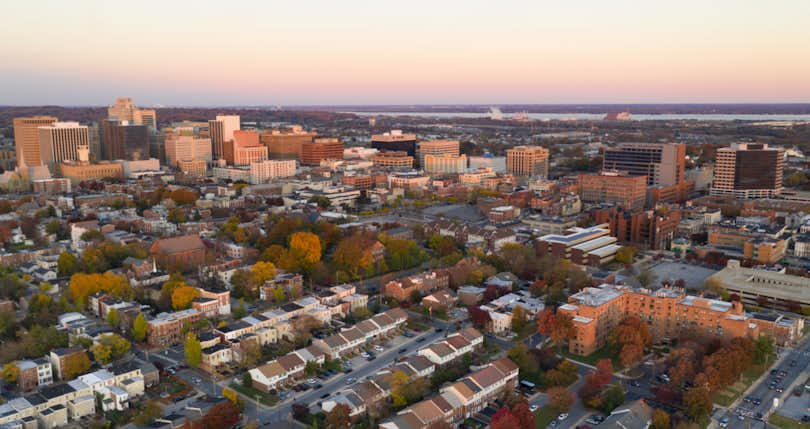 Wilmington, NC is one of the most affordable seaside communities in the Eastern U.S. It's also one of the best known. You've probably seen it as the backdrop to scenes in Baywatch or Dawson's Creek. Or you may have seen one of its many celebrity residents showing off their home in an interview.
There are countless reasons Wilmington is attractive to home buyers. First off, it has some of the most beautiful beaches in the country. It also has a deep history stretching back to pre-colonial times. And it is the dictionary-definition of a charming southern town.
Residents don't miss any of the big city amenities. It's a thriving community of restaurants, shops, marinas, and resorts. Plus, it's the home of UNC Wilmington.
What makes Wilmington one of the hottest real estate markets in the U.S. right now is that it offers so much for a relative affordable price. According to Zillow data, the median home value in the town is just $227,800. It saw a year-over-year change of 6.4% between 2017 and 2018, and the forecast for this year is almost as good.
Wilmington presents a good opportunity for first-time buyers and investors. The median rent prices are about $1,400. It also has a lower cost of living, about 4% less, than the national average based on PayScale data.
If you're looking to buy a home in North Carolina, this family-friendly community likely has everything you're looking for. Here's a closer look at some of the best neighborhoods in Wilmington, NC.
Ready to move to beautiful Wilmington, NC?
Connect with a knowledgeable, local Clever Partner Agent.
RiverLights
This master-planned community is set along the Cape Fear River. It's a major draw for home buyers mainly for its waterfront views. Many of the properties have water access and it is one of the most scenic spots in the city.
It has a rural feel, but it is also just minutes away from downtown Wilmington. The neighborhood has a variety of homes for single families, along with townhouses and condos. It was also given a "best neighborhood" distinction by Where to Retire Magazine in 2018.
The magazine called it an all-ages community that draws folks to a casual lifestyle. The community is home to many young families and professionals due to its relative affordability. The average selling price of a home in the neighborhood is under $240,000.
Historic District
Wilmington has a rich and diverse history going back to colonial times. Much of its traditional character is preserved in the styles of homes and architecture in the Historic District.
In fact, it's been designated as a national historic district. The district was first laid out in 1737 and you'll find homes dating back to the 19th century. The neighborhood is full of businesses, bars, restaurants, and a good variety of nightlife.
There are diverse architectural styles to choose from including Italianate, Colonial, American Craftsmanship, and Victorian. Most of the homes have been refurbished over the years. But good house hunters can find a relatively low-priced home that needs upgrades. There are good opportunities for investors in this neighborhood.
The median home value in this area is about $212,000. But there are large, fully-refurbished houses that can cost four times as much. Home buyers should also be aware that there are a few city regulations when it comes to homeownership in the Historic District. They're generally designed to preserve the traditional aspects of the community.
That means that homeowners are typically not allowed to make major exterior alterations to properties located within the Historic District. The design guidelines do not enforce any particular style, but they try to promote, enhance, and preserve the character of the neighborhood. Homeowners must get the approval of a local commission if they want to make any significant design changes to a property.
---
Looking to buy your dream home? Finding the right realtor makes all the difference!
The first step in your home buying journey is to find a top local realtor who's an expert negotiator and has proven experience in your area. The right agent can help you find the best house for your budget and priorities — and craft a winning offer so you don't miss out on your dream home.
The easiest way to find a great local realtor is to use a free service like Clever Real Estate. Clever matches home buyers like you with top agents in your area so you can compare your options and choose a realtor who's the right fit for you.
You can interview multiple agents until you find the perfect fit, or walk away at any time - Clever's service is 100% free with no obligation. Fill out the form below to instantly request hand-picked agent matches now!
💰 Buy with a top agent, earn cash back!
Buy your dream home with a top local realtor from a trusted brand like Keller Williams or RE/MAX. Keep more money in your pocket by earning cash back on eligible purchases.
Enter your zip code to request hand-picked agent matches in minutes. Compare your options until you find the perfect fit, or walk away with no obligation. Try Clever's free service today!
Landfall
This affluent neighborhood is located off Military Cutoff Road and Eastwood Road. It is 2,200 acres of prime real estate with more than 2,000 homes on it. This community has a 24-hour security patrol and dozens of private roads. There are also three guarded and restricted access gates.
Inside the community, homeowners have access to two championship golf courses, a modern fitness center, and even an Olympic-sized swimming pool. There are tennis courts, luxury clubhouses, restaurants, and parks dotted throughout the neighborhood.
The community also has an eclectic style of homes in Southern Mediterranean styles. The homes are typically open and spacious, with high ceilings and large rooms. And the community has an old-fashioned feel to it with neighbors enjoying their large verandas and manicured gardens.
Landfall also has four miles of waterfront and properties that back onto conservation land. Home buyers can expect to pay a premium price for home here. The average selling price is $758,000.
Brooklyn Arts District
Wilmington may have a small city southern charm, but it's no sleepy town. If you want to be a part of a thriving urban community then you should consider buying a home in the Brooklyn Arts District.
The area has gone through decades of revitalization and is now the center of a growing creative community. It's drawing graphic design businesses and entertainment venues, along with residential development.
Wilmington is known for its arts community because the city actively encourages creative entrepreneurs. There are more artists, designers, and people working in the media in Wilmington than in many bigger cities in the area.
This is the place to be if you're an artist looking for a home with studio space. The neighborhood is filled with videographers, wedding planners, florists, restauranteurs, and chic shop owners making this one of the trendiest communities in the region.
Because of its "artsy" vibe, the community is filled with students from UNC and other local colleges. It's not uncommon to find a good public lecture or concert in the park on sunny afternoon.
The area forms part of the city's downtown and so home prices have a wide range. There are one-bedroom, one-bathroom, condos for sale below $200,000. But if you want something bigger, there are also five-bedroom houses in the area hovering in the million-dollar range.
Autumn Hall
This is one of Wilmington's most family-friendly neighborhoods. It's located near Eastwood Road and is filled with homes with big front porches and tall windows.
The neighborhood has a lot of character and has many renovated homes first built in the 1800s. You can find homes as big as 5,000 square feet that have five or six bedrooms and just as many bathrooms.
The neighborhood is filled with professionals and young families, and community life centers around local activities at any number of parks in the area. There's also a swimming pool and a clubhouse along Bradley Creek.
You also don't have to go far to shop or grab a bite. There are many businesses and restaurants in Autumn Hall. And it's just five minutes from Wrightsville Beach, where there's a larger town center and shopping area.
Home prices in Autumn Hall are relatively more expensive than in surrounding neighborhoods. Many homes list for about $1 million. But there are some locations where you can find a 3,000 square foot, four-bedroom home for less than $500,000.
Work with a Professional Real Estate Agent
It's hard to go wrong in Wilmington's real estate market right now. But you can buy a home for less if you know the trends of the local market. That's why the best option for people looking to buy a home is to use a real estate agent. Working with a realtor can save you thousands of dollars because they can help you find hidden gems. They are also tough negotiators.
Clever can connect you with a top-rated buyer's agent in Wilmington who can offer you invaluable guidance and support. Clever Partner Agents have complete access to MLS listings and a wide range of networks of home for sales so that you can be sure that you see all the homes in your price range.
Clever partners with top-real estate agents from major companies like Keller Williams, Century 21, and RE/MAX. They are all full-service and they can help you find additional cost-saving opportunities. Most importantly, they are experts in their field and can help relieve the stress that too frequently comes along with buying a home.
Related links