If you're thinking about moving to Spokane or relocating within the city, what are the top five neighborhoods to live in? We've evaluated schools, crime, and quality of life to pick the neighborhoods that should be on your list.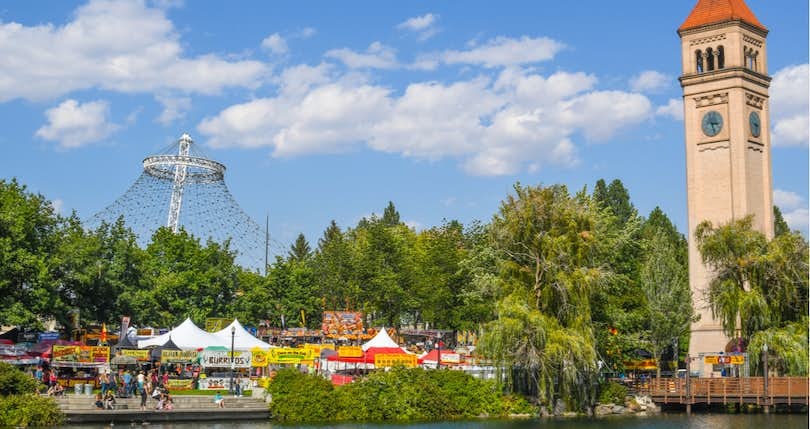 Spokane is a beautiful, green city in Eastern Washington near the Idaho border. It has a mild climate with temperate winters. The population has been growing steadily since 2012, and it's now the second largest city in Washington. Strong job growth has contributed to population growth.
If you're thinking about moving to Spokane or to a different neighborhood within the city, you'll want to find the best neighborhood for you. It could be a quieter, easily walkable area if you're retiring, or a neighborhood with good schools and larger homes for a growing family. Spokane is a bit lacking in diversity, as the city's population is over 87% white.
Home buyers of every type will find a neighborhood to love on our list, but before you start home shopping in earnest be sure to talk with a local, experienced real estate agent. With their intimate knowledge of neighborhoods in Spokane, they'll be able to help you find the best place to buy your next home.
Rockwood
One of Spokane's oldest neighborhoods, this area was designed to incorporate elegant residences with towering trees. Nature abounds, with opportunities for nature walks, visits to wineries, and parks. Quality of life is high, and residents can walk to the Spokane Public Market for groceries.
The Rockwood neighborhood caters more to the elderly and has limited school choices. The median home value is $391,700, which rose 15.6% last year. Median household income is $68,089. Due to its more urban location, crime is higher. Your odds of becoming a victim are 1 in 17, though heavily weighted towards property crimes.
Manito-Cannon Hill
The Manito-Cannon Hill area has more dining and shopping than Rockwood. The Spokane Symphony Orchestra makes their home in this neighborhood, and it's the city's cultural and theatrical hub.
But there's still plenty of greenery to enjoy. Stroll along the water at the Spokane Riverfront Park, or visit the Fitch Arboretum. More schools serve this area than Rockwood, among them an elementary school that is one of the most highly-rated in the state.
Median home values are $355,800 and rose 13.6% last year. Odds of becoming a crime victim are 1 in 29, better than other neighborhoods on this list. Average household income is $98,746 and the majority of households are childless.
Lincoln Heights
There's a lot going on in Lincoln Heights. The city has plans to continue developing business in the area, already concentrated around the shopping center. New developments are being built, including more multi-family housing.
In the neighborhood, you'll find parks, three small ponds, wetlands to explore, and bike and pedestrian-friendly walkways. Median home values are $233,400 and grew 12.6% last year, affordable with a median household income of $56,666. Your odds of becoming a victim of crime in Lincoln Heights are 1 in 23, relatively low, especially for violent crime.
---
Looking to buy your dream home? Finding the right realtor makes all the difference!
The first step in your home buying journey is to find a top local realtor who's an expert negotiator and has proven experience in your area. The right agent can help you find the best house for your budget and priorities — and craft a winning offer so you don't miss out on your dream home.
The easiest way to find a great local realtor is to use a free service like Clever Real Estate. Clever matches home buyers like you with top agents in your area so you can compare your options and choose a realtor who's the right fit for you.
You can interview multiple agents until you find the perfect fit, or walk away at any time - Clever's service is 100% free with no obligation. Fill out the form below to instantly request hand-picked agent matches now!
💰 Buy with a top agent, earn cash back!
Buy your dream home with a top local realtor from a trusted brand like Keller Williams or RE/MAX. Keep more money in your pocket by earning cash back on eligible purchases.
Enter your zip code to request hand-picked agent matches in minutes. Compare your options until you find the perfect fit, or walk away with no obligation. Try Clever's free service today!
Comstock
Comstock is situated close to the highway and has excellent public transportation, making it a good choice for commuters. You can find tennis and swimming in Comstock Park, which has a full pool and aquatics center. In the summer, the park hosts a symphony series.
Comstock residents also have easy access to High Drive Bluff Park, which has trails for running and hiking.
Median home values are more affordable than other areas in the city, at $275,500 and grew 9.3% last year. Median household income is $69,970, to be expected with higher home prices. Crime is higher in Comstock, and your odds of becoming a victim are 1 in 21. You have a greater chance of being a victim of property crime, however.
North Indian Trail
North Indian Trail is a quieter and family-oriented neighborhood. It's walkable, as most streets have sidewalks, and features several good schools. It's the safest neighborhood on this list, with your odds of becoming a victim of crime at 1 in 67.
Homes have a median value of $308,000 and rose 8.1% last year. Median household income is $80,622, making this both a safe and wealthier neighborhood. Home prices rise nearer the Spokane River. Some streets border the Little Spokane River Natural Area, where you can go for a hike on the seven-mile loop.
If it's time for you to buy in Spokane, get in touch with Clever to be connected with a top-rated Partner Agent for guidance and support throughout the home buying process.
Related Articles