Thinking about moving to Roanoke, Virginia? It's a beautiful city in a mountainous region with many great neighborhoods to choose from! No matter your age, income, or family status, there's a place in the Roanoke Valley for you. Here are our favorite neighborhoods in Roanoke to check out.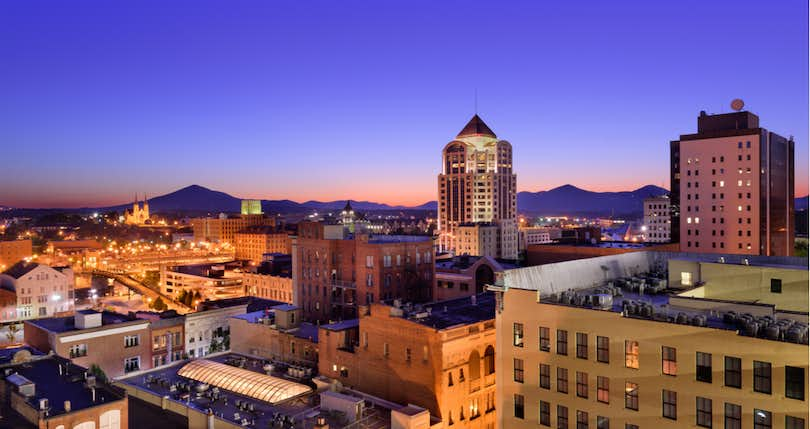 Roanoke, Virginia is a great place to live. This mid-sized city is located in Southwestern Virginia, between the Blue Ridge Mountains and the Appalachian Mountains.
Roanoke has beautiful mountain views, great hiking, and a nice downtown area. Downtown Roanoke is filled with museums, shops, and the historic Market Square. The Roanoke Valley also offers a lot for outdoorsmen, with the Roanoke River Greenway, bike routes, nearby national forests, Smith Mountain Lake, and the Blue Ridge Parkway.
Roanoke is both affordable and has a solid economy. A median home in Roanoke is worth $156,600, up 6.0% from one year ago. It offers a number of opportunities for residents and has a low unemployment rate.
Here are our five favorite neighborhoods in Roanoke in 2019.
JUMP TO SECTION
Looking for a great home in Roanoke, VA?
Choose the right neighborhood for you with a Clever Partner Agent.
Old Southwest
Historic Old Southwest is one of the largest historic districts in Virginia and just a few blocks from Downtown Roanoke. Old Southwest is a tight-knit neighborhood, where a diverse group of residents come together to create a unique community.
Old Southwest is an eclectic place with an artsy spirit. It has a number of local businesses, churches, and is home to the Highland Park Higher Learning Center and 32-acre Highland Park. Old Southwest is full of beautiful architecture, single family homes, colorful houses, stained glass windows, and beautiful parks.
This charming area has been given several awards and honors, including Best Neighborhood Project of the Year and Best Neighborhood Organization of the year at the Virginia Statewide Neighborhood Conference and Best Neighborhood of the Year from Neighborhoods USA.
Old Southwest is a good investment but still won't break the bank. A median home in Old Southwest is worth $196,300 — 7.6% higher than 2018 and expected to rise another 4.6% in 2019.
Cave Spring
Cave Spring, a town of around 25,000 people, receives an A+ rating from Niche, which also names it the #1 place to live in the Roanoke area. Cave Spring is in Roanoke County and a short 15-minute drive from Downtown Roanoke.
Cave Spring is attractive to young professionals and retirees alike. This appealing town offers a suburban atmosphere, with a number of parks and restaurants for residents to enjoy. Cave Springs is a great place for families and has top-rated public schools.
Cave Spring is a very hot market where 64% of people own their homes. It's slightly more expensive than a median area in Roanoke, but still an affordable place to live, especially considering all of its advantages.
Downtown Roanoke
Downtown Roanoke is a bustling area with a lot of residents and endless entertainment options. The downtown area of Roanoke is more than just a business center; it also boasts beautiful Elmwood Park, ample shopping opportunities, and the Roanoke City Market.
Downtown Roanoke has a variety of housing options. Whether you want to rent or buy, there's a place for you. Condos and townhouses downtown have a pretty wide range of options and pricing, starting under $200,000, but going much, much higher for people who want (and can afford) exclusivity and top amenities.
Downtown Roanoke retains its historic beauty. Instead of the skyscrapers found in big city downtown areas, Roanoke has a number of older buildings that have been repurposed. A number of previously commercial buildings have been converted into living spaces, including everything from a former department store to an old cotton mill.
---
Looking to buy your dream home? Finding the right realtor makes all the difference!
The first step in your home buying journey is to find a top local realtor who's an expert negotiator and has proven experience in your area. The right agent can help you find the best house for your budget and priorities — and craft a winning offer so you don't miss out on your dream home.
The easiest way to find a great local realtor is to use a free service like Clever Real Estate. Clever matches home buyers like you with top agents in your area so you can compare your options and choose a realtor who's the right fit for you.
You can interview multiple agents until you find the perfect fit, or walk away at any time - Clever's service is 100% free with no obligation. Fill out the form below to instantly request hand-picked agent matches now!
💰 Buy with a top agent, earn cash back!
Buy your dream home with a top local realtor from a trusted brand like Keller Williams or RE/MAX. Keep more money in your pocket by earning cash back on eligible purchases.
Enter your zip code to request hand-picked agent matches in minutes. Compare your options until you find the perfect fit, or walk away with no obligation. Try Clever's free service today!
South Roanoke
Located in the southeast part of the city, South Roanoke is a hot spot for families young and old. A trolley system gives free rides between South Roanoke and downtown. This area has a lot of history and was first settled in 1750.
South Roanoke houses Virginia Tech's medical school, the town center on Crystal Spring Avenue, and a variety of restaurants. Want to sit at the counter in an old-style pharmacy? You got it. Sports bars? They're here. Fine dining? Sure!
Be forewarned, however: living in South Roanoke will cost you. A median home in this area costs $397,500, more than double the median for the rest of the Roanoke area.
Mill Mountain
Mill Mountain, also known as Walnut Hill, is next to South Roanoke and easily accessible from downtown. If you're looking for a beautiful neighborhood with normal single-family homes a well as large, estate-style homes, Mill Mountain is for you.
Mill Mountain is home to the Mill Mountain Zoo and Park, Mill Mountain Greenway, and the Roanoke River Greenway. It's full of beautiful, green spaces for residents and visitors alike to wander.
Depending on your style and your budget, you can find everything from modestly priced ranch houses to high six figure mansion estates. If you're considering buying a fixer-upper with great bones, you should look into this great location — many historic homes in this neighborhood have been recently restored by the current occupants.
Next Steps
Are you thinking about buying a house in Roanoke? Get in touch with Clever today and we'll connect you with one of our top-rated Partner Agents who specializes in Roanoke real estate, from downtown to rural parts of the Roanoke Valley.
Clever Partner Agents are full-service and will provide you guidance and support throughout every step of the home buying process, while saving you money along the way.
Related Articles